Hi and welcome to
Easy Peasy Lemon Squeezy
A place to inspire, share and talk everything kitchen with a side order of lifestyle and social ;)
Jacket Potato Cottage Pies – Slimming Style
Jacket Potato Cottage Pies – Slimming Style
Gosh it took me ages to try and decide what to call these absolute beauts, well I finally settled on 'Jacket Potato Cottage Pies – slimming Style.'
They aren't actually Shepards pies as that's with lamb and cottage pies are with beef.
To be honest you could also make this recipe with lamb and then they would be Jacket Potato Shepard Pies 🙂
They are not the most original things but boy are they good and they taste amazing.
So convenient too 🙂
Healthy Jacket Potato toppings and fillings?
I showed them in my Easy Peasy Slimming Group across my social media and everyone went mad for them.
So I promised I'll get the recipe up – so here it is
The humble jacket potato is the most perfect comfort food.
Potatoes are cheap, substantial and incredibly versatile
Jacket Potato toppings & fillings?
I am so often asked for toppings and fillings for the amazing Jacket Potato.
I have loads of ideas
My Slimming Chicken Curry works well
My Lighter Chilli
My Stuffed jacket potatoes with Cheese & bacon
And now these lovely little filled ones, that actually make little cute pies
I'll keep coming up with them I promise ….. I have lots of ideas
So how do you bake Jacket Potatoes perfectly for these pies?
The full recipe and instructions are at the bottom of this post, but I thought I's give you a few more details so they are perfect 🙂
Well, I always buy proper Baking Potatoes – you know the sort, 4 in a bag, medium sized
I stab them just once with a sharp knife (careful)
Then place them on the top shelf of a preheated oven at 200C fan for approx 75 minutes
The secret here is to get them perfectly cooked inside with a very crispy skin on the outside.
You need this crispy exterior as it's going to hold your cottage pie filling
The Cottage pie bit
The top tip here is to follow my recipe below to the finest detail.
You need the perfect consistency
Too runny (too much gravy) and the filling will spill everywhere on baking.
Too thick and they won't be quite the right eat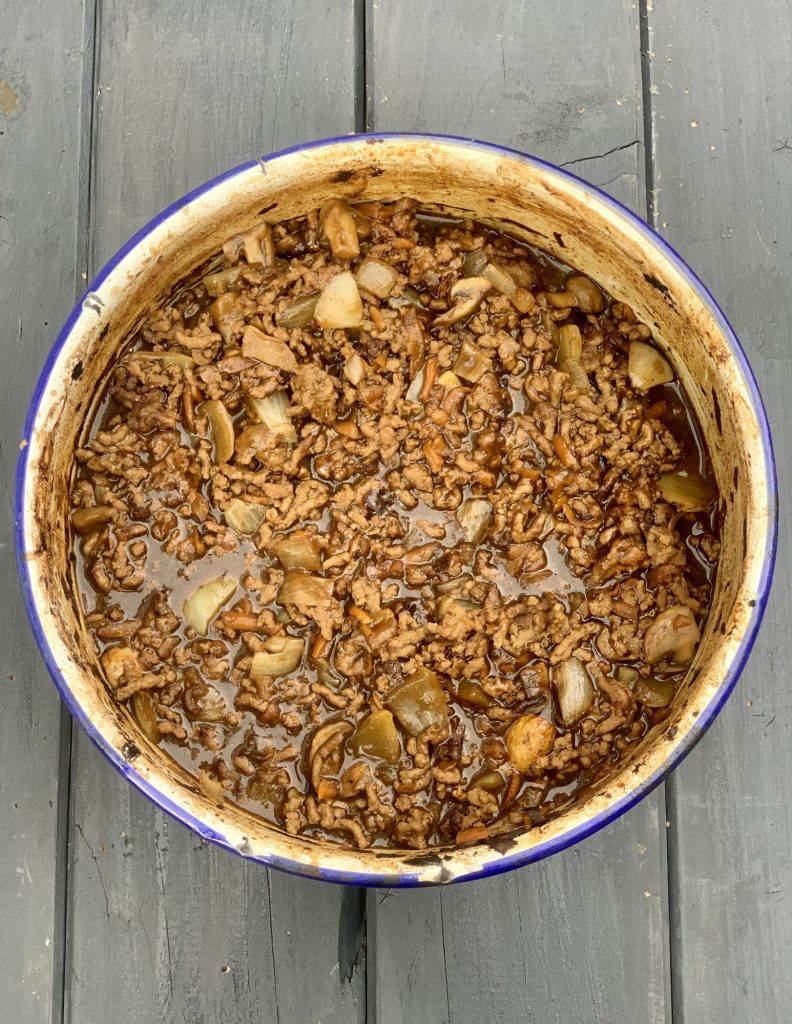 Top Tips on how to make your Jacket Potato Cottage Pies
* Make sure you slice through your baked potatoes once out the oven with a very sharp knife (no tearing)
* Make sure your cottage pie filling is not too runny
* Once you've mashed your potatoes and fill the skins with mash and make sure you seal the little pies with mash (i.e – do not leave a gap for the gravy to seep through)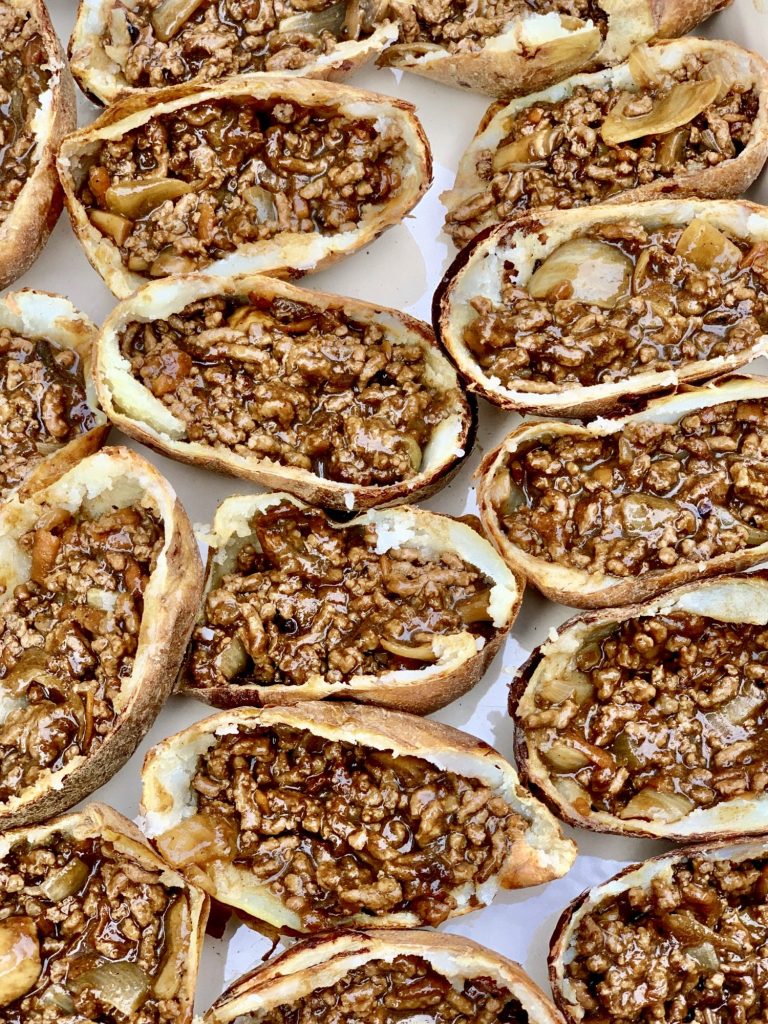 Hats on!!

Can you freeze your Jacket Potato Cottage Pies?
Yes! Yes! Yes
I freeze mine open on a dish or a baking tray for a couple of hours.
Then I bag them in 2's or 4's and pop them in the freezer
I have kept them for a month with no issues at all
My advice is to take them out of the freezer in the morning and defrost before you bake. It works better that way I have found
Also you can add your cheese before freezing unbaked. It does however tend to make a mess in your freezer sometimes; so you might want to add then cheese before you bake
What to serve with your Jacket Potato Cottage pies?
So many things:
*Peas and gravy (when you're busy)
*Vegetable and gravy as a 'proper' dinner
*With salad maybe
*And last but not least beans!!!
*Yum and the kids love them too
The Slimming Deets for your Jacket Potato Cottage Pies
Free 🙂
Except for 1 tablespoon Gravy Granules across 16 halves of potatoes (negligible in my eyes)
Just count your cheese – either as Healthy A or normal
Bingo!!
Potatoes Nutrition
I love potatoes, in any shape or form
Here's a little info on the nutrition of the lovely specimins
Potatoes are a great source of fibre with their skins on as well as being naturally fat-free and Gluten free, if you want more info of the nutritions then check out the information on Love Potatoes
If you love these I think you might also love my Pizza Chicken also lovely comfort food!
Other Stuffed Jacket Potatoes
I also have another stuffed potato recipe which is hugely popular.
I love them.
These are stuffed with cheese & bacon and are delicious served with beans or mushrooms and peas!
Yum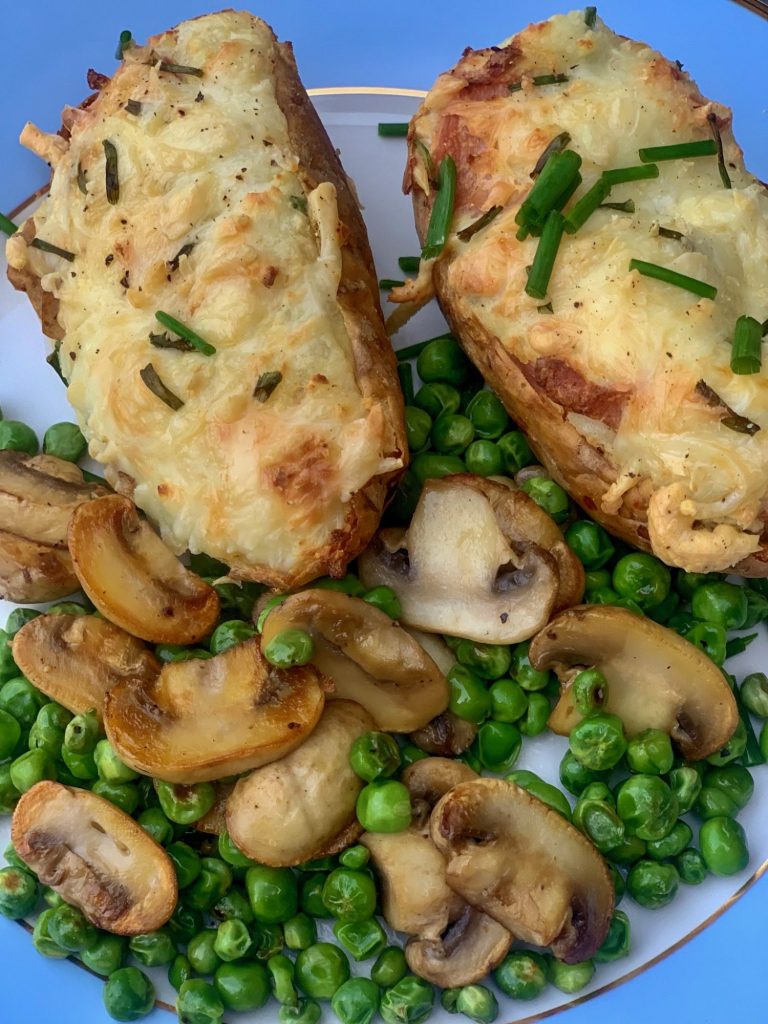 Other tasty Slimming Recipes
I think if you like this lovely recipe you'll also like my filling Peri Peri Chicken – so tasty!!
Why not have a look at how easy it is
The Easy Slimming Group
I also have a Facebook Closed Group called Easy Peasy Slimming Style Recipes
Come over and join this great honest community Facebook for Slimming Style Recipes if you're interested –
Just use the join button if you like real home cooked tasty easy food!!
We support encourage and laugh!!
Loads of tips and tricks – I promise
Big Love Clare xx
Ingredients
Makes 16 half potatoes – 8 portions
6 medium to large Baking Potatoes
500g <5% Minced beef
1 onion, peeled and finely chopped
1 Garlic Clove, peeled & finely chopped
100g mushroom, chopped
2 medium carrots, grated
2 Beef Stock Cubes
3/4 pt water
1 Table spoon Bisto Gravy Granules
Grated Cheese for sprinkling, weight is up to you
Preparation Method
Preheat your oven to 180C / 350F / Gas4
Mince
Place a heavy bottomed casserole dish on the hob,  add the minced beef, garlic ,onion and fry off for 5 minutes until the mince starts to brown
Next add the grated carrots, mushrooms,  stock cubes & black pepper and fry for a final 5 minutes, stirring occasionally
Then add the water and stir
Pop in the oven for 1 hour – with NO LID – stir after 30 minutes
After 1 hour remove mince from oven and  stir in quickly the gravy granules
Leave to cool whilst your potatoes continue to cook
Potatoes
Once your mince has been in the oven for 30 minutes, using a knife carefully pierce your potatoes once
Pop your potatoes in the oven with your mince and bake for 30 minutes.
Remove your mince from the oven (as above)
Turn up the oven to 200C/400F/ Gas6  and continue to bake your potatoes for a further 45 minutes (approx 75minutes in total)
Check your potatoes are  baked and the skins are crispy, remove from the oven
Construction
Slice the baked potatoes in half, longways, it might help to hold them in a tea towel and they are hot
Using a teaspoon scoop out the potato filling and place in a bowl. Do this to all 16 halves
Mash the potatoes, do not use butter or milk, just season with salt & pepper if desired
Next take a dessert spoon full of the cooled mince and pop it into each half (do not fill them full). Do this to all 16 halves
Then using a teaspoon top each half with mash potato. Be careful to fill all the gaps and fill the potato skin (you don't want any gaps, else the gravy will escape on baking)
Carry on until all your 16 half potatoes are full
If you are eating them all immediately then sprinkle with grated cheddar and bake in a preheated oven for 30 minutes un til piping hot and golden
Serve as desired
If you are freezing some,  freeze unbaked open on a tray, after an hour or so in the freezer bag up and pop back in the freezer for another day
Defrost fully before baking
Bake
Preheat Oven to 200C / 400F /Gas 6
Pop in an ovenproof dish and bake 30 minutes top shelf of the oven, until piping hot and golden brown