Hi and welcome to
Easy Peasy Lemon Squeezy
A place to inspire, share and talk everything kitchen with a side order of lifestyle and social ;)
1
2
Easy Peasy Dirty Rice
Easy Peasy real Dirty Rice!
So I'm being super good (again I hear you cry – well sadly yes!) I love my food, always have!  And especially this Easy Peasy Dirty Rice!! So I've embarked on the Slimming World way of eating and so far I'm enjoying it. I'm also enjoying making up new tasty recipes within the constraints of the Slimming World programme. If you fancy checking out Slimming World just take a look! (Not an Ad)
What I love about this is it gets me back in the kitchen, as with Slimming world you really are back to scratch cooking! Lovely…… There is simply nothing better than getting in the kitchen and having control over what you add to your meals, with no hidden ingredients.
So here you have  a warm, filling supper. It's quick, its easy, it's full of flavour,  so it fits the Easy Peasy Lemon Squeezy ethos perfectly! And very very tasty! There are a lot of Slimming World rice recipes out there, however I have to say I think this one is up there ref flavour!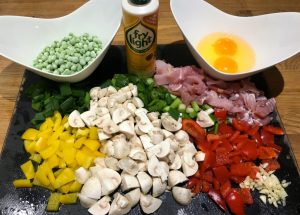 Dirty Recipe
I called it Dirty Rice – feel free to add any other veggies you like and you could always add left over chicken, lamb, pork etc whatever you like – yummy! It really is so filling and I'm sure the whole family will love it – Slimming World or not!
Let me know how it goes and if you like it? It tastes better than it looks – I really do promise. It's hard to get a good photo, it's a dish that is simply not a looker. But don't be put off – it tastes really good! If you want to add even more goodness add a great big handful of spinach, so tasty and so good.
AND it's free! As in SYN free on Slimming World! Woop woop – so fill your boots 🙂 on this Easy Peasy Dirty Rice – go on!
I have loads of Slimming World friendly recipes. Have a look around the website, simply use the search box. A couple that  I really like and really should point out to you is my Slimming World Style Mac 'N' Cheese and my Slimming World Style  Cottage Pie Really it's just a good healthy low fat version packed full of veggies
Both Delicious!
Enjoy – so why not get down and dirty with this Dirty Rice! 🙂
I also have a Facebook Closed Group called Easy Peasy Slimming Worls Style Recipes – come over and join this great honest community Facebook for Easy Peasy Slimming World Style Recipes if you're interested  –  just use the join button if you like real home cooked tasty easy food!!
We support encourage and laugh!!
Loads of tips and tricks – I promise
Cx
Ingredients
Serves 2
200-250g Basmatti Rice (use dried – those others may have oil on them)
Frylight Spray
1 Clove Garlic, peeled & finely chopped
Bunch Spring Onions, peeled & chopped in 1cm rounds (pop the tops on one side for garnish)
200g Mushrooms, chopped into cubes
1 Small Yellow Pepper, deseeded & chopped
1 small Red pepper, deseeded & chopped
6 Bacon Medallions, sliced into 1cm strips
120g Frozen Garden Peas
2 Medium Free Range Eggs, beaten
Salt and freshly Ground Black Pepper
Soy Sauce
Handful of Spinach
Preparation Method
Boil rice according to on-pack instructions – drain and rinse in boiling water – removes the starchiness
In a large frying pan fry (using Frylite) the garlic,  spring onions, mushrooms, peppers for 7 minutes until almost soft
Next add the strips of bacon medallions and fry for a further 5 minutes until cooked
Finally add the garden peas and fry for a further 2 minutes
Next add the cooked rice and heat through mixing with all the vegetables
Once the rice mixture is piping hot,  pour in the beaten eggs and stir until cooked
Finally add a dash of soy sauce and the spinach, stir
Then garnish with the spring onion tops and season
Dig in and enjoy – guilt free