Hi and welcome to
Easy Peasy Lemon Squeezy
A place to inspire, share and talk everything kitchen with a side order of lifestyle and social ;)
1
2
3
Mac 'n' Cheese – Slimming World Style
Mac 'n' Cheese – Slimming World Style
So when you think about being healthy and making a lovely healthy dinner I guess creamy, delicious  Mac 'n' Cheese  isn't the first thing you think of now is it? Well let me tell you I've been playing around with a few recipes.  And  ta dah I've come up with the most delicious version.
Yes (yippee) it fits to the Slimming World eating system. However though do you know what? I'm not sure it really matters as it tastes so flipping good, it's a great recipe anyway! To me It stands up to any Mac 'n' Cheese I've tasted. With the benefit of  knowing it's ok for you, this  actually made me enjoy it even more, maybe you too?
Somehow it feels fresh, not stodgy like some Macs can! I think the addition of the fresh cheery tomatoes on the top with the basil really gives that extra level to this recipe
This lovely version has Mushrooms and Smoked Bacon- yum! However if you're looking for a vegetarian version just ditch the bacon, it's so good anyway!
I have another Mac & Cheese Recipe on the blog which is also quite summer and messes little with the classic (I like to do that 🙂 ) it's one made with Goats Cheese & Peas – have a look!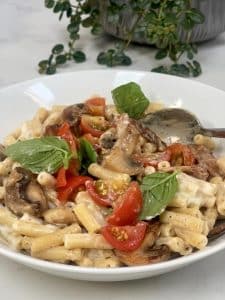 The SW bit!! (I have loads of other great recipes too!)
So – all the stuff is free on SW – except
The 2 Laughing Cow Cheese Triangles = half a Healthy A
and the 1 tablespoon half fat Creme Fraiche is 1.5 Syns
(I'm guessing if you used zero % Natural Yoghurt it's a free Syn Free dinner)
However I'm not a yoghurt lover so I'm happy to spend 1.5 Syns and enjoy this ruddy good feed!
So let me know what you think guys! Slimming world peeps or not! I'd love to know.
And if someone tries it with Yoghurt can you please let me know, by leaving a comment below this blog post ….
I also have a Facebook Closed Group called Easy Peasy Slimming Worls Style Recipes – come over and join this great honest community Facebook for Easy Peasy Slimming World Style Recipes if you're interested  –  just use the join button if you like real home cooked tasty easy food!!
We support encourage and laugh!!
Loads of tips and tricks – I promise
Thanks
Big Love Clare x
Ingredients
Serves 1 (hungry person)
100g Dried macaroni
Fry Light Spray
3 Smoked Bacon Medallions, sliced into strips (leave out if vegetarian)
100g Mushrooms,  cut into 1/4's
1 Clove Garlic, peeled and finely chopped
2 Laughing Cow Light Cheese Triangles
1 Tablespoon 1/2 Fat Creme Fraiche
Salt & Black Pepper
10 cherry tomatoes – cut in 1/2
Handful Fresh Basil leaves
Preparation Method
Grab yourself a small saucepan and boil the water, add the macaroni and look for 11-13 minutes, until soft
Whilst the mac is doing its thing
Take a nonstick frying pan and spray with Fry Light
Add the chopped mushrooms, bacon medallions strips and chopped garlic and fry for 5-8 minutes until cooked and golden brown (this is where all the flavour is)
Once the Macaroni is cooked, drain using a sieve or collander then tip the cooked Macaroni back into the pan
Quickly add the Cheese Triangles and Creme Fraiche, mix well with a spoon until all the cheese is smooth
Tip in the bacon & Mushroom mix and season with salt & black pepper
If it's not piping hot, warm quickly in the pan for a couple of minutes on the hob
Pop on the plate and add the fresh tomatoes and basil on the top!
Dig in and enjoy