Hi and welcome to
Easy Peasy Lemon Squeezy
A place to inspire, share and talk everything kitchen with a side order of lifestyle and social ;)
Mac with Goats Cheese & peas
Mac with Goats Cheese & peas
So where did this beautiful Mac with Goats Cheese & peas actually come from?
Well I got home this evening (hot and bothered – 30 degrees – yuk and no air-con in the office) and I decided I actually needed to eat something that wasn't salad again!
But I didn't want to whack the oven on and I wanted something really quick and not too heavy.
I also (bad easypeasylemonsqueezy) had next to nothing in the fridge.
I'm finding that only cooking for myself most of the time is super odd.
I decide when I get home what to make, rather than actually planning! I must put this right.
Do you plan your meals? Or just stand in front of the fridge, like I do, when I get home)
However having said that my fridge foraged supper actually turned out to be fanbloodytastic!
So have a go at this easy and delicious Mac
It's light cheesy and the peas add a lovely freshness, with lemon juice and a drizzle of olive oil – you are in nom nom heaven.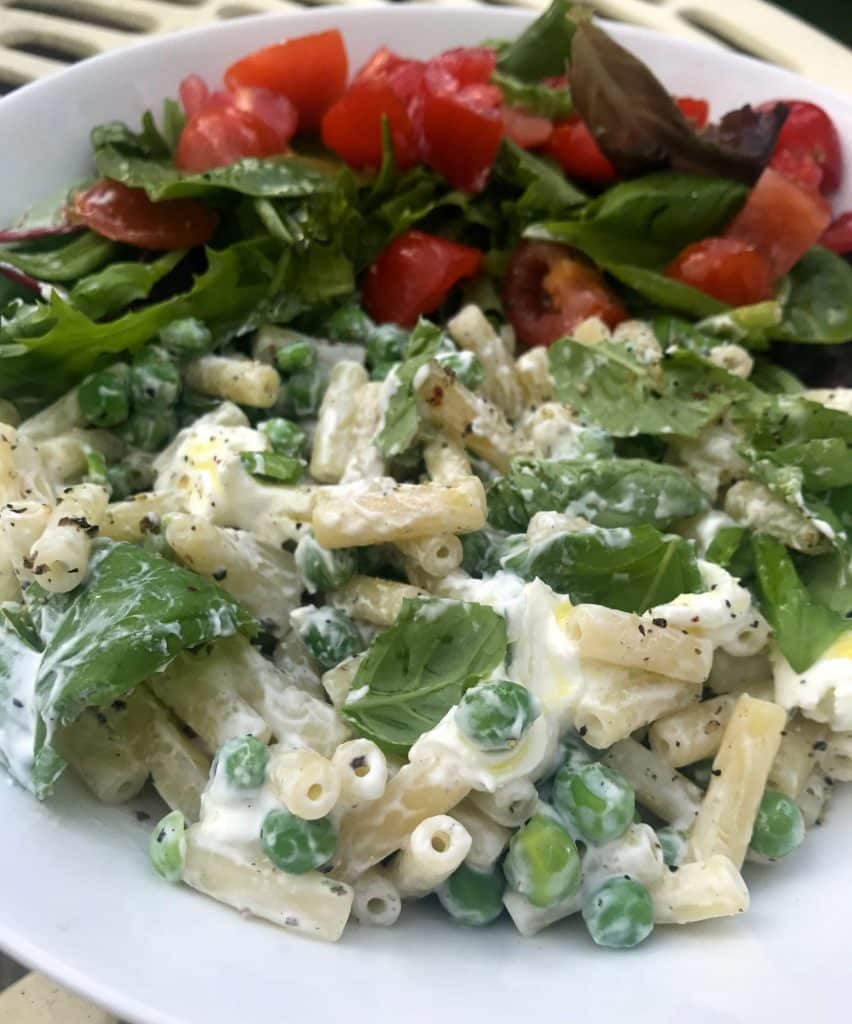 I served mine with a lovely green salad with tomatoes and an ice cold beer, or glass of white wine I guess!
Please have a go at this Mac with Goats Cheese & peas, let me know what you think? Summer take on an old favourite?
I guess you could add other stuff too, (bacon, mushrooms, broccoli?) let me know what you add and what works?
Another Mac & Cheese
I have also developed another Mac N Cheese – in the Slimming World style – go have a look! It's delicious
Big love Clare
Ingredients
Serves 2
250g Dried Macaroni pasta
150g Frozen Peas
125g Goats Cheese
Sea Salt
Black pepper
1 Tablespoon Grated Parmesan
Handful of torn Basil leaves
Juice of one lemon
Drizzle Olive Oil
Preparation Method
Get yourself a pan of water and bring to the boil with a little salt
Pop in your macaroni and simmer for 9 minutes, until tender
Tip your frozen peas in the same pan and simmer for 2 minutes (this gives the pasta the full 11-12 Minutes)
Drain macaroni and peas and return to the warm pan
Then add 1 Tablespoon grated Parmesan Cheese, Salt and Black pepper and stir
Next add 1/2 Goats Cheese, torn basil leaves and lemon Juice and stir again
Tip into your serving dish and blob the rest of the goats cheese over the top a squeeze of lemon juice, a drizzle of Olive Oil and lots more black pepper
Flipping delicious, dig in and enjoy!