Hi and welcome to
Easy Peasy Lemon Squeezy
A place to inspire, share and talk everything kitchen with a side order of lifestyle and social ;)
Pasta Salad with Salami, Roquefort & Olives
BBQ Time!
Pasta Salad with Salami, Roquefort & Black Olives
Oh my lovely sis has only done it again – this lovely Pasta Salad with Salami, Roquefort & Black Olives is delicious!
We had it as part of a BBQ and would be great just as launch in the garden. Kathy served it with BBQ Chinese Pork and new potatoes – yum!
Kathy used Pasta Bows – actually called Farfalle.
Farfalle are a type of pasta/noodle commonly known as bow-tie pasta. The name is derived from the Italian word farfalla (butterfly).
The 'e' at the end of the word is the Italian feminine plural ending, making the meaning of the word "butterflies"
Any pasta shape would work – but these look so pretty!
.
It's so easy and so different.
The blue cheese is mild and with the Salami and Black Olives its really good! Add the freshly chopped herbs and it really makes this salad zing!
I think it would also be good with a few garden peas?
Anyway have a go and see what you think.
With this amazing weather we all need a few extra recipes and dishes up our sleeves for Alfresco dining!
Go on have a go at this Pasta Salad with Salami, Roquefort & Black Olives and let me know how you get on?!
I do so love to get your comments
I have some lovely salads on Easy Peasy lemon Squeezy – just use the search box
One of my healthy faves is my No Mayo Asian Slaw – delicious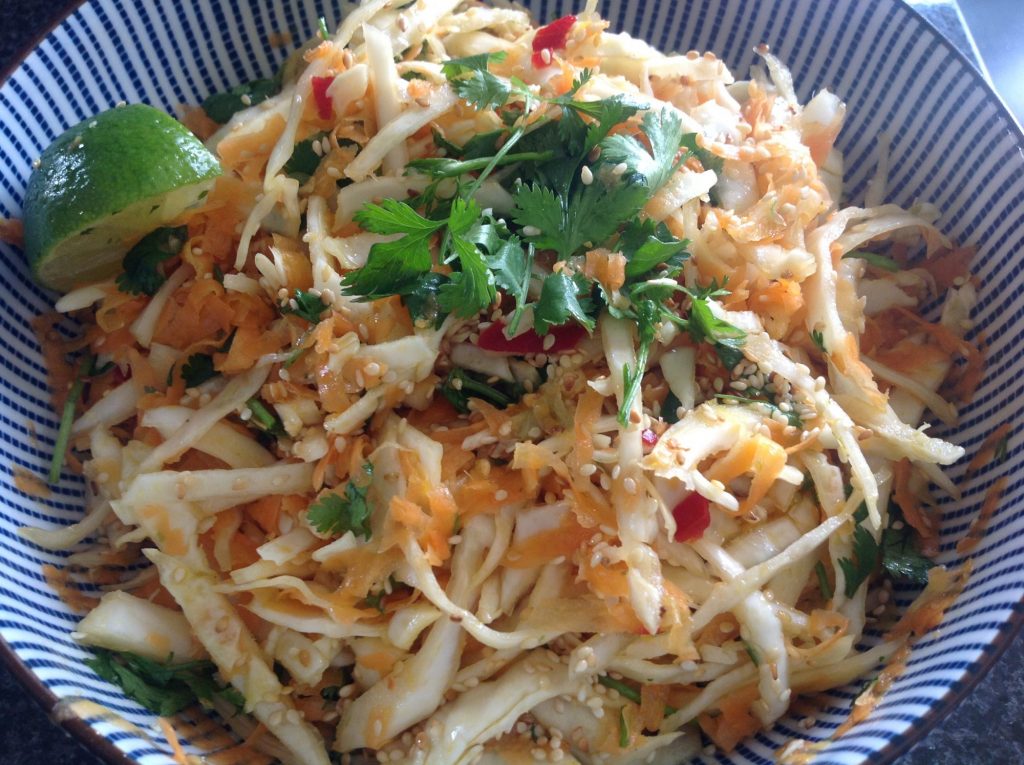 Big love Clare & Kathy xx
Ingredients
Serves 2 as a lunch or at least 4 as a BBQ side dish
100g small pasta shapes (pasta bows)
1 red pepper, cored, seeded & chopped
2 tomatoes, skinned & chopped
100g Italian salami, rinded & diced
Few black olives – pitted
50g Roquefort cheese, softened
2 tablespoons of olive oil
2 tablespoons mayonnaise
2 teaspoons white wine vinegar
Freshly ground black pepper
To garnish 1 tablespoon finely chopped herbs – we used parsley, rosemary and mint
Preparation Method
Cook the pasta in boiling salted water for 15-20 minutes until tender, drain throughly.
Put the pasta in a bowl with the pepper, tomatoes, salami & olives, mix well & set aside.
Mash the softened cheese in a separate bowl, then gradually work in the oil, mayonnaise & wine vinegar, add pepper to taste.
Fold the cheese dressing into the pasta salad until all the ingredients are well coated, then turn into a serving bowl & sprinkle with the chopped herbs.
Chill in the fridge for at least 30 minutes, can be made well ahead of time.
Tastes better if you take it out of the fridge for at least 15 minutes before serving.
Enjoy!