Cauliflower Rice Salad (not so you'd notice!)
It's summer – yes really! and it's time for me to get back on it following my hols! (Too much champagne Sangria) so here we go with this lovely Cauliflower Rice Salad
I wanted a tasty salad and today I bought some cauliflower rice / or cauliflower cous cous – whatever you like to call it?
It's neither rice or cous cous is it ha ha!
So I decided to make it the base for my salad (instead of carbs).
So I added loads of stuff to it and I have to say it's mighty tasty and I will definitely be making it again.
I'm sure you've seen loads of recipes using Cauliflower as rice?
Super Low Carb Cauli Rice
That's because it's super low carb and great when you are trying to avoid the starchy carbs!
I had mine with hot Heck's Chicken Italia Sausages and it was yum.
It was also super #HEALTHYEPLS.
You could also try it with Chicken breast or whatever you fancy!
When & Where – versitile Cauliflower Salad
It would be perfect as a side at a BBQ – really perfect but I had it for lunch.
And what's left I've popped in a Mason Jar for lunch tomorrow at work.
Have a go at this lovely Cauliflower Rice Salad and let me know what you'd add!
I would love to hear, please drop me a comment below the post. I can't tell you have good it is!
And if you are following the Slimming style of eating it really is perfect.
I have avocado in mine and a drizzle of olive oil. But you can leave the avocado out and go easy on the olive oil, it's still delicious and so so low!
Vegetarian or Vegan Cauliflower Rice
Simply leave out the sausages and you're good to go!
Cauliflower rice
You can also use cauliflower rice as it is with hot things too
I sometimes have it with curries or ragu's if I'm being super good.
It's particularity nice with my vegetable curry
It's really tasty and not a bad choice at all – you can almost fool yourself it's rice (I love cauliflower anyway so it's no hardship for me at all)
Other Cauliflower Ideas
I really love cauliflower.
Have you ever tried to roast a whole one?
You really should give it a try.
Delicious and easy
Another great BBQ side and it feeds the masses.
It's also mouthwateringly delicious
Thanks Cx
#LovelyLemons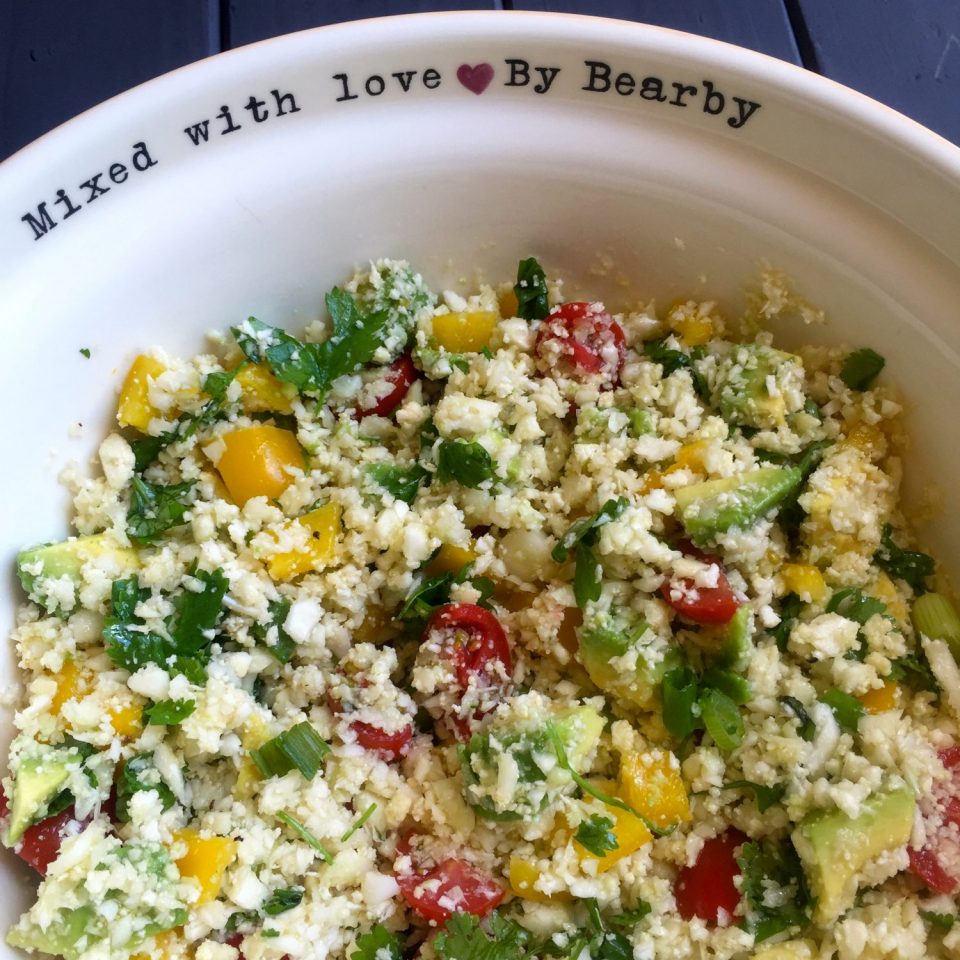 Print
Pin
Rate
A delicious salad, using grated cauliflower, low carb too
Ingredients
330

g

pot of Cauliflower rice / cous cous - or just grate a cauliflower

1/2

Yellow pepper

deseed and cubed

Handful sweet Cherry tomatoes

chopped into 1/4's

Handful chopped Coriander 3 Spring onions

Chopped into 1cm pieces

1

Avocado - cubed

Salt and Black pepper- to season

Drizzle of Olive Oil 1 Lime - juiced

You could add a touch of chilli or some sweetcorn or whatever you fancy

I dry fried 4 Hecks Chicken Italia Sausages and chopped up and added hot to the salad

Leave out if vegan or vegetarian
Instructions
Are you ready for this - mix all ingredients in a bowl and serve

I added warm Heck Sausage to mine, but you can add whatever you like - I liked the combination of hot and cold together - yum
Notes
*** All nutritional information is approximate and intended as a guide 
*** Nutritional info excludes sausages 
Nutrition
Nutrition Facts
Cauliflower Rice Salad
Amount per Serving
% Daily Value*
* Percent Daily Values are based on a 2000 calorie diet.