Hi and welcome to
Easy Peasy Lemon Squeezy
A place to inspire, share and talk everything kitchen with a side order of lifestyle and social ;)
1
2
3
Easy Whole Roasted Cauliflower woo hoo!
Easy Whole Roasted Cauliflower woo hoo!
Now you've probably seen theses before? But have you ever tried to make an Easy Whole Roasted Cauliflower?
Well let me tell you , you really should. It's so flipping easy and everything that easypeasylemonsqueezy is all about.
If you use spices and olive oil then this is so so easy to make vegan!
You could almost use it as the main focus to your meal. I always find cauliflower quite substantial. And actually quite 'meaty' as a vegetable.
You've probably see in restaurants 'cauliflower steaks' as a main? Well it works let me tell you!
You use the whole cauliflower and no washing up!! No Pans!!!
Ideas
You can rub (dry or wet) anything you fancy on the outside and somehow it becomes the most delicious soft intense tasty cauliflower ever and what a great centre piece for any table.
Try experimenting with flavours! So many choices and ideas!
Mine isn't vegan as I used Parmesan as it is such a strong intense savoury flavour! So good.
I have also used chilli and spices too, it works!!
I did this one with Olive Oil, Butter, Parmesan, Salt, Black pepper and Parsley – yum!
What a beauty!
Have a try at roasting a whole Cauli?
So come on guys – have a go! You'll never boil or steam your cauli again! Just have a go at this totally easy recipe!
Please let me know how you get on when you try an this Cauliflower recipe and drop me a comment below this post, I so lovely your comments and I'd love to hear what you do with yours, maybe a few spices?
If you like this recipe you'll also probably love my Cauliflower Rice Salad recipe too, so tasty and so healthy!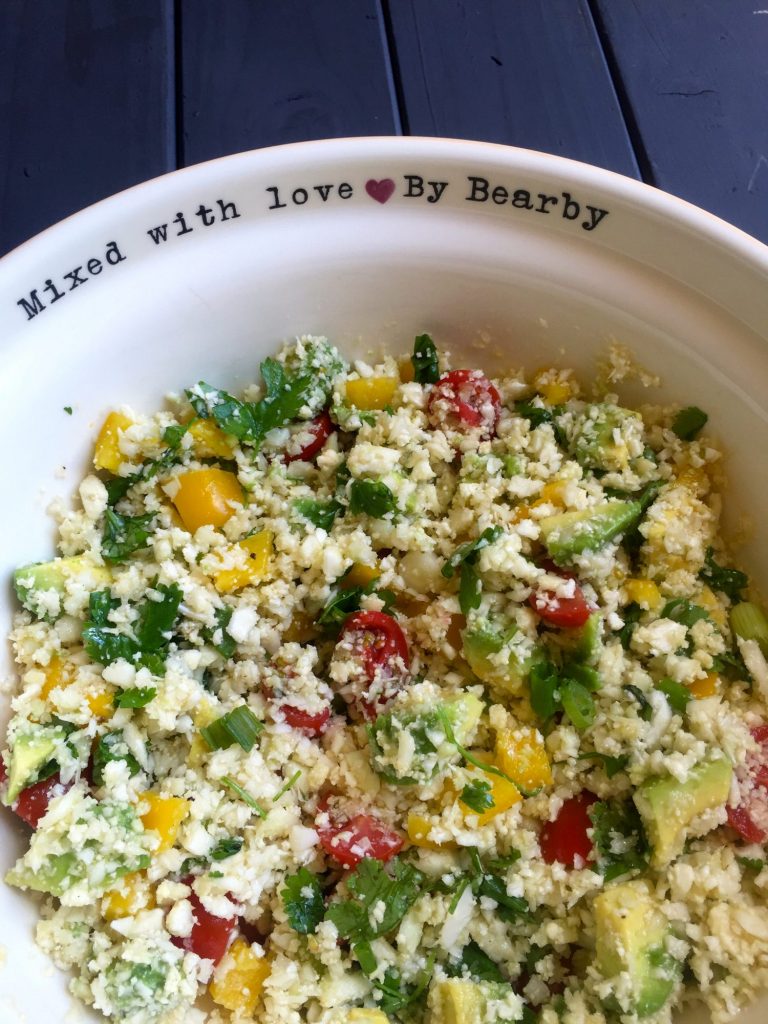 Cheers & Lovely Lemons
Clare x
Ingredients
1 medium Cauliflower, leaves  removed and the core at the bottom cut straight across – so it stands in the baking tray
2 Tablespoons Olive Oil
Salt & Black Pepper
1 Tablespoon Butter
25g Parmesan, finely grated
Black Pepper
Handful of chopped Parsley
Preparation Method
Pre-Heat your oven 200C / 400F / Gas 6
Find yourself a nice deep baking tray
Pop your trimmed Cauliflower in the bottom, drizzle over the 2 tablespoons olive oil, then using your hands, rub the oil all over the cauliflower, season well with Salt & Pepper
Cover the tin with foil – sealing really well and pop your tray on the middle shelf of the oven and bake for 45 minutes (maybe a little longer if you have a large cauliflower)
Remove from the oven, (check its tender by sliding a knife in)  dab the butter all over the top of the Cauliflower, followed by the grated Parmesan and season well
Return to the oven without the foil for 15 minutes until the cauliflower is nice and golden
Remove from the oven, sprinkle with chopped Parsley and dig in!!