Hi and welcome to
Easy Peasy Lemon Squeezy
A place to inspire, share and talk everything kitchen with a side order of lifestyle and social ;)
Mozzarella Stuffed Portobello Mushrooms
Mozzarella Stuffed Portobello Mushrooms
These delightful Mozzarella Stuffed Portobello Mushrooms are so tasty and so easy! They are  perfect for a light lunch or a light dinner, served with a fabulous salad! The bonus is they are vegetarian too. This is great when you fancy a night off meat,  or if you're Vegetarian, then perfect!
So here we have the  mushrooms stuffed with  pesto, mozzarella and tomatoes, topped with breadcrumbs and pumpkin seeds. What's not to like? They are seriously good, seriously! The presto adds a lovely flavour and the breadcrumbs a great crunchy texture! A classic combination of tomatoes, mozzarella and pesto – yum! Who doesn't love Baked Portobello Mushrooms? I can never understand those people who don't like mushrooms? I adore them, like really adore them.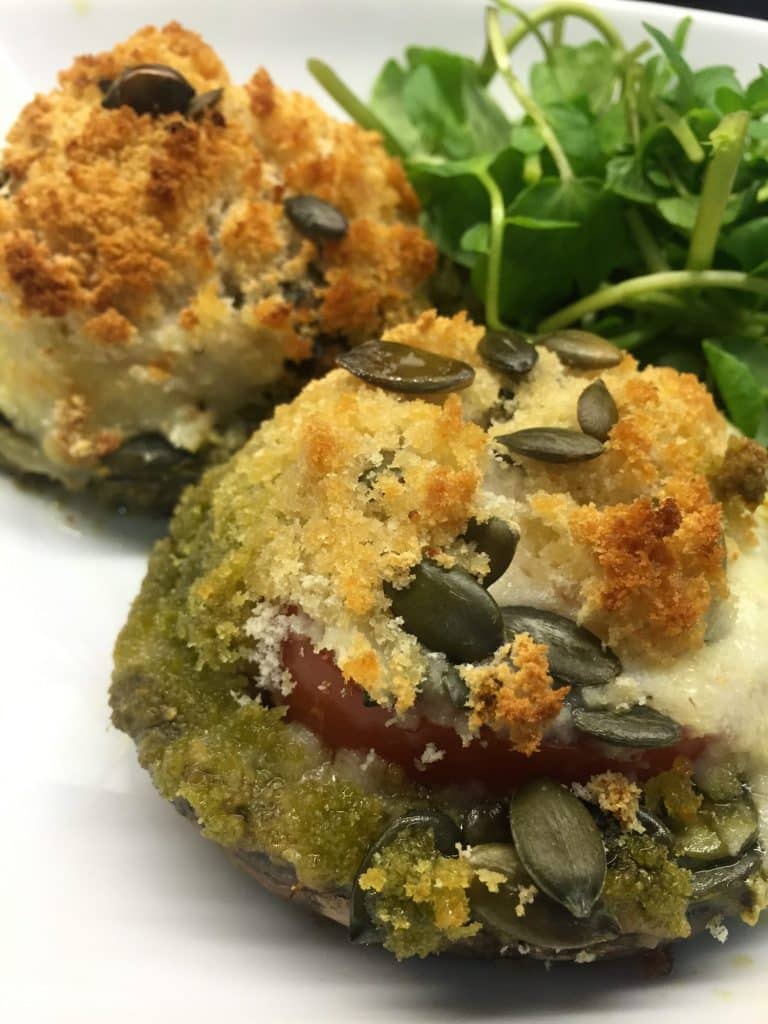 So what are 'Portobello Mushroom" well large for sure! According to Wiki –
Agaricus bisporus is an edible basidiomycete mushroom native to grasslands in Europe and North America. It has two color states while immature—white and brown—both of which have various names. When mature, it is known as portobello mushroom. Wikipedia
If you have a go then please do let me know how you get on.  If you enjoy them then  please drop me a comment below the post. I love to get your comments and what's not to love about Mozzarella stuffed portobello mushrooms?Actually I don't understand why everyone doesn't love mushrooms?! I adore them! Baked, fried, raw – whatever!
And here's another lovely stuffed mushroom recipe Mushrooms stuffed with Brie & Garlic – simply lovely!
Thanks Cx
Ingredients
1 Clove Garlic, very finely chopped
2 Tablespoons Olive oil
Salt & Black pepper
4 large Flat Mushrooms
4 heaped teaspoons Pesto
2 large'ish Tomatoes
1 Mozzarella ball (half fat) – sliced into 4
Breadcrumbs (4 slices white bread – old whizzed to breadcrumbs in a processor or grated)
1 tablespoon Pumpkin Seeds
Drizzle Olive Oil
Preparation Method
Pre -heat oven 200C/400F/Gas6
Cover a baking tray in foil or baking parchment
In a small bowl mix the olive oil, garlic,  salt and black pepper
Peel the skin off the mushrooms and pull out the stalk – place on the baking tray
Add 2 teaspoons olive oil mix to each mushrooms and spread around
Next add 1 heaped teaspoon of pesto to each mushroom and spread on the entire surface
Add a slice tomato on top, then a slice of mozzarella to each mushroom
Finally mix the pumpkin seeds with the breadcrumbs and pile on top of mushroom, bits will fall off but don't worry
Drizzle with a little olive oil and bang in the oven for 25 minutes, the may spill over in the oven a bit but no problem
Remove from oven and serve with a nice salad
Enjoy Cx