Hi and welcome to
Easy Peasy Lemon Squeezy
A place to inspire, share and talk everything kitchen with a side order of lifestyle and social ;)
1
Easy Coleslaw – Vegan (Asian Style)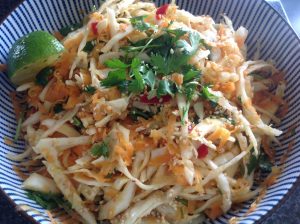 Easy No Mayo Coleslaw – 
Asian
 style & Vegan 
This Easy Coleslaw – Vegan has no Mayo Coleslaw it's zingy and refreshing, lovely. It's slightly different and so Easy!  Vegan too as it has No Mayo – Bonus! It has amazing Asian flavours too and it's flipping delicious. I eat it VERY often
It's  just the ticket when the suns out and it's BBQ time!
Perfect for picnics or indeed at any indoor or outdoor event! This one's a little bit special even if I do say so myself!!
Heathy No Mayo Coleslaw
It's so healthy and so delicious! There is no mayo at all so totally dairy free and vegan.
It has a lime juice and oil dressing which gives a fresh lovely texture! With a lovely kick of Chilli , so why not give this Easy Vegan Coleslaw a go?!!
Very different from those slimy mayonnaise shop bought types, I cannot abide that slmy stuff! Yuk
In fact this one it has no mayonnaise at all! Clean eating all the way! Tuck in and enjoy #HEALTHYEPLS and it's VEGAN
Such a lovely combination of cabbage, carrots, ginger, chilli, coriander & seseme seeds! You could add courgettes and onions too if you like.
It has a bit of a kick too, you just need a beer or a nice glass of wine as an accompniment 😉 to wash it all down!
Why not add some other ingredients too, there are no hard or fast rules. I also love beetroot slaw and slaws with added fruits, so fresh and so light!
Summer salads and slaws don't have to be boring at all. Make a whole big bowl full for that summer party or that BBQ when you have the masses round!
Have a go at this Easy Coleslaw – Vegan!!!
Have a go and let me know what you think of this lovely Asian style Easy Vegan No Mayo Coleslaw, please leave me a comment below the recipe, I do so love to hear from you. I
would love to hear if you add anything else to this lovely recipe, always open to ideas 🙂
If you're looking at summer foods there are so many BBQ recipes on here, just use the search box and type in BBQ
If you fancy another mouthwatering vegan salad maybe have a look at my Easy Sweetcorn & Avocado Salsa too
Group
I also have a Facebook Closed Group called Easy Peasy Slimming Worls Style Recipes – come over and join this great honest community Facebook for Easy Peasy Slimming World Style Recipes if you're interested  –  just use the join button if you like real home cooked tasty easy food!!
We support encourage and laugh!!
Loads of tips and tricks – I promise
Thanks
Big Love Cx
Ingredients
1/2 White cabbage, shredded
2 Carrots, grated
3cm Piece of ginger, grated
1 Small Red chilli, seeds removed and chopped very finely
2 teaspoons Brown sugar
2 Limes, grate zest and then juice
1 & 1/2 tablespoons Sunflower oil
Salt and Black pepper
1-2 Tbsp Toasted Sesame seeds
Handful chopped Coriander
Preparation Method
In a large bowl mix cabbage, grated carrots, grated ginger, chopped red chilli, lime zest and coriander
In a small bowl mix the brown sugar with lime juice, sunflower oil and salt & pepper. Stir
Simply tip the liquid mix into the grated vegetables and mix well
Finally stir in the toasted sesame seeds, top with coriander leaves and Ta Dah!!!!
Stick it in the fridge and woof down with lovely BBQ
Simple, refreshing and not too bad for you. A nice change from the creamy shop bought slaws
Enjoy Cx