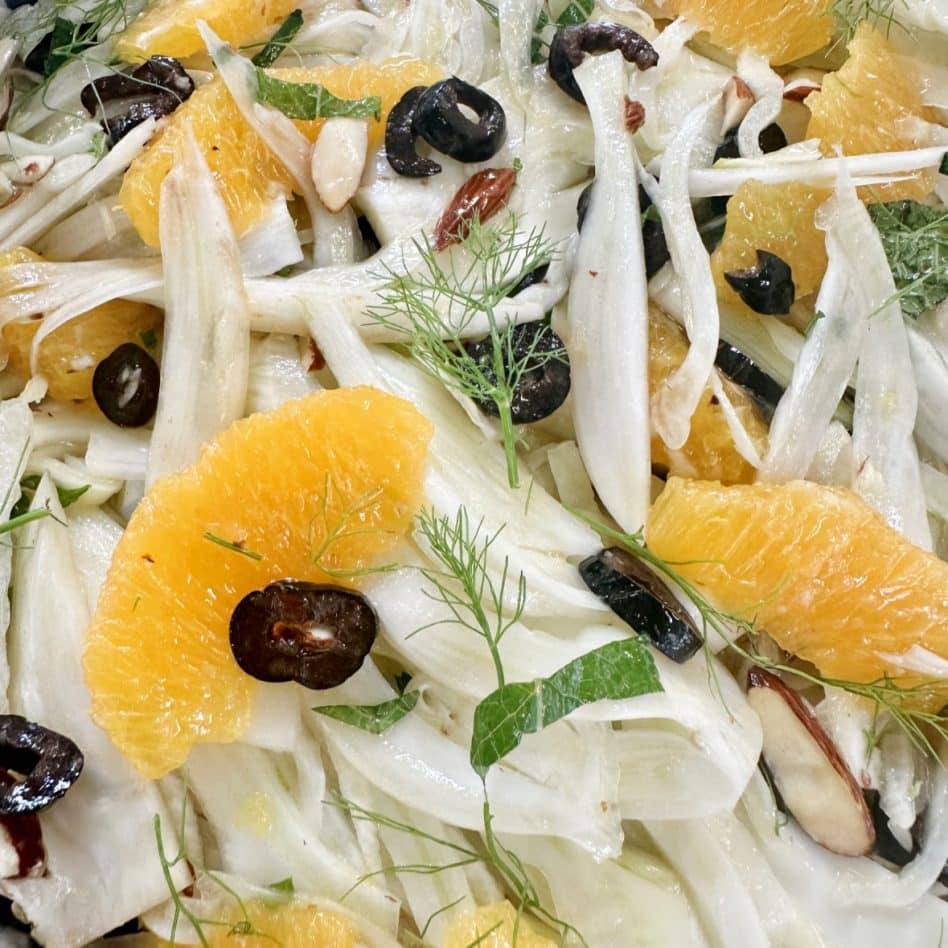 Fennel Salad with Orange & Mint
No I am not a fennel lover, I avoid it, always…….. Well should I say I did…… That is until I visited Leith's Cookery School and was 'forced' to prepare and make this Fennel Salad with Orange & Mint ha ha.
And dare I say it? I quite enjoyed it for lunch as a side
A delicious fresh blend of fennel, fresh oranges, olives, toasted almonds and fresh mint, dressed in an olive oil, lemon & honey dressing!!
And it's so easy, tasty and so pretty!
So technically this isn't my recipe (I've made small adjustments but all credit goes to Leith's Cookery School)
Check them out – they do some really lovely cookery courses
So what is Fennel?
Fennel is a flowering plant species in the carrot family.
It is a hardy, perennial herb with yellow flowers and feathery leaves.
It is indigenous to the shores of the Mediterranean but has become widely naturalized in many parts of the world, especially on dry soils near the sea-coast and on riverbanks. Wikipedia
so what dos fennel taste like – well it has a very mild anise or licorice flavor that can be enhanced or sweetened depending on how it is cooked (or not cooked).
When diced and sautéed with onions as one of the first steps when making a soup or stew, fennel becomes very sweet.
Top Tips when making this Fennel Salad
Trim the fennel tops off (save some of the top stalks as they look so pretty) The fonds / tops can be used in soups & stews, pasta and pestos etc
Make sure you peel all the pith off the orange – then slice down each membrane so you get perfect orange segments – it's really worth it
Squeeze the remaining juice from your orange membranes over the sliced fennel – so much flavour
Leave your salad covered at room temperature an hour before you eat it.This allows the fennel to slightly soften
If you can get smoked toasted almonds – use those
What to serve with your fennel salad
This salad works perfectly with any fish or chicken dish – its yum
It's also a lovely side with pastas and works perfectly at summer parties and BBQ's
How long can you store your fennel salad?
I make mine up to 6 hours before and store it covered in the fridge – then remove an hour before I want to eat it
Ant leftovers I store in the fridge and eat no more than 48 hours later
Other tasty salad morsels
I've gathered all my salad recipes together – that might help
The Easy Slimming Group
I also have a Facebook Closed Group called Easy Peasy Slimming Style Recipes.
Come over and join this great honest community Facebook for Easy Peasy Slimming World Style Recipes if you're interested
Just use the join button if you like real home cooked tasty easy food!!
We support encourage and laugh!!
Loads of tips and tricks – I promise
Thanks
Big Love Cx
Fennel Salad with Orange & Mint
Print
Pin
Rate
A delicious & easy Fennel Salad with fresh oranges, olives, toasted almonds & fresh mint, dressed in an oil, lemon & honey dressing
Ingredients
1

Fennel

1

Orange

5

Mint leaves

2

tbsp

Black Olives

2

tbsp

Toasted Almonds

2

tbsp

Olive oil

2

teaspoons

lemon juice

2

teaspoons

Honey

large drizzle
Instructions
Put your fennel on a chopping board and with a sharp knife, chop of the top stalks

Next slice your fennel bulb in half, then slice the fennel length ways as finely as you can. Pop in a bowl

peel and segment your orange into neat segments (no pith) and place into the bowl with the fennel. Squeeze over some remaining orange juice

Slice your pitted olives into think rounds and put in the bowl

slice (slither) your toasted almonds ad add those too, together with your sliced fresh mint

Make your dressing: whisk the oil, lemon juice and honey in a small bowl and season with salt & black pepper

Pour the dressing over the fennel and oranges and leave for one hour to soften the fennel
Notes
*** Nutritional information is approximate and intended as a guide 
Nutrition
Nutrition Facts
Fennel Salad with Orange & Mint
Amount per Serving
% Daily Value*
* Percent Daily Values are based on a 2000 calorie diet.