Hi and welcome to
Easy Peasy Lemon Squeezy
A place to inspire, share and talk everything kitchen with a side order of lifestyle and social ;)
Easy Potato salad – No Nonsense
Easy Potato Salad No Nonsense – BBQ Time!
Possibly the nicest potato salad ever – big claim?
Great Easy Potato salad No Nonsense! It really is so good and so simple
It's not like that slimy shop bought stuff, why would you by that?!
I even find that most of the time the potato isn't even soft, possibly not cooked enough?
Keeping it Healthy – Potato Salad
With this lovely recipe you can also use low fat mayo to keep it low and a little healthier.
Or just go for it and use the full-fat version! To be honest I can't tell the difference
I love this easy no nonsense potato salad, like really love it – but I am a carb monster!
With the crispy bacon on top it's almost a tasty meal in itself!
I can eat shed loads – really!
Jersey Royal Potatoes, perfect for Potato Salad
I combine beautiful beautiful Jersey Royal New Potatoes (any will do though) with spring onions, celery (church) and crispy smoked bacon.
All this combined with a lovely Mayo & Creme Fraiche dressing.
Look at the ingredients so simple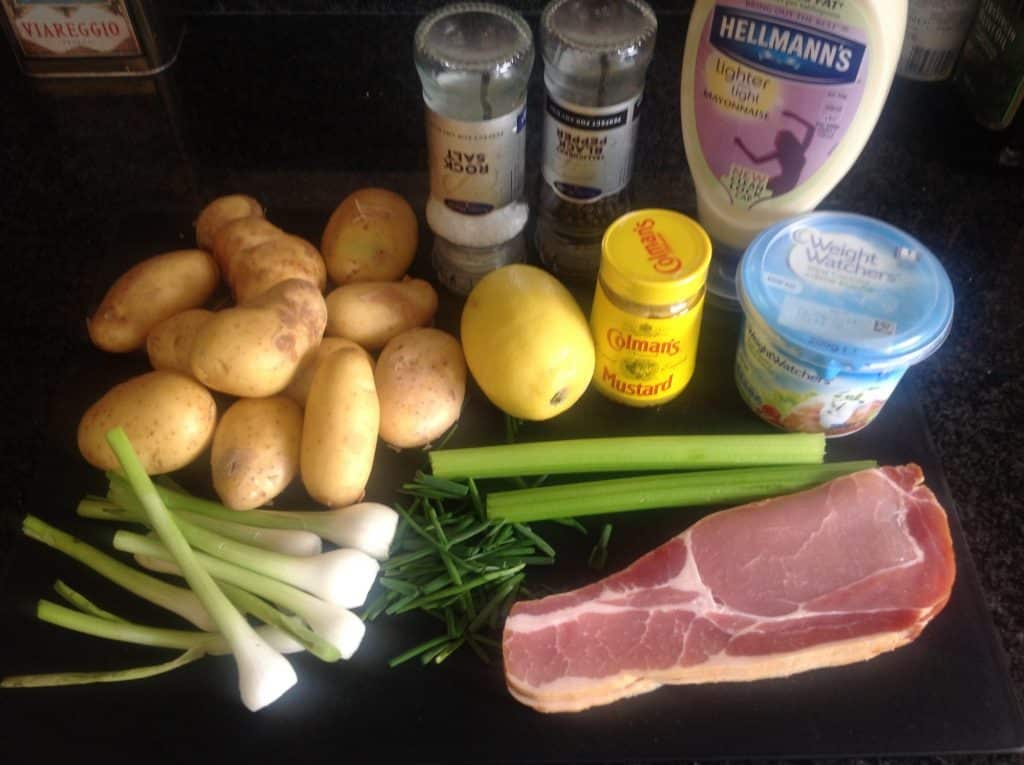 Fresh and light – yum yum, a dash of lemon juice adds that final touch.
BBQ planning
So at the BBQ get ahead and make a massive bowl of this, because then there's no need for hot new potatoes, genius!
It's a great dish to feed the masses!
If you make this the main potato dish at your party / BBQ you will also manage to get out of the kitchen and have loads of time enjoy the BBQ with friends and family
Try it – your family and friends will love it.
Makes a perfect accompaniment to ALL that BBQ food or a summer garden party!
Other tasty Ideas
Instead of the normal sausages and burger, why not try my Easy Spicy Lamb Koftas – so good!!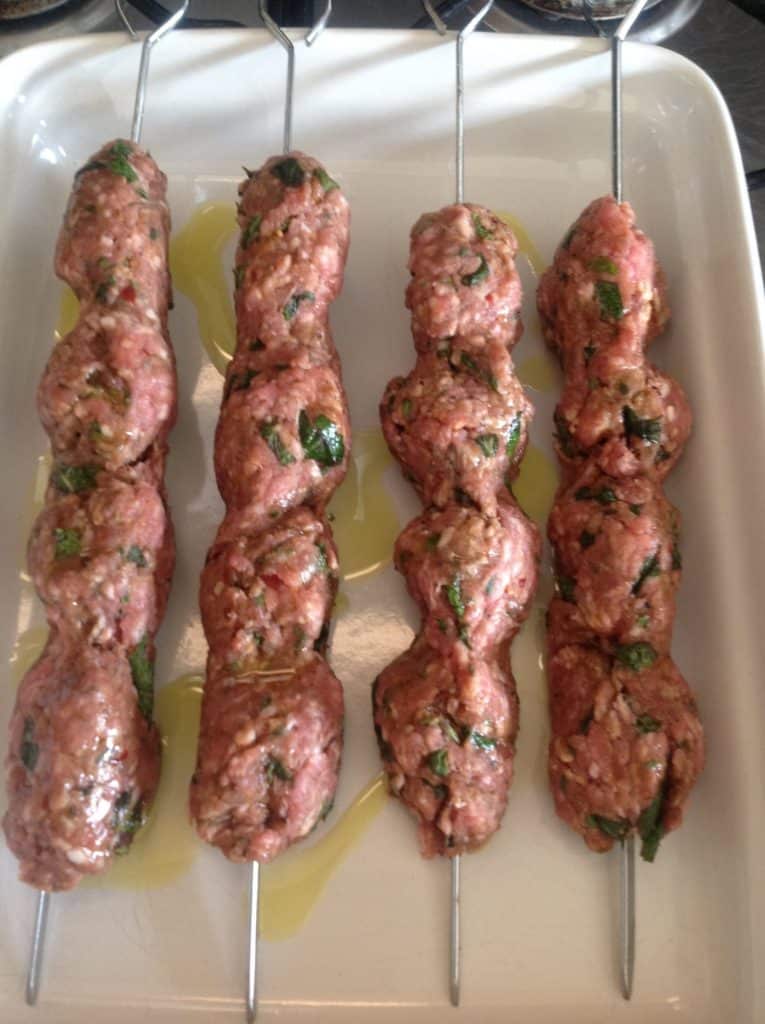 Finally
And if you're interested in Salad Dressings too, this guide may also help
Thanks Cx
Ingredients
600g Jersey Royal New Potatoes
Bunch spring onions
Handful sniped chives
2 sticks celery
3 rashers Smoked Bacon
100g Low fat Mayo
50g 1/2 Fat Creme Fraiche
End teaspoon English mustard (not too much!)
Salt and Black Pepper
1/2 juice of Lemon
Preparation Method
Boil the Jersey Royals until soft approx. 20 minutes
In the meantime trim the spring onions and chop, snip the chives and chop the celery into small cubes
Grill the Bacon until its very crispy – put on one side
In a small bowl mix together the Mayo, Creme Fraiche, Mustard, Salt & Black Pepper – pop in fridge
When the Potatoes are done, drain then roughly chop into large pieces an place in a large bowl. (Be careful they don't break up). Whilst hot squeeze juice of 1/2 Lemon over the Potatoes. Leave to cool.
When cool add chives, (reserve a few for garnish) Spring Onions, Celery and then the Mayo mix, carefully combine and place into presentation bowl.
Break-up the Bacon on the top and sprinkle with snipped chives
Dig in and enjoy, SOOOO much better than that shop bought stuff…. Cx