Hi and welcome to
Easy Peasy Lemon Squeezy
A place to inspire, share and talk everything kitchen with a side order of lifestyle and social ;)
Chunky Guacamole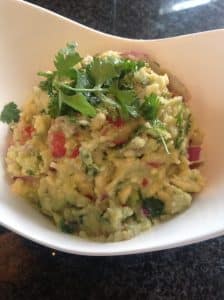 Chunky Guacamole
Chunky Guacamole! You can't beat Guacamole and especially when it's homemade. It's so easy and so tasty, so why not make it yourself! Easypeasylemonsqueezy
Guacamole is really popular these days as is avocado – I love avocado and anything containing it! Do you?
Officially – Guacamole is an avocado-based dip, spread, or salad first developed by the Aztecs in what is now Mexico
I love the kick of the chilli! and the lime juice cuts the richness of the avocado!
Go on have a go this lovely Guacamole can be made in minted, why buy it? Drop me a comment if you have a go
Thanks Clare Cx
Ingredients
3 Ripe Avocados (mine were not quite ripe enough in the picture)
1/2 – 1 Small Red Chilli, finely chopped
1/2 Red Onion, finely chopped
1 large or 2 small ripe Tomato(es)
Juice 1 Lime
Handful chopped Coriander
Salt & Black Pepper
Preparation Method
On a chopping board squash and chop the ripe tomato (es) and place in a bowl
Add chopped Chilli, chopped Coriander, chopped Onion, salt and pepper and juice of 1 lime
Halve the Avocados and remove stones (keep one)
Scoop out flesh and place in the bowl with the other ingredients
Mash with a fork until creamy and stir
If you are not eating the guacamole for a couple of hours, place the stone in the guacamole, cover with cling film and refrigerate
Serve with lovely nachos or Tortillas (remember to remove the stone )
That's it – easypeasylemonsqueezy Cx