Hi and welcome to
Easy Peasy Lemon Squeezy
A place to inspire, share and talk everything kitchen with a side order of lifestyle and social ;)
1
2
3
Easy Chinese BBQ Pork – so Easy!
Easy Chinese BBQ Pork – a real winner!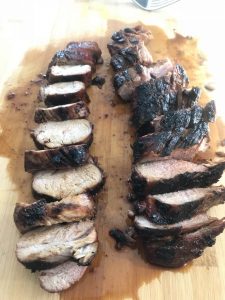 Its BBQ season – yey!!! Here's a beautiful moist Chinese BBQ Pork fillet. So easy and so tasty and such a wonderful change from burgers and sausages! Go on have a go and wow your guests!
It really is so very easy – simply prepare the marinade in a plastic bag, chuck the pork fillets in and leave to work it's magic, either for a couple of hours or overnight in the fridge. Chuck them on the BBQ for approx 30 minutes and you're done. Delicious, tasty, lean and tender pork yum…..
The pork tenderloin, also called pork fillet, is a long thin cut of pork. As with all quadrupeds, the tenderloin refers to the psoas major muscle along the central spine portion, ventral to the lumbar vertebrae.
When you're looking for lean protein to include in your diet, or when you simply crave some healthy meat, pork tenderloin is a good choice. It's low in fat, high in protein and a rich source of B vitamins and selenium.
The next recipe from BBQ BOY something a bit different  – delicious!
So what can you eat with this lovely BBQ Pork?  Well it's good with hassleback potatoes & a green salad. And all the normal BBQ sides
Let me know why you think if you have a go – I love to get your comments
Thanks
Clare X
Ingredients
Serves 4
2 medium size pork fillets
2 in fresh ginger root (peeled)
1 large clove of garlic, crushed
2 tablespoons Hoisin Sauce
2 tablespoons dark soy sauce
2 teaspoons light soft brown sugar
1 teaspoon five-spice powder
2 tablespoons sunflower oil
2 tablespoons clear honey
Preparation Method
Finely grate the ginger, & squeeze out the juice into a non-metallic dish.
Add all the marinade ingredients into a large bowl, stir together well.
Add the pork filets & make sure they are coated well in  the marinade.
Cover & set aside for a couple of hours or overnight in the fridge.
Barbecue the pork filets over medium hot coals, for about 25 – 35 minutes depending on size or until the inside is blush pink.
Cover with foil & rest for at least 10 minutes before serving, this way it will be cooked without being dry.
Good with hassleback potatoes & a green salad.