Hi and welcome to
Easy Peasy Lemon Squeezy
A place to inspire, share and talk everything kitchen with a side order of lifestyle and social ;)
1
2
Butternut Beetroot Salad :-)
Butternut Beetroot Salad
I've been trying to cut back on the carbs recently and I've been making loads of stuff with the veggie alternatives to pasta, noodles etc. So I've developed this Butternut Beetroot Salad and it's super tasty!!
They have lots such as the likes of, Squoodles, Courgetti etc they have some very funny shapes
All a bit odd to me, but nevertheless I think they can be used and utilised really well when you are trying to cut back on the carbohydrates.
I do this from time to time as I seem to lose the 'bloat' which is always a good thing. But I miss carbs – so anything that remotely feels like carbs is good as far as I'm concerned
I'm such a carbs girl, so limiting them occasionally is good for me.
Warm Beetroot Salad
So with this in mind I developed a warm (ish) salad type dish.
With butternut squash noodles, beetroot and feta – yum!
I love beetroot and feta as a combination.
There is something about beetroot with feta. I'm not sure why it works so well. But it just does
Maybe it's the saltiness of the Feta combined with the sweet earth beetroot? Then when you chuck in butternut squash, well it just makes it
I also love beetroot and Goats cheese too, so you could try that if you prefer!
Mix that with pumpkin seeds, pomegranate seeds, lemon juice and olive oil and you have a winner!
And how pretty do those pomegranate seed look next to the pumpkin seeds, like little jewels 🙂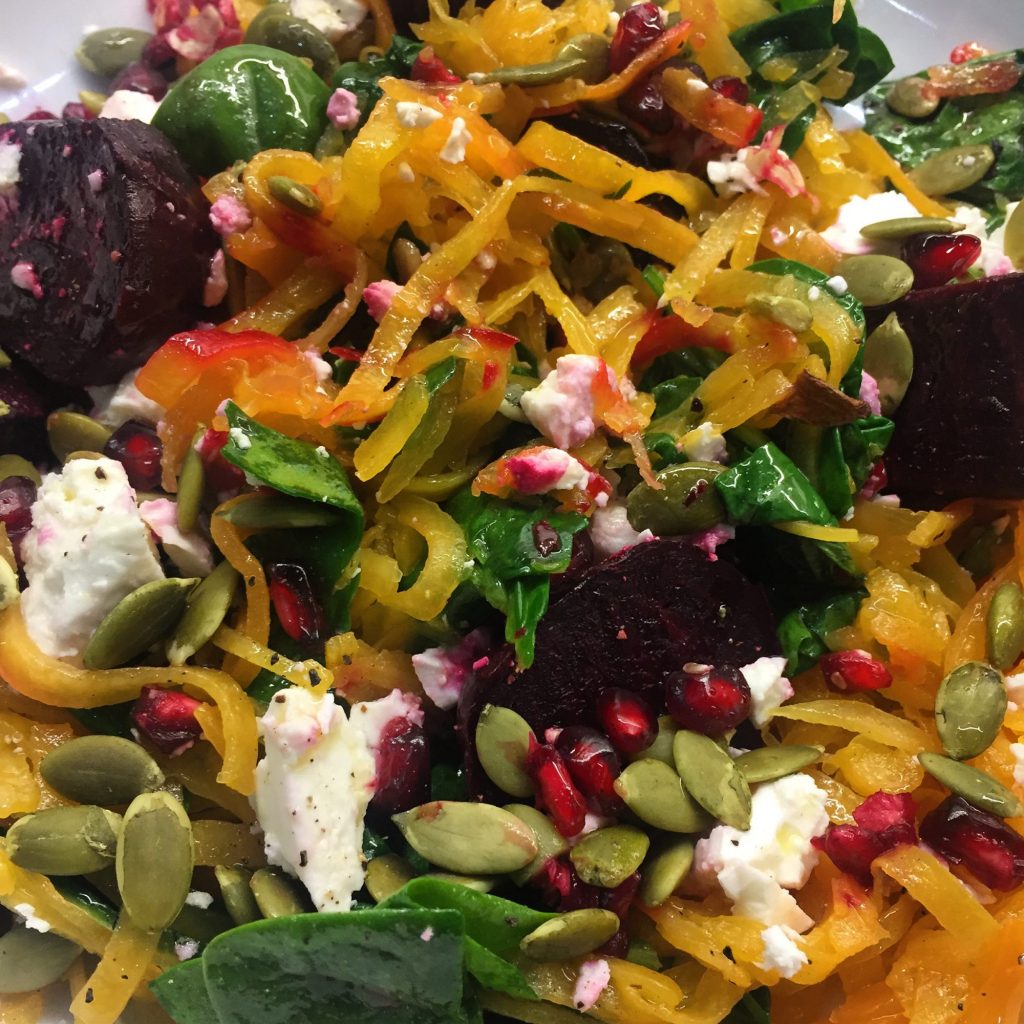 Spiralizer
Get your Spiralizer at the ready 🙂
Or pop down to the supermarket and buy them already spiralled!
Lovely low carb salad here we go! Do they call it Keto?
Have a go and let me know
I love to have your comments
Big love Clare x
Ingredients
The quantities are up to you really – no hard or fast rules – this is what I did:
1/2 Tablespoon Olive oil
Butternut Squash Noodles (spiralised Butternut squash – I bought mine for a £1 in M&S and also in Tesco's)
Handful of spinach leaves
Salt & Black pepper
4 Beets – small (I steamed my own but the chilled  ones would be fine)
50g ish Feta Cheese – crumbled
Hand full of pumpkin seeds
1/2 Pomegranate – seeds
Lemon juice
A drizzle of olive oil
Preparation Method
In a large frying pan add a very small 1/2 Tablespoon of olive oil
Once hot add your butternut squash noodles – stir fry for 2-3 minutes
At the last moment add your spinach – you just want it to wilt
Season with a touch of salt and plenty of black pepper
Tip the butternut squash & spinach on your plate
Construct now – with beets (halved), Crumbled Feta, Pomegranate seeds and a sprinkling of pumpkin seeds
Finally finish with a drizzle of Olive oil and a squeeze of lemon juice
Dig in – guilt free 🙂