Hi and welcome to
Easy Peasy Lemon Squeezy
A place to inspire, share and talk everything kitchen with a side order of lifestyle and social ;)
Easy Peri Peri Chicken Strips
Easy Peri Peri Chicken Strips
I'm so happy with my lovely new recipe. It's full of flavour, spicy and so easy. So welcome Easy Peri Peri Chicken Strips which I've served with Egg Fried Rice!
Yum! – I cannot begin to tell you!
The other evening I was craving something tasty with a little spice and chicken is always my go to.
I'm also trying to be really good. But why should being good mean less flavour?
Well trust me it doesn't!!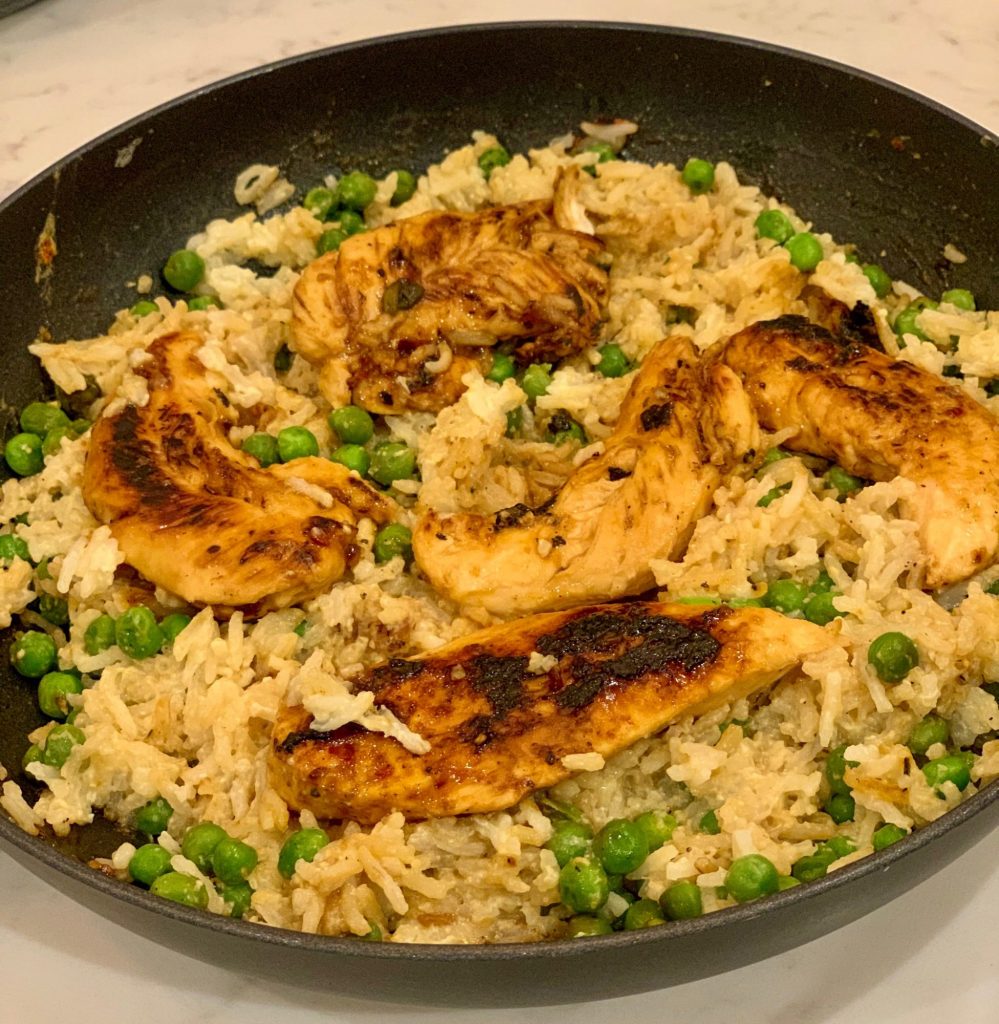 Healthy Easy Peri Peri Chicken Strips
It fits so perfectly to the 'healthy style' recipes I'm writing at the moment and happens to fit perfect and specifically into the Slimming Style 🙂
Syns are 2.5 for the whole thing (the honey) – so just over 1 Syn per portion?!
Come on, how amazing is that!!
This dish has spicy sweet chicken strips sat on a bed of soft moist egg fried rice.
So very good! And so very filling!
Top Tips for this Easy Peri Peri Chicken recipe
I've used Chicken Breasts here, but there is nothing to say you couldn't try thighs if that's your preference?
Also if you are trying to cut down some of the carbs, simply serve less rice and maybe add spinach or a tin sweetcorn?
Watch the chicken as the honey will make it brown super quick, you need the colour for the flavour, make sure you cook the chicken through though!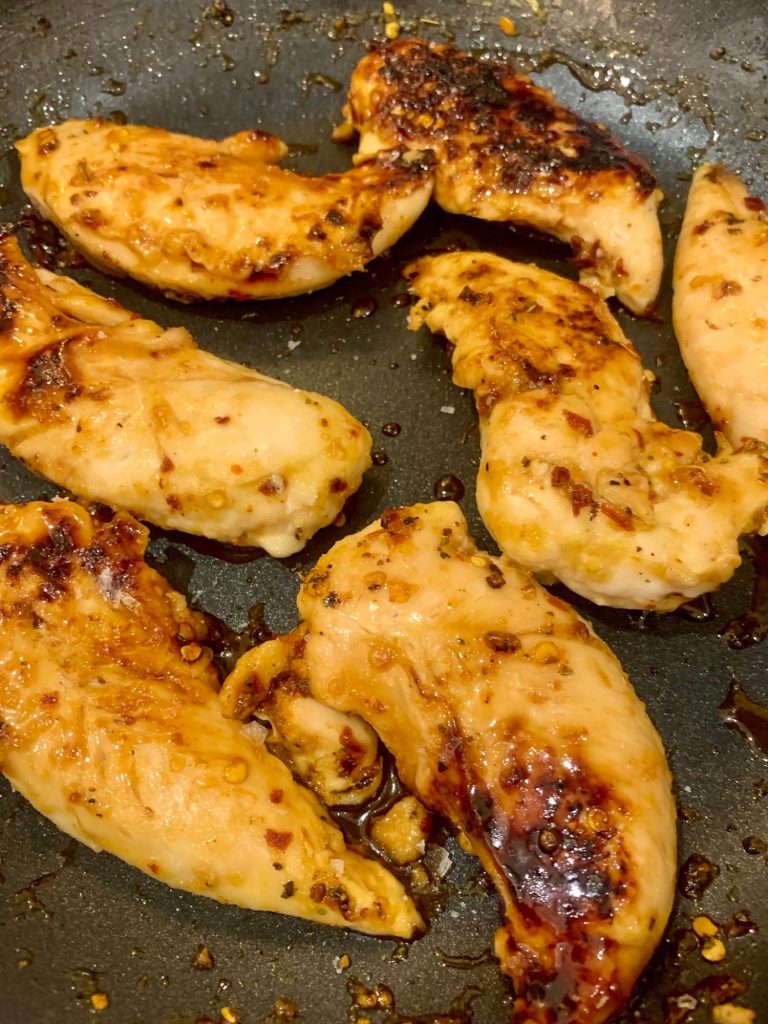 I used a blend of Piri Piri spice from Schwartz (also known as Peri Peri) (you don't have too) but it was something I had in my cupboard
I used 1 teaspoon as I think it give a little kick without too much heat (kid friendly). However you can easily increase this level if you like a really spicy dish

So what exactly is Peri Peri?
Peri Peri chicken is a spicy dish with roots in both Africa and Portugal.
The dish was created apparently in Angola and Mozambique when the Portuguese settlers arrived with chile peppers (known as piri–piri in Swahili).
Lots of people say you should marinate your chicken for at least 4 hours before you grill it but you don't with my recipe (who has time for that?)
This recipe can be ready in under 45 minutes. It makes it perfect for a mid week meal.
But it's special enough for that Saturday 'takeaway' also so much cheaper and healthier
With this one you simply add the seasoning as you add the chicken strips to the pan with the Fry light, garlic & ginger, so simple.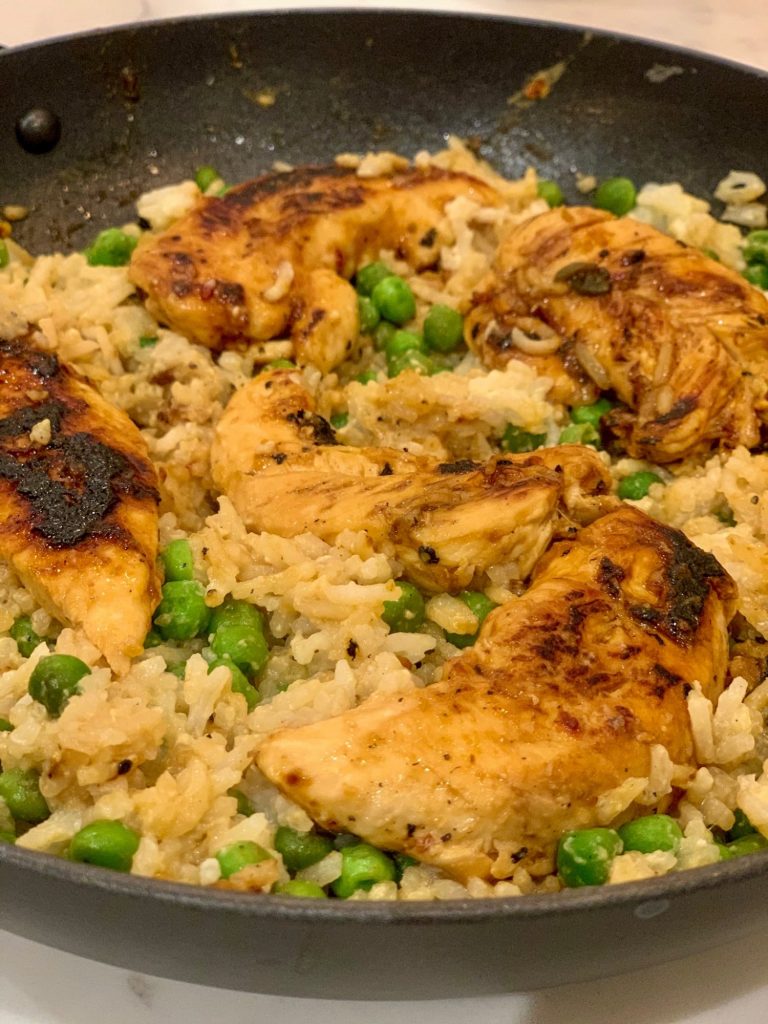 Another idea for this Easy Peri Peri Chicken
I made the full portion even though there was only me.
Once cooled I popped in the fridge and had it for lunch the next day with tomatoes and cucumber!!
Perfect quick lunch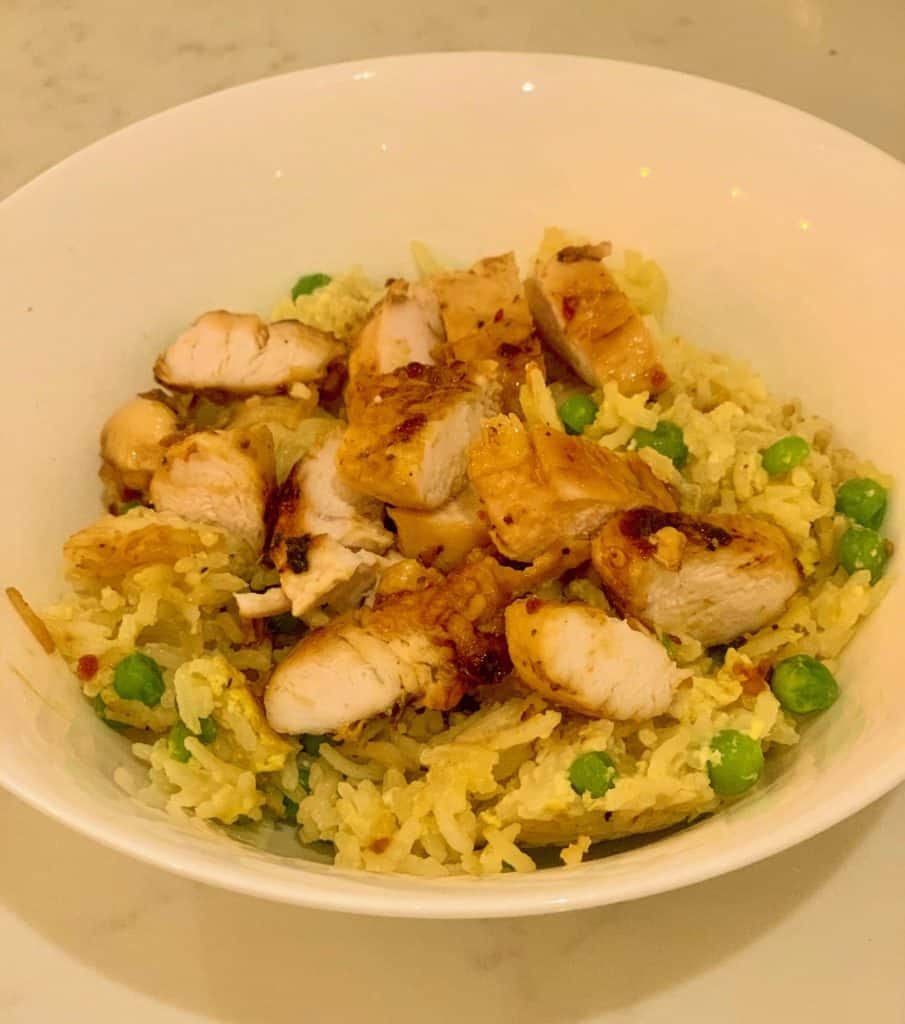 Also maybe you could use the chicken in wraps with lots of lettuce! Wow I'm making my own mouth water…
I'll try this soon and post a picture!
Other tasty Chicken dinners!
If you like this recipe for Peri Peri Chicken Strips I also think you'll love my Easy Chicken Curry, it's a real winner.
Again simple to cook and again it fits the Slimming programme

Slimming Group
I also have a Facebook Closed Group called Easy Peasy Slimming Style Recipes.
Come over and join this great honest community Facebook for Easy Peasy Slimming Style Recipes if you're interested
Just use the join button if you like real home cooked tasty easy food!!
We support encourage and laugh!!
Loads of tips and tricks – I promise
Thanks
Big Love Clare x
Ingredients
Serves 2 large portions
Fry Light
1 Clove garlic, peeled and finely chopped
2 cm Ginger, peeled and grated
1 level Teaspoon Piri Piri seasoning – I use Schwartz (if you like it really spicy you can increase)
1 level Tablespoon Honey
2 Chicken breasts, cut into large strips (or chicken thighs)
Salt & Black Pepper
200g Basmati Rice, cooked according to instructions
100g Frozen Garden Peas
2 Eggs, beaten
Preparation Method
Pop your rice on and cook according to the on pack instructions (once cooked drain)
Firstly find yourself a large non stick frying pan and spray with Fry Light
Add garlic, ginger and chicken breast strips, sprinkle with the Piri Piri seasoning
Fry over a medium heat for 5 minutes
Next drizzle the honey over the chicken strips and turn. This will give it colour
Continue to fry for 15 minutes until the pieces are cooked right through and a nice golden brown (careful they don't burn)
Once cooked remove from the pan and keep warm
Do not wash the pan but re-spray with Fry Light
Then over a high heat add the frozen garden peas, fry for 2 minutes
Next tip in the cooked rice and heat through until piping hot
Finally add the beaten eggs to the rice mix and stir over the heat until cooked. Remember the eggs will continue to cook even after you've switched the heat off.
Pop the chicken back onto of the rice and serve