Easy Chicken Curry Slimming Style
So I was thinking today whilst I was driving home from work (as you do) that I need an Easy Chicken Curry Slimming Style!
I have the most amazing Easy Chicken Curry (to die for) on my main category here at Easy Peasy Lemon Squeezy and it's so popular!
So I'll adapt it!!
You know when you're trying to be good you miss certain foods.
Why should you?
Healthy Chicken Curry
So I challenged myself…. I needed to try and make a Creamy Easy Chicken Curry Slimming style
Tonight I walked through the door and decided that I COULD possibly make my favourite Chicken Curry very low in Syns and guess what – I did! A delicious Slimming World suitable Chicken Curry
And Slimming Easy Creamy Chicken Curry was born!
Oh my goodness!
And now I'm thinking about it and honestly I'm hard pushed to taste any difference from the main recipe.
Joy of joys!
Maybe it's slightly runnier but it's absolutely delicious nevertheless.
It never ceases to amaze me how simple, quick and tasty it is!
30 minutes start to finish.
The Deets…
It's so balanced in flavour and super creamy. For me it beats the Indian takeaway.
I guess you could call it a fake away! But a meal without the wait at the takeaway and all that extra fat!
This recipe feeds two good portions and is approx 7 Syns, including some milk from your Healthy A.
So that's 3.5 a portion! (updated)
Now come on that's not bad for a very tasty filling Curry now is it!
And yes I know it contains Elmlea single cream, but that is what makes it taste amazing.
You could probably substitute with Quark, but I haven't tried it.
If you do then please let me know how it turns out? Or Greek yoghurt maybe?
The Curry Paste for your Chicken Curry
Now there's a rule – I insist you use the below Curry paste.
It's 'not an ad' at all but it delivers the best flavour in this dish.
I have worked hard to get it working really well.
In this recipe I use 2 teaspoons and I'd say this is a medium curry hit.
As it's a creamy fragrant coriander type curry, it works well.
Don't be put off by it saying madras – it's nowhere near that heat!
And there's a second rule to this recipe use FRESH coriander not dried – it simply doesn't work!
Fresh Coriander is so fragrant and fresh, it's my favourite herb.
In the US they call it Cilantro, so if you ever see a recipe that calls for it then you know you can substitute with Coriander
How To Serve your Easy Chicken Curry
I tend to serve my Easy Chicken Curry Slimming Style with a small portion of Basmati Rice.
If I'm being super good I might use cauliflower rice.
Sometimes I also add a large handful spinach right at the end, it's up to you.
Occasionally I've also had it on top of a jacket potato – also super good!
Have a go and let me know what you think?
It's a recipe that's perfect for the whole family, slimming or not, it's a little lower in fat!!
Now that's a result.
Everyone loves a good take-out curry, but my homemade chicken curry is something special.
I promise it'll rival the take-away! And at a fraction of the cost I'm sure!
Winner winner healthy Chicken Dinner!
Can you freeze your Slimming Curry?
You can also make this for 2 as well as for 10, just times this recipe by 5 for 10 people, it really is that simple.
Try freezing in portions, such a great one for batch cooking. I store it for up to a month in the freezer.
I find also that if i make it fresh, then store it chilled in the fridge overnight, it is almost better the day after.
It must be something to do with the spices maturing.
Just ensure that when you heat it, its piping hot all the way through!
How about these to accompany your slimming curry
And how about these lovely healthy Onion Bhajis – they are really very good
Another Slimming Curry?
Fancy another Slimming Style Chicken curry? Well check out my Chicken Rogan Josh!

And if you fancy an Easy Red Thai Curry –
here you go, my delicious an easy Chicken Thighs cooked with Thai Red Spices
Slow Cooker Curry! if you fancy it
And finally the DUMP recipe of all time
My Easy Slow Cooker Chicken Tikka Masala is just delicious! Uber easy

The Slimming Group
I have a closed group on Facebook for Slimming Style Recipes if you're interested called Easy Peasy Slimming Recipes
Just use the join button if you like real home cooked tasty easy food!!
See you there
Big Love Cx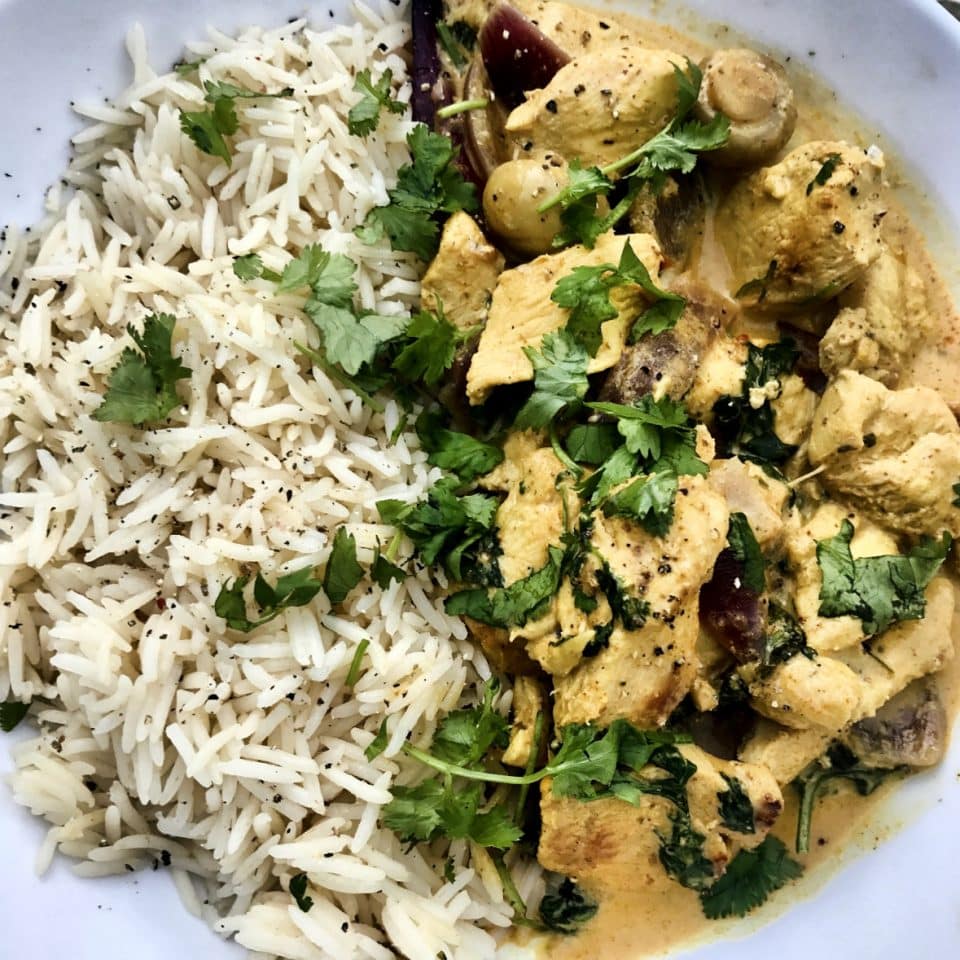 Easy Chicken Curry Slimming Style
Print
Pin
Rate
Easy Chicken Curry , delicious creamy & healthy
Ingredients
Fry Light

300

gram

Skinless boneless chicken breast

cut into 4cm size pieces

1

clove

Garlic

chopping finely

2

cm

fresh Ginger

peeled and grated

1

large Brown Onion

peeled and cut into large chunks

Salt & Black pepper

2

Teaspoons

Patak Madras Curry Paste

100

gram

Button Mushrooms

washed

200

ml

Skimmed Milk

100

ml

Water

3

Tablespoon

Elmlea single cream

Bag Fresh Coriander

torn into pieces
Instructions
Spray a large frying pan with Fry Light   

Fry off chicken pieces,  garlic, ginger & onions and for 5 minutes

Add curry paste and coat chicken and onions, add mushrooms fry approx. 5 minutes, stirring

Add the skimmed milk and water and  simmer for 12- 15 minutes - Stirring occasionally (looks a bit thin and weird at this point, but trust me it will be divine, you will end up reducing the milk over the 12- 15 minutes simmering) (Remember to put rice on, I use Basmatti but whatever will do)

Add the torn coriander and finally the cream.

Stir through bring to simmer for 10 minutes

Taste and season with Salt & Freshly ground Black pepper

Serve with rice, or cauliflower rice
Notes
*** Nutritional information is approximate and intended as a guide 
Nutrition
Nutrition Facts
Easy Chicken Curry Slimming Style
Amount per Serving
% Daily Value*
* Percent Daily Values are based on a 2000 calorie diet.