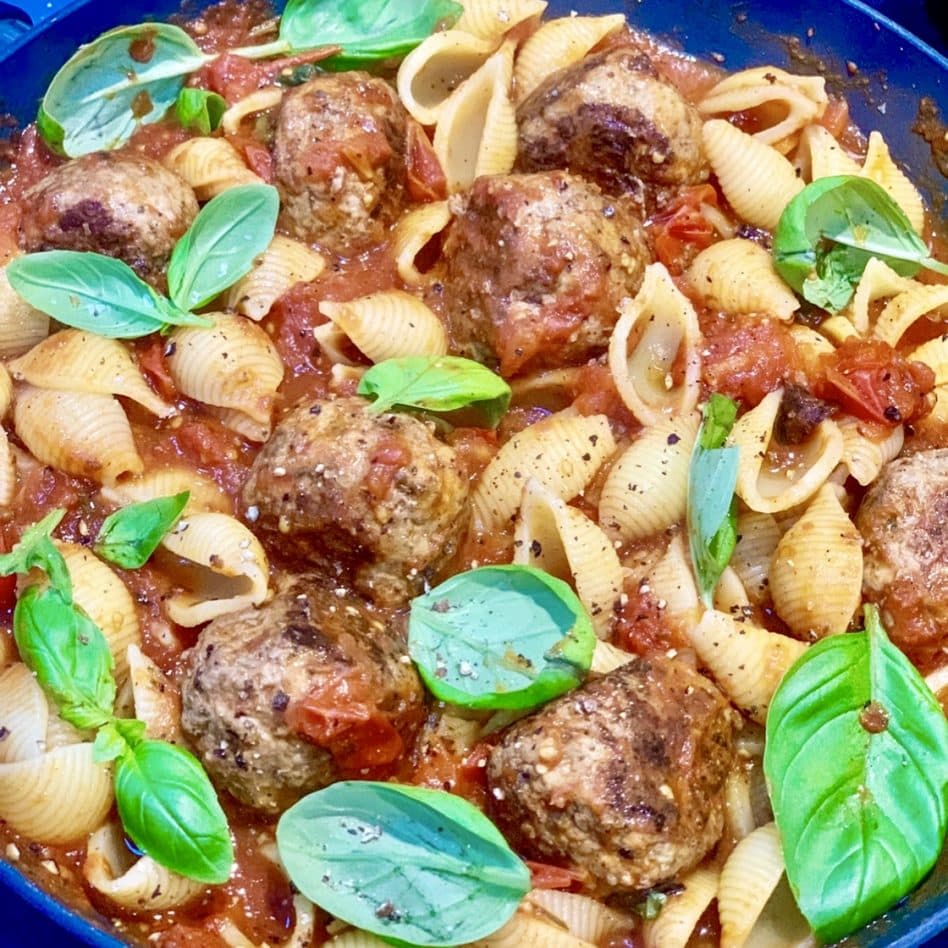 Easy Slimming Meatballs & Tomato Sauce
I promised a new great recipe and here it is Easy Slimming Meatballs!
I just love good tasty food, made from scratch, in fact you could say it's my passion!
But I also love easy recipes, this one is easy and worth the effort! It's also healthy and fits the Slimming programme perfectly!
Double win
Without a sprinkling of cheese it's Free – oh yes it is!
The Tomato Sauce for your meatballs
So firstly you need to go and look at the recipe for my Easy Tomato Sauce and make this! Again super easy!
This sauce is amazing for all sorts of pasta and pizza based dishes
The Meatballs – Slimming Style
So when I'm making this recipe I make a lot of meat balls. Why, you say?
Well I'm a bit lazy so I freeze those I don't use straight away and pop them into bags in the freezer.
I do love batch cooking or at least batch preparation.
This recipe makes approx 24 Easy Slimming Meatballs and I think 4 is enough for one person. So I guess this recipe feeds 6 people.
Can I freeze my meatballs?
Yes you can and it's an excellent idea
I tend to freeze the raw meatballs open in a dish or on a tray then bag in 4's!
Dinner already ready in the freezer! Ta-Dah.
Then in the morning before work I just grab a bag of 4 and pop them in the fridge to defrost, then when I'm home from work they are ready to cook!
I have used a mix of beef & pork mince. I think it's the best combination!
So tasty!
So how to serve the easy slimming meatballs ….
Now that's up to you! Here I served them with pasta.
However I guess that's the classic and it is delicious but you could try it with courgetti if you are controlling your carbs and looking for extra Speed Food.
They are also lovely hot or cold in a sandwich? Mmmmmm, you know like a meatball sub….
Oh and if you love spicy meatballs my advice is to add Chilli to the Tomato Sauce – so good.
I think changing the sauce is how you can change up the recipe – Yum 🙂
So guys a little vid below to show you how it looks in real life!
Have a go and let me know what you think?
It's a recipe that's perfect for the whole family, slimming or not!!
Now that's a result!
Slimming Group
I have a closed group on Facebook for Slimming Style Recipes if you're interested called Easy Peasy Slimming Recipes
Just use the join button if you like real home cooked tasty easy food!!
Big Love Cx
Another couple of healthy Meatball recipes
Creamy Meatball Pasta
How about a delicious creamy sauce instead of the traditional tomato sauce
This dish is insane and packed full of flavour – give my Creamy Meatball Pasta a go and it's ready in under 30 minutes 🙂
Chicken Meatballs
This time I've used chicken sausage and they are so delicious! So have a look at this Chicken Meatball Recipe, we all love them here

Other Quick Dinner Ideas
You might like this to – my lovely chicken curry – slimming style
Easy Slimming Meatballs & Tomato Sauce
Print
Pin
Rate
Tasty meatballs in a fresh tomato sauce Slimming Style
Ingredients
500

g

Minced Pork <5% fat

500

g

Mince Beef <5% fat

2

teaspoons

Dried Oregano

or mixed dried herbs if you prefer

1

Clove

Garlic

minced or grated

Salt

Black Pepper

1

Free Range Egg

1

portion Easy Tomato Sauce - click the link above

freeze half

Handfull torn Basil
Instructions
Hopefully you have made your Tomato Sauce

In a large bowl, mix the pork mince with the beef mince, I use a knife or spoon

When combined, add Dried Oregano, minced Garlic, Salt & Black Pepper and egg - mix really well

Then using your hands take small amounts of the mix and roll into balls, (mine were about half the size of a golf ball) You should make 22-26 Meatballs depending on the size.

Carry on until all the mix is used. I then open freeze those I don't need, what I mean by this is in a dish as the picture - once frozen bag up into portions.

For the meatballs you want to eat now then take a non stick frying pan and fry (you can use Fry Light if you like but you don't actually need it) on a high heat your meatballs in batches. (I would say the maximum  is 8 in a medium sized pan)

Turn the meatballs frequently to brown all over, approx 10 minutes, do this in Batches.

Turn down the heat and fry for a further 5 minutes

Once cooked tip over your prepared tomato sauce and let them simmer over a low heat for 5 minutes

Finally add your pasta (if using) and a handful of torn basil leaves.

Stir and you're done! (If you have a healthyA left you can sprinkle with cheese) If your not serving with pasta,  then just add your Basil leaves and serve accordingly Enjoy!
Nutrition
Nutrition Facts
Easy Slimming Meatballs & Tomato Sauce
Amount per Serving
% Daily Value*
* Percent Daily Values are based on a 2000 calorie diet.