Baked Nectarines Cherries & Vanilla Cream
Too good to be true
Oh sometimes you just need a lovely warm pudding. Try this baked nectarines recipe – you'll love it I'm sure
One that's not loaded with fat and sugar (ok there's some honey but really not much at all!)!
Sometimes you need that sweet fix don't you?
To satisfy that sweet tooth, but you don't want the gazillion calories that go with it?
If that's you then this is a must….. It is the simplest of recipes and in essence EASY PEASY LEMON SQUEEZY it's super easy, nutritious too and gluten free!
Baked Nectarines with Cherries & Vanilla Cream are so flipping simple to make and it's so delicious.
You can easily make it for just 1 or if you have lots of people just use as many nectarines a you like – just increase the amount of fruit- it's that easy!
Alternative Fruit
You can easily use peaches too
Fruit Sugar
There's a lot said about sugar (i.e sugar is the devil etc) but I believe the consumption of fruit can be really beneficial and it's necessary for vitamins an fibre.
When you consume fruit, you are not only consuming fructose (in its natural state), but also consuming fiber and lots of vitamins and minerals too.
I also guess it would be good with other fruits, plums, peaches? etc. If you have a go please let me know what you think? I'd love that….
Baked Nectarines with Cherries & Vanilla Cream – it's like a massive hug in a bowl, so delicious
Go on have a go – guilt free!
The Deets
If you're SW then the honey is 1 Syn per teaspoon – so I make that 2 syns and then I'm afraid you have to count the fruit as it's baked !!? BOOOOOOO!
100g Nectarines baked is 2 Syns and cherries say 1/2
So I make that 3-4 Syns a portion – harsh but delicious
And if you love Baked Fruit – here's another
Heres another cracking recipe – it's almost crumble time
A big hug in a bowl I promised you – Baked Apples with cinnamon & Honey go check it out
Another Nectarine Pudding
This time a nectarine frangipane tart, it's so good (not for the slimming unless a little slice)
Give it a try!
Slimming Group
I also have a Facebook Closed Group called Easy Peasy Slimming Style Recipes
Come over and join this great honest community Facebook for Easy Peasy Slimming Style Recipes if you're interested
Just use the join button if you like real home cooked tasty easy food!!
We support encourage and laugh!!
Loads of tips and tricks – I promise
If you love fresh fruit on desserts then you'll probably love my Fresh Fruit Pav have a look!
Cx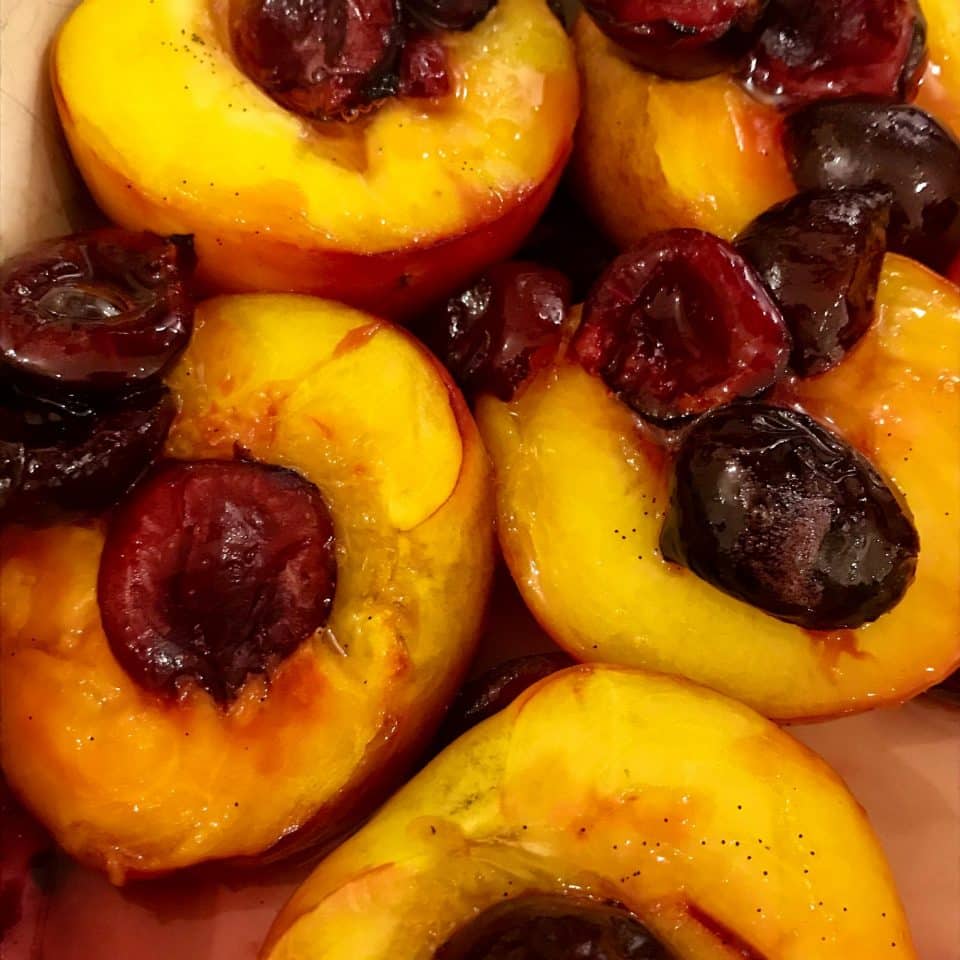 Baked Nectarines Cherries & Vanilla Cream
Print
Pin
Rate
Deliciously soft baked fruits with honey and Vanilla creme
Ingredients
3

Nectarines - halved and de-stoned

4

level teaspoons honey

Fresh cherries - de-stoned about 20 halves or however many you want

Total 0% fat Greek Yogurt

1/4

teaspoon

Vanilla Bean Paste or fresh vanilla
Instructions
Pre-heat oven to 200c/400f/Gas6 In an ovenproof dish place the stoned nectarine halves

Place a level teaspoon honey (ish) in each well (you know where the stone was)

Pop in the oven for 10-15 minutes

Remove and give it a stir (ish) and throw your cherries on top

Bake for a further 10 minutes and that's it

TO SERVE - Place in a dish with a big dollop of 0% Fat Greek yogurt and swirl some vanilla in the yoghurt
Notes
*** All nutritional information is approximate and intended as a guide 
Nutrition
Nutrition Facts
Baked Nectarines Cherries & Vanilla Cream
Amount per Serving
% Daily Value*
* Percent Daily Values are based on a 2000 calorie diet.