Hi and welcome to
Easy Peasy Lemon Squeezy
A place to inspire, share and talk everything kitchen with a side order of lifestyle and social ;)
1
Easy Cherry Frangipane Tart (a little cheaty)
Easy Cherry Frangipane Tart (a little cheaty)
This Easy Cherry Frangipane is soooooo good, not too sweet and very very moist. I guess you could also say it's a Cherry Frangipane Tart?
I love to make homemade dessert and this one is just so easy as well as being very delicious.
It's a little bit cheaty as I have used ready made bought chilled pastry? Well why not? I think it's just as good as making your own.
But obviously if you have loads of time to make pastry then excellent.
However lets face it most of us always have one thousand things to do. So this is a nice compromise.
To Serve your Cherry Frangipane
This beauty is perfect served cold on it's own. Also nice warm with with cream, ice cream or custard. Or all three ha!
It's also stable enough for lunch boxes and picnics
You don't have to choose cherries but they work so well.
So what exactly is Cherry Frangipane?
The Frangipane
Well basically it's just a mixture of ground almonds, butter, sugar and eggs and it's often used to fill a tart.
Very often people use halved stone fruit such as apricots and plums and these are placed onto of the frangipane and baked to make a delicious dessert.
However I decided to choose Cherries (LOVE cherries) and pitted them.
And it's an absolutely delicious tart!
Just make sure you are TOTALLY certain that you have removed all the fruit stones – otherwise expect a trip to the dentist 🙁
You should really give it a go – It's so worth it.
And it looks very impressive!
If you do then please drop me a comment below the recipe. I do so love to receive your comments
Do you still make family desserts or puddings?
I don't in the week at all. However I do think it's nice to have a treat at the weekend.
This is great after lunch on a Sunday, followed by a lovely long walk
How about this retro pudding? Another classic
Pineapple upside down – yes please!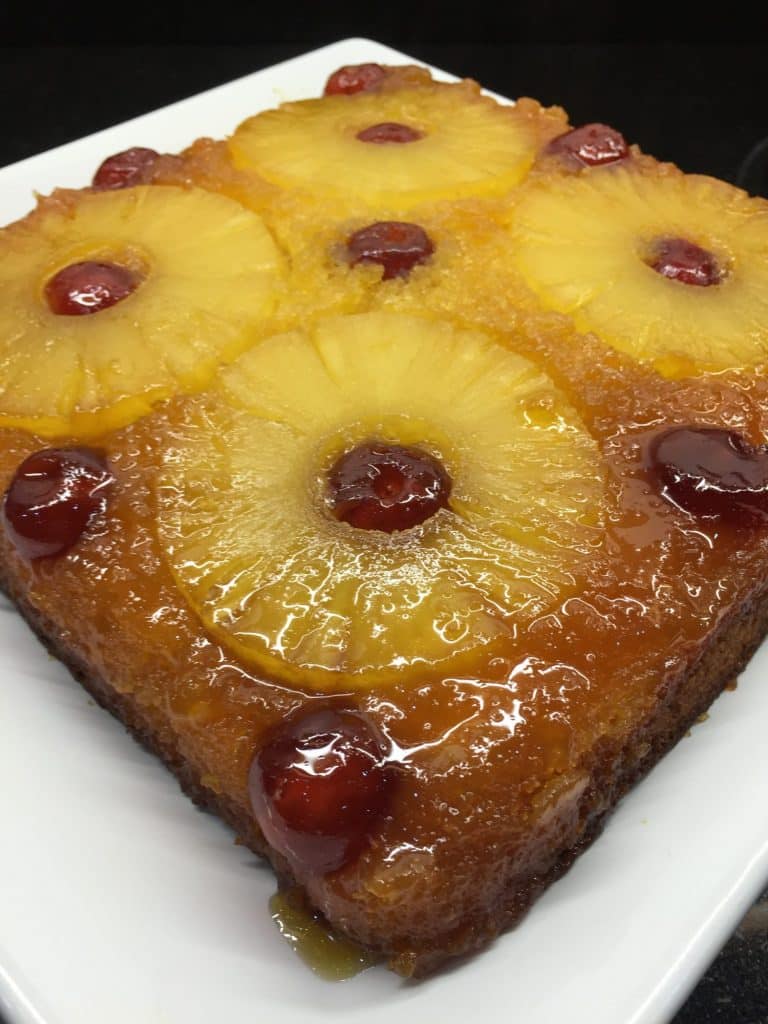 Also if you like my Easy Cherry Frangipane Tart recipe then I think you'll also love my Cherry Madeira Cake
Maybe have a gander?
Thanks Clare x
Ingredients
Easy Cherry Frangipane Tart
Sweet Shortcrust pastry – buy it ready made (Tesco's Finest is great it's chilled and ready rolled!) If you have time make you can make your own but the chilled stuff is the business
110g Butter, room temperature
110g Caster Sugar
1/2  Teaspoons Vanilla Essence
2 Free-Range Medium Eggs
100g Ground Almond
40g Plain Flour
400g Fresh Cherries (washed and stones removed, be careful make sure you get ALL  the stones out!!!!!)
Preparation Method
Preheat you oven to 200C/ 170C fan/Gas 6
Line a 9′ or 22.5cm round loose bottomed flan dish with your pastry – let the pastry hang over the sides, (you can trim it once it's baked, then you have no shrink back)
Screw up some greaseproof paper or use grease proof paper and baking beans and blind bake for about 20 minutes . Remove the paper and pop it back for 5 minutes (you don't want a soggy bottom) should be golden brown
Leave to cool completely. Trim the edges with a knife
Turn down the oven to 190C/160C fan/Gas 5

Cream the butter and sugar until light and fluffy, beat in the eggs a little at a time

Next mix in your  Almonds with finally your flour until you have a smooth mix
Spread the mix into the pastry case and using a knife smooth to the edges
Next pop the cherries on top – pushing down lightly – any pattern you like!
Bake in the oven for 40 minutes until the frangipani is baked (firm to the touch and nicely golden)
Remove, cool (if you can wait)  and eat! Delicious