Hi and welcome to
Easy Peasy Lemon Squeezy
A place to inspire, share and talk everything kitchen with a side order of lifestyle and social ;)
Easy Apple & Honey Cake
Easy Apple & Honey Cake
I wanted to make another Apple Cake for Easy Peasy Lemon Squeezy and I've been thinking for a long time how to do this to keep it as easy as possible and to make a cake that you can also eat as a pudding! Well I think I've cracked it! Here it is Apple & Honey Cake and it's lovely! Its a – I promise
Moist Cake Recipe
I wanted it to be really moist and so I did a huge amount of research.  I  decided I'd try adding some soured cream into the mix. It is supposed to keep it moist and I'm really happy to say it certainly flipping does. It also gives it a nice dense texture, perfect to have warm with cream, custard or ice-cream and equally as good cold with a brew!
This lovely cake is sturdy enough for a lunch box too! I'd call it a tin cake, you know one to always have in the tin incase anyone pops round (not sure how long it would stay in the tine as it's so good!) . It's delicious but not too 'fancy.' Do you know what I mean?
So any dessert apples will do,  but the Pink Lady ones are lovely, but as I said any will work perfectly! I love apples especially in cakes! There's something so fresh and delicious about apples in cakes! Im not sure what it is but I love it!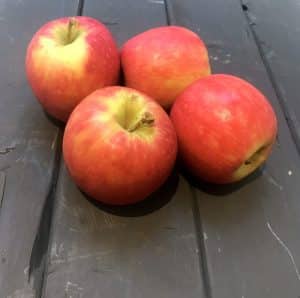 So go on have a bake of the Easy Apple & Honey Cake . It's super easy and super lovely. I'm sure you'll love it too
Cx
Oh and let me know what you think and if you like Apple Cakes you are sure to love Freda's Apple & Fruit Loaf  it's so so popular! (especially on Pinterest?)
Thanks Clare
(NOT Sponsored)
Ingredients
150g Softened Butter
225g Caster Sugar
4 Free-Range Medium Eggs
225g Self Raising Flour
100g Soured Cream
2 Pink Lady apples, peeled, cored and cubed (or any dessert apples)
1 Tablespoon runny Honey
Drizzle of runny Honey for top
Preparation Method
Preheat oven 180C / 350F / Gas4
Line a rectangular cake tin with baking parchment and grease well (10′ x 8′) Guess you could also make it round too and thus 8′ tin) or a Loaf tin 15 x 4
Cream butter and sugar until light and fluffy. I used a stand mixer. It can be done by hand and banish those bingo wings?
Next add one egg at a time, beating throughly, if the mix starts to curdle add a tablespoon of the flour. Carry on adding the eggs until all combined
Add the flour and mix until smooth
Then add the soured cream and apple chunks, giving it a good old stir
Finally stir through 1 tablespoon honey
Tip into the lined baking tin and smooth top
Give it a quick drizzle with honey – I went diagonal stripes
Pop in the oven and bake for 30-40 minutes until firm to the touch and golden brown (time dependant on cake tin size) If you are using a loaf tin –  bake will be approx 40-45 minutes!
Remove from  the oven, cool for 10 minutes and tip onto a cooling tray
Serve warm with custard / cream or ice cream or leave to cool and have a square with your brew!