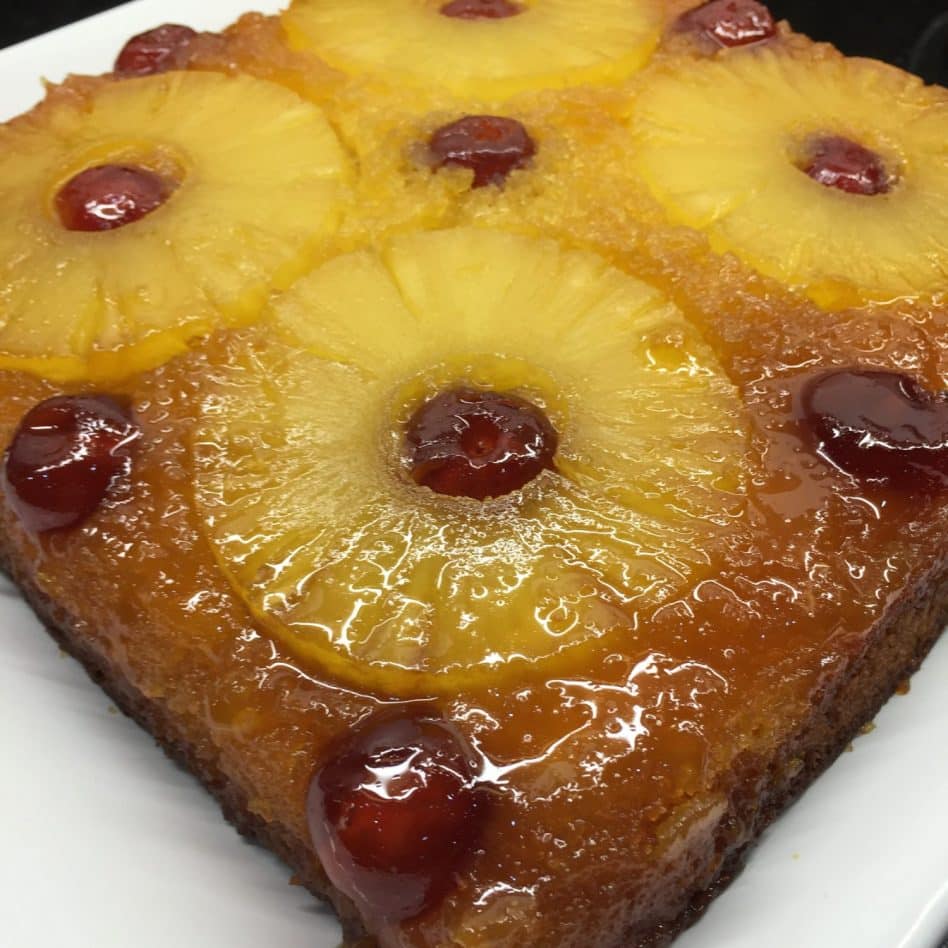 Pineapple Upside Down Cake (or Pudding) yes yes yes
This Pineapple Upside Down Cake Pud is the simplest most delicious retro pudding or cake of all !!! And to make this from scratch is so easy and flipping lovely!
I was so craving one of these. It reminds me so so much of my childhood…
Just look at it, it's so pretty!! Ha ha

Pineapple Cake or Pudding?
I think I'd classify it as a cake, for me, when I eat it cold with a brew.
And possibly a pudding when I serve it with custard or ice-cream – delicious!
What about you, do you call it? Pineapple Upside-down Cake or Pineapple Upside-down Pudding?
Do you know what, I'm not sure it really actually matters. It's flipping lovely whatever!
I challenge you to make it…. this Upside-down Cake or Pudding.
Whatever you'd like to call it, it's fine by me, but you really need to give it a go and relive an old favourite.
It's a total crowd pleaser and it's He-Who-Dosen't- Cooks favourite!
It reminds me so much of my school days and I remember making it in my Home Economics class-
Now that is a long time ago! But it has stood the test of time for sure!
How to make pineapple upside down cake: easy!!!
Simply grease your tin, add your pineapple rings, place cherries and golden syrup
And then sponge batter on top!
And bake!

Did you used to have Pineapple Upside-down Cake?
At School? At home? Do you still have it?
If you haven't for a while or even since your childhood, my suggestion is that you have a go!
It's so good and relatively low cost to make.
I was gobsmacked at how lovey it is 🙂
Love retro puddings
What to serve with your upside down pudding
I promise you, dish this up and you'll have happy family or guests
Serve with ice-cream, cream or custard, or why not all three?
And it's so easy and so low cost.
When I make one it lasts less than 30 minutes, seriously! 🙂
Mmmmm must try and make two in future!
It's the perfect Sunday lunch pudding 🙂
How long can I keep my Pineapple upside-down Cake
Pineapple Upside Down Cake will well for about 4 days or so in the fridge
Cover on a plate or seal in an airtight container and it will be fine refrigerated
As it sits it may get a little big more soggy – but it still tastes amazing
Yes you can freeze for up to 1 month.
To be honest I think it's better fresh or out the fridge
Have a go at this Pineapple Upside Down Cake
Please let me know how you get on and leave me a comment, I love your comments and your pictures 🙂
Oh and a really popular recipe on here (if you like the classics) is Cherry Madeira
I also think this cake takes you back a couple of decades and is also so very good!
Other Upside-Down Puddings
I also make a similar recipe with oranges – its called my Orange Pudding
It's so good and perfect for a big family lunch
Oh and if you like this I think you might love my Clementine Upside Down Puddings
Individual and totally gorgeous and have a lovely orangey syrup one them – mmmmmm
Another Comfort Pudding
This time a nectarine frangipane tart, it's so good
Give it a try! And very easy
I hope you enjoy your upside down puddings 🙂
Thanks Cx
Pineapple Upside-down Cake
Print
Pin
Rate
A delicious easy Pineapple pudding, can also be eaten cold as a cake!
Ingredients
Tin Pineapple slices

drained - 4 slices minimum

About 10 Glace Cherries

4

Dessertspoons Golden Syrup

125

g

Butter

softened

125

g

Caster Sugar

Few Drops of Vanilla essence

3

Medium Free-Range Eggs

125

g

Self Raising Flour
Instructions
Preheat oven 180C/350F/Gas4

Grease a 8 inch x 8 inch square tin with butter (or deep round tin if you like)

Drain your pineapple and place the slices in the greased tin add your Glace Cherries, however you like

Spoon over the Golden Syrup

In a mixer or by hand, cream your butter & sugar until light and fluffy

Add the vanilla extract

Next add eggs one at a time, beating well between each one (if it starts to curdle add a small amount of flour)

Finally stir in the flour until all combined and smooth

Carefully pop the sponge batter on top of the pineapple and smooth to the sides with a spoon (it will seem thinly covered)

Bake for 30-35 mins or until golden brown and firm to touch

Remove from the oven - leave to cool for 5 mins in tin

With a knife go around the tin to ensure it's loose

Pop a plate on top of the tin & turn over - give it a little shake  (you will hear it drop out)

Remove the tin - Ta Dah there you have it!!

Serve warm with custard, cream or ice-cream
Nutrition
Nutrition Facts
Pineapple Upside-down Cake
Amount per Serving
% Daily Value*
* Percent Daily Values are based on a 2000 calorie diet.