Hi and welcome to
Easy Peasy Lemon Squeezy
A place to inspire, share and talk everything kitchen with a side order of lifestyle and social ;)
Fresh Fruit Pavlova EASY!
Fresh Fruit Pavlova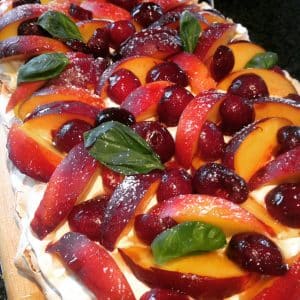 This Fresh Fruit Pavlova is an easy and simple dessert. It can be topped with cream and any fruits of your choice. It's so very summery and perfect for any occasion! So Easy and Delicious! For Christmas you can add winter fruits – also lovely!
It's definition is : Pavlova is a meringue-based dessert named after the Russian ballerina Anna Pavlova. It is a meringue dessert with a crisp crust and soft, light inside, usually topped with fruit and whipped cream.
In fact the perfect SUMMER dessert! Perfect for BBQ's and garden parties! And remember peeps if you give it a teak and a twist here and there it can be made special for any seasonal occasion!
If you follow the instructions it's also rather an easy dessert!
Have a go and show me your Pavlova creations with fresh fruit, please drop me a comment below, I so love to get your comments
Big Love Cx
Ingredients
Meringue
4 Egg Whites (Free-Range and large)
200g Golden Caster Sugar
Pinch Salt
Topping
300-400ml Double Cream – whipped
Fresh Fruits (whatever you fancy)
I used 2 Ripe Nectarines and a couple of handfuls ripe fresh Cherries (de- stoned)
Optional – a little fruits puree (not on mine)
Drizzle Honey
Mint leaves (yes I know mine are basil in the pic)
Icing Sugar – for dusting
Preparation Method
Pre-heat Oven 150C/300F/Gas2
Line a largish Baking Tray – you can make your Pavlova any shape you like!
Using an electric mixer, beat the egg whites using a spotlessly clean bowl for a few minutes unit the egg white are stiff
Gradually add the sugar & salt whilst the mixer is running and then whip on high speed for 7 minutes or so.
The meringue should not be gritty, if it is keep mixing
Spoon the meringue into the desired shape onto the lined baking tray, try to make the edges a little thicker than the middle
Bake in the pre-heated oven for minimum 1 hour, max 1 hour 15 mins. Remove from the oven and leave to cool, should be golden brown and a little cracked but soft (I leave mine overnight and then fill in the morning)
When you are ready to construct whip your cream until thick and spoon on meringue
If you want a little fruit puree on the Pavlova add now
Decorate with fresh fruits and drizzle in honey
Finally finish with Mint leaves and a sprinkle of Icing Sugar
Sit back, relax and tuck in ……. Cx