Hi and welcome to
Easy Peasy Lemon Squeezy
A place to inspire, share and talk everything kitchen with a side order of lifestyle and social ;)
Easy Tomato Sauce
OMG this Easy Tomato Sauce recipe is so easy and so delicious. In fact it's Easy Peasy Lemon Squeezy
I make it All the time! It literally takes 10 minutes and it's sweet, comforting and perfect over pasta or for your Bolognese.
It's the perfect base for so many recipes I promise. And once you have made it once you'll realise its so good – you will (for sure) make it all the time
Tomato Skins
Also dare I say it? When I find loads of cherry tomatoes in the fridge and they are on their way out I make this sauce and freeze it.
Also many people have asked about the skins?
Well because you are using cherry tomatoes they are so soft, no need at all to remove them. Also this is great as they are packed with flavour and also extra fibre (winner winner)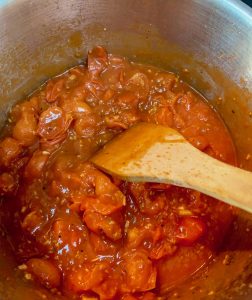 You can of course make it with normal sized tomatoes, I just find it's not quite as sweet!
And you may then have to remove the skins?
Slimming
If you're trying to be healthy and drop some pounds it's the best. Zero fat and delightful. It gives you so many opportunities to use it in amazing Slimming style dinners.
No loss of flavour. Lets face it, who doesn't love pasta & tomato sauce!!
It one of life's necessities. So if you are stuck one evening and have little time this is the ideal recipe for all your slimming pasta recipes!
This easy tomato sauce is so versatile as you can add anything to it! Try chilli, try basil, try herbs – so so good!
Why not boil some pasta – fry off some bacon, mushrooms and create the most delicious easy dinner, also olives are good too….
If you like the easy of this sauce then I think you'll also like my Chicken Pizza Recipe and maybe also my Mac & Cheese too. And here's my lovely Meatball recipe including this tomato sauce
So have a go and please let me know what you think!! And be sure to drop me a comment
Group
I also have a Facebook Closed Group called Easy Peasy Slimming Style Recipes – come over and join this great honest community Facebook for Slimming Style Recipes if you're interested – just use the join button if you like real home cooked tasty easy food!!
We support encourage and laugh!!
Loads of tips and tricks – I promise
Big Love Cx
Ingredients
Serves 2
Fry Light (Olive Oil if not on SW and you prefer
500g Cherry Tomatoes , halved
2 Cloves garlic, mince or finally chopped
Black Pepper and salt
150ml Water
Good squirt tomato puree (1 Tablespoon?)
Herbs, Chilli, Fresh basil leaves
Preparation Method
Spray a large pan with fry light or a good slug Olive oil (nn SW peeps)
Add all your halved Cherry Tomatoes, salt and black pepper
Pop on the heat and then add your water
Bring to the boil and simmer for 5 minutes
Add your Tomato puree and if using chilli, herbs etc add these now
Simmer for a further 5 minutes – if it's too thick for you add a drop of water
No need to remove the soft skins, eat them
Either use straight away, cool pop in the fridge or freeze for later
When serving use a good handful basil leaves for extra flavour
Ta-Dah you're done