Hi and welcome to
Easy Peasy Lemon Squeezy
A place to inspire, share and talk everything kitchen with a side order of lifestyle and social ;)
Healthy Onion Bhaji – Slimming Style
Healthy Onion Bhaji – Slimming Style
I've been so meaning to have a go at my own Slimming and Healthy Onion Bhaji recipe for a while
Last night I made my my Easy Peasy Slimming Chicken Curry, a family fave and so I thought it was the perfect opportunity to try something new – a new recipe 🙂
I'd seen some recipes knocking about on the internet but I didn't fancy their spice blend – so here's mine
So off I went and sometimes – not very often, you get it right first time 🙂 and sometimes you also get a lovely shot!
Well I'm pleased to say that was last night (I ate at least 4 of the 12 – eeeek)
Look how fresh and colourful they are – divine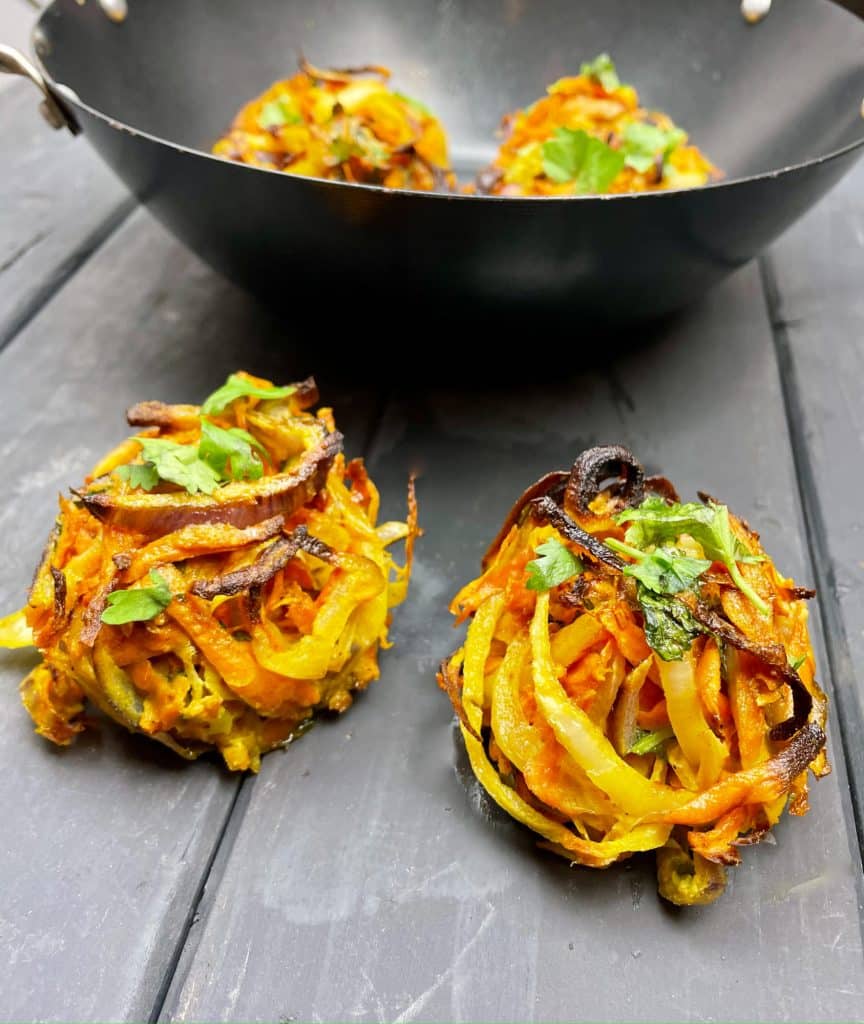 What is an Onion Bahji?
Well first of all I needed to figure out how to spell it 🙂 there are lots of different spelling.
In the end I resorted to Wikipedia
A bhaji, bhajji, bhajiya or bajji is a spicy snack or entree dish similar to a fritter, originating from the Indian subcontinent, with several variants.
Wikipedia
The Ingredients for your Slimming – Healthy Onion Bhaji
So according to the slimming plan all the ingredients are free – yay!
It's the gram flour that is missed out
So mine are NOT exactly how you know them from the Indian restaurant
They are 'fresher & lighter' somehow. They are also much more fragile
However trust me they taste amazing!
I used 2 different coloured Onions and sweet potato – yum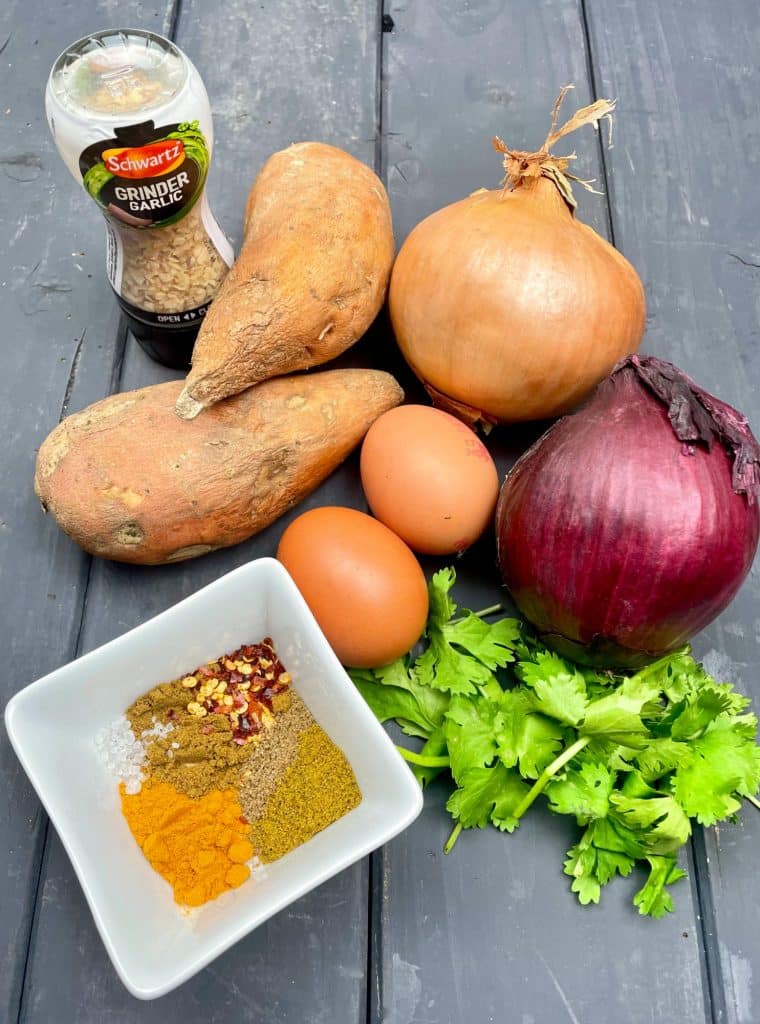 Tip on how to make your healthy Onion Bhajis
Simply finely slice your onions and grate your sweet potato and follow the instructions at the bottom of the post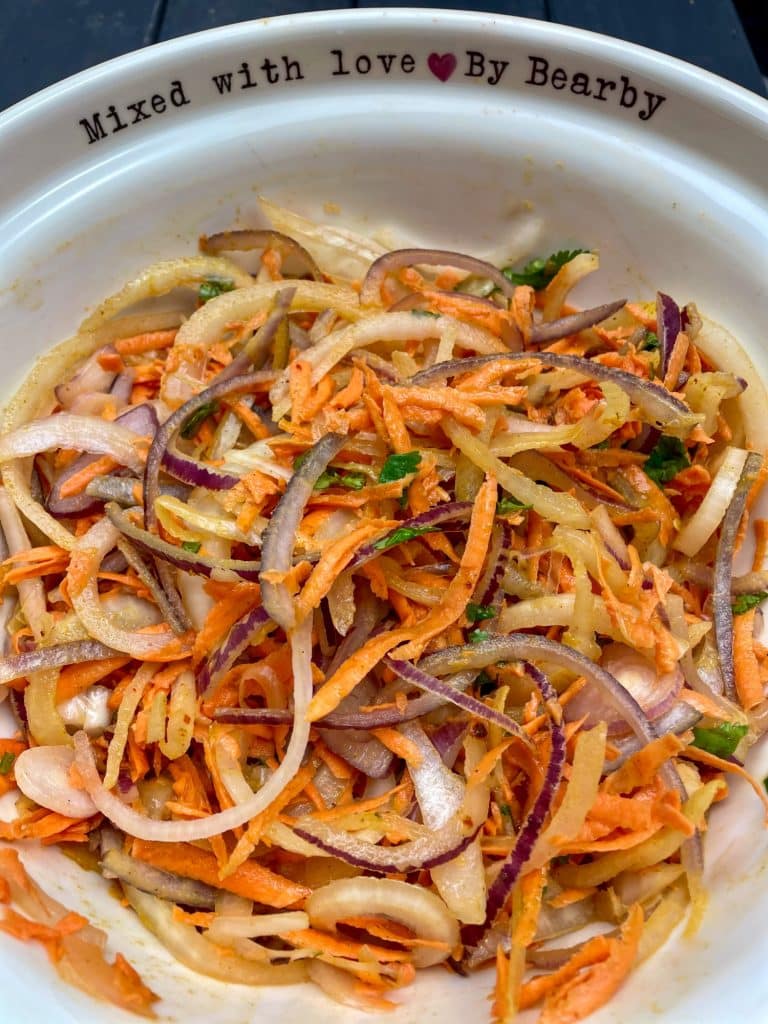 To bake your healthy Onion Bajhis
I used a deep Yorkshire pudding Tin / Muffin tin – and it was perfect
I did make some on a baking sheet but the shape wasn't as good – but it was ok (just make sure you spray your baking paper well with Fry Light)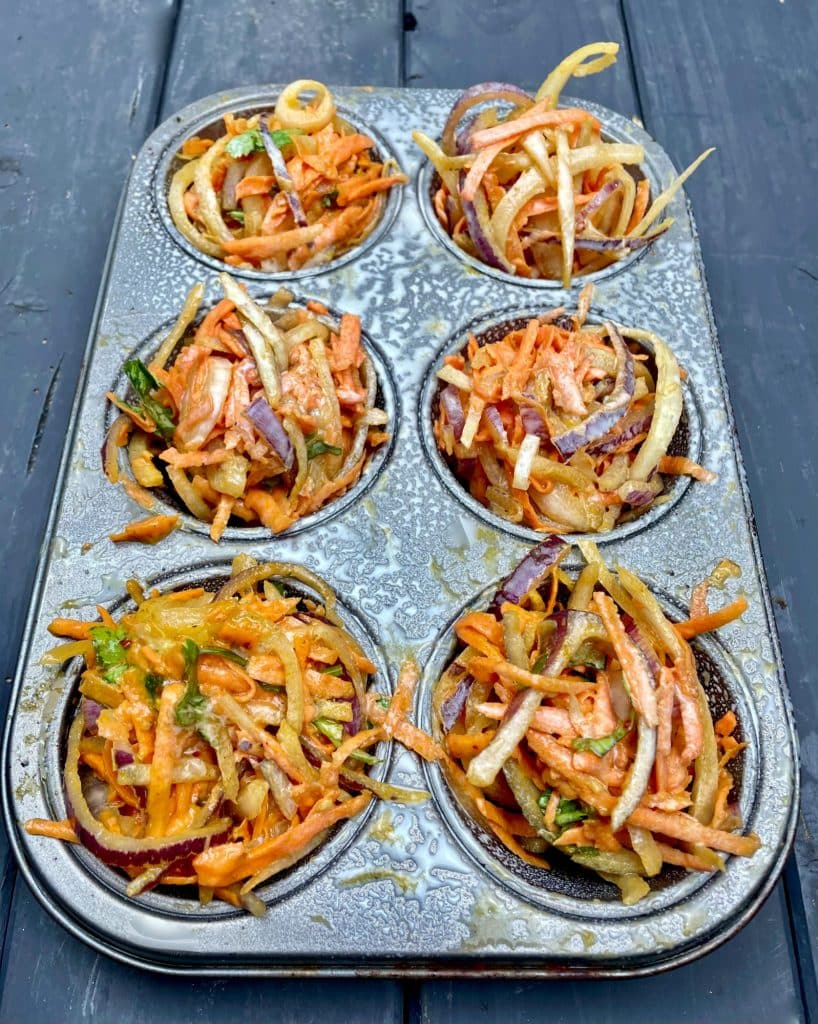 The Slimming Deets
Free! Boom
Chicken Curry for your Indian Fakeaway night
And if you like this dish I have many other Healthy Dinners, both mid week and weekend.
One of my faves is my Easy Chicken Biryani, so easy and so tasty
Go have a look!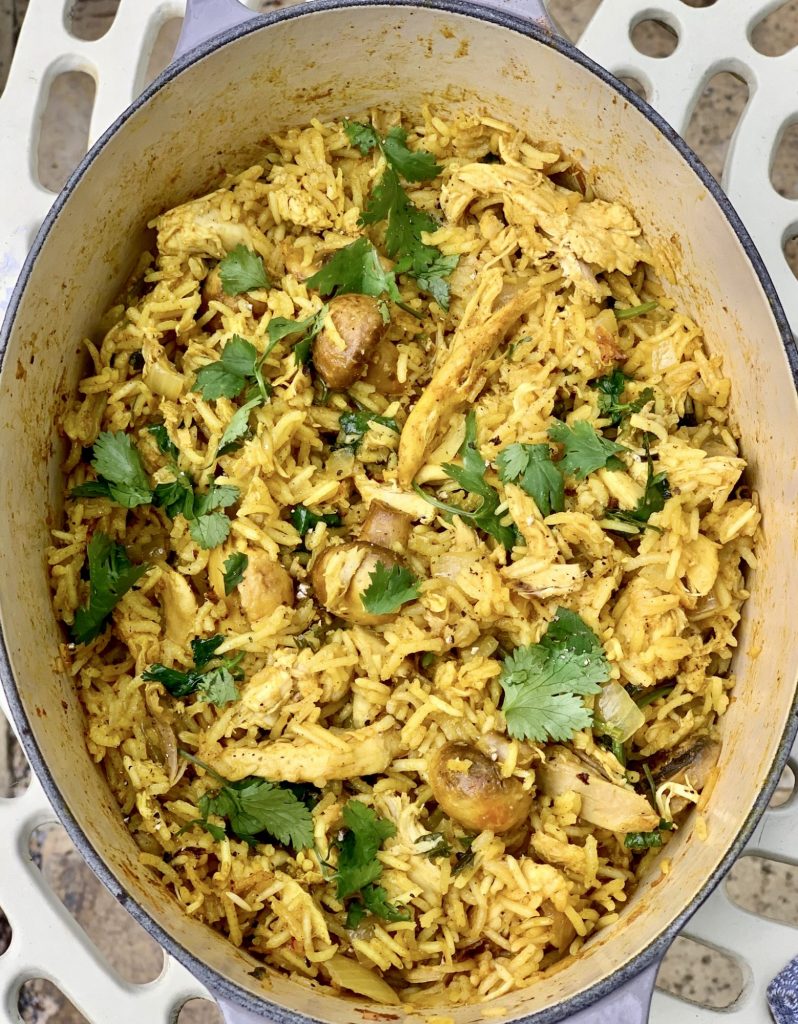 The Slimming Group
I also have a Facebook Closed Group called Easy Peasy Slimming Style Recipes
Come over and join this great honest community Facebook for Slimming Style Recipes if you're interested.
Just use the join button if you like real home cooked tasty easy food!!
We support encourage and laugh!!
Loads of tips and tricks – I promise
Big Love Clare x
Ingredients
Makes 12 Onion Bhajis
I Red Onion, peeled and thinly sliced
1 White/Brown Onion , peeled and finely sliced
1 large or 2 small Sweet Potatoes, peeled and grated
1 Clove Garlic, peeling and finely chopped, or a twist of dried
2 Medium Eggs
1/2 Teaspoon Turmeric
1/2 Teaspoon Garam Marsala
1/2 – 1 Teaspoons crushed dried Chilli's
1/2 Teaspoon Cumin
1/2 Teaspoon Ground Coriander
Salt
Black pepper
Handful torn Coriander leaves
Fry Light Spray
Preparation Method
Preheat your oven to 200C / 180c fan / 400F / Gas mark 6
Grab a medium sided mixing bowl and finely slice both your red and white onion
Next peel and grate your sett potatoes and add to the bowl together with your garlic. Give it a stir
Next in a small bowl, beat your eggs with a fork and all all your spices, salt, pepper and your torn coriander, combine
Tip your egg mix into your onion mix and using a fork mix until all your onions and sweet potato are covered
Spray your YP tin or muffin tin REALLY well with Fry Light
Next using your hands, form small balls and pop them into your tin, you should get 12 bhajis
Spray the top with Fry Light
Bake in the centre of your oven for approx 30 minutes, check after 20 minutes – they should be crispy on top
Remove from the oven. Using a knife release the sides and then using a spoon take the bhajis out, they are fragile
Then sprinkle with a few coriander leaves and enjoy – delicious