Hi and welcome to
Easy Peasy Lemon Squeezy
A place to inspire, share and talk everything kitchen with a side order of lifestyle and social ;)
Easy Chicken Rogan Josh Slimming Style
Easy Chicken Rogan Josh, Slimming Style
I so needed another curry recipe to turn to on my Slimming journey. So I put my thinking cap on and my Easy Chicken Rogan Josh, Slimming Style, was born!
Easy Healthy Rogan Josh
A Rogan Josh (sometimes written as Roghan Josh) is based on a tomato theme, so I knew I could readily adapt it to be slimming friendly too.
I've made this recipe for many years – not sure where it came from originally, but it's been adapted many times by me.
It's less that 2 Syns per portion (big portion) AND if you use the 25g Ground almond as your Healthy A then it's free!
Here at Easy Peasy HQ the theme of all my recipes is easy!
Tasty has to follow and family friendly is a must.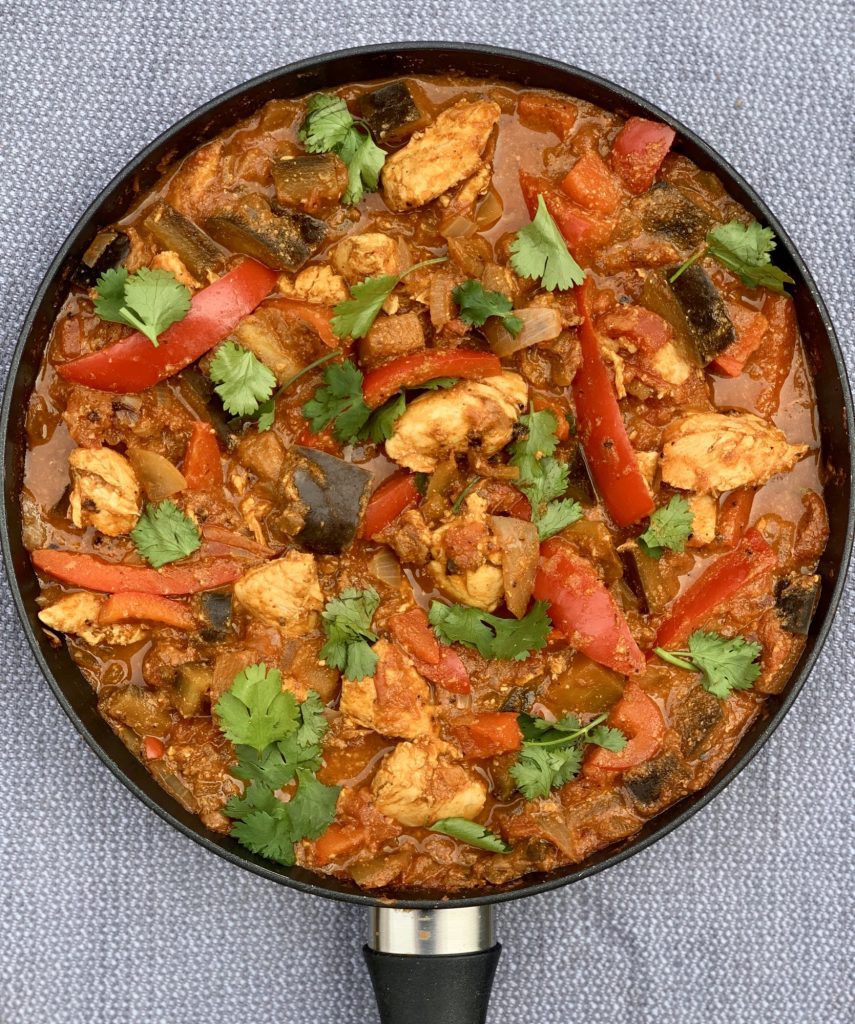 So this Chicken Rogan Josh hits the spot – I promise
It slightly more faffy that my very popular Chicken Curry Slimming style, but hey it's not difficult! And it's oh so good
About Rogan Josh Curries
Rogah Josh curries are aromatic and quite mild. Perfect for the whole family
They are normally based on red meats such as lamb. And always on a tomato based sauce.
However I just love the versatility of chicken and it's alway in my fridge. But you can switch it up by using lamb if you like…
Marinading your Chicken for your Easy Rogan Josh

Just mix your chicken pieces with Fat free yoghurt, ground almonds, garlic and salt & pepper and leave it in the fridge covered for approx. 30-60 Minutes
What spices go in Chicken Rogan Josh?
Blending spices is quite difficult so I've done it for us! See the recipe in the ingredients.
My blend is
Garlic
Garam Marsala
Paprika
Ginger
Ground Cumin
Curry Powder
All perfectly blended to give that lovely aromatic flavour
I also have plenty of veggies in there too:
Aubergine (also know as Egg Plant)
Onions
Red Pepper
Tomatoes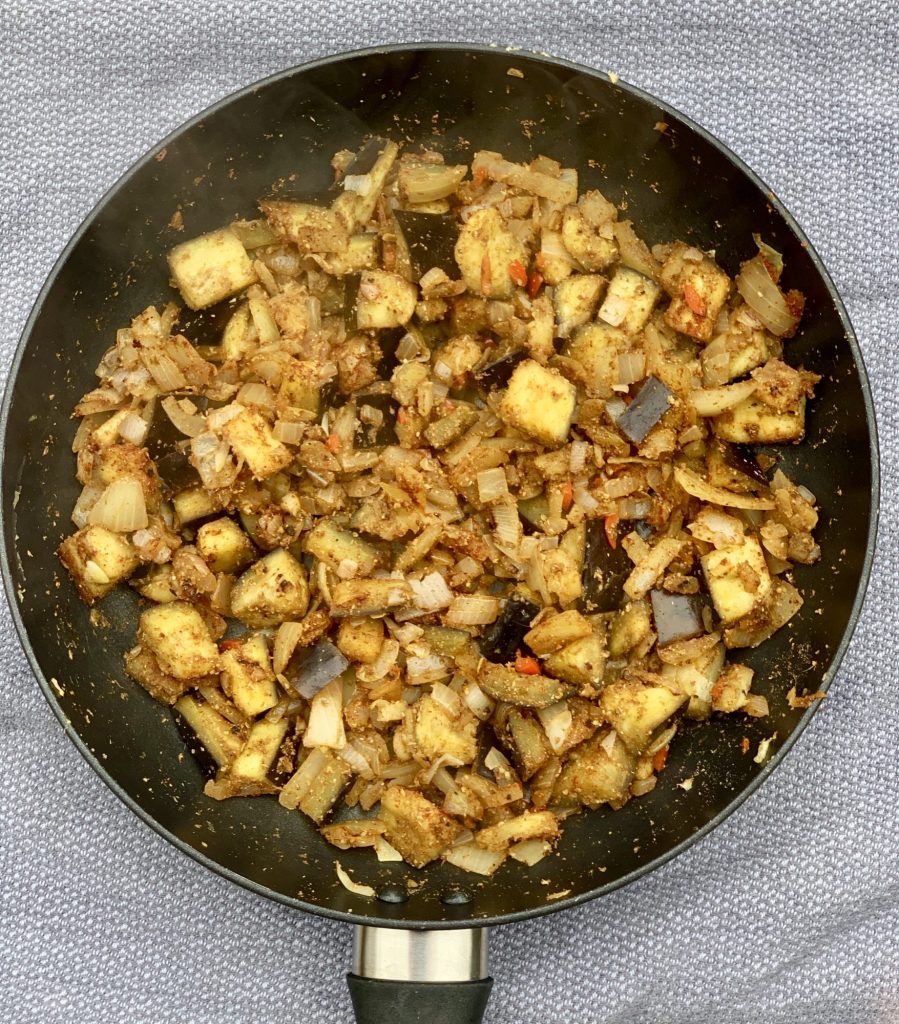 To Serve your Chicken Rogan Josh Slimming Style
I serve it with lovely Basmati Rice – simple …. yum
I've also had it on a jacket potato – that was good too
Other Ideas
And if you like this dish I have many other Healthy Chicken Dinners – one of my faves is my Easy Peasy Slimming Chicken Curry, a family fave. Go have a look!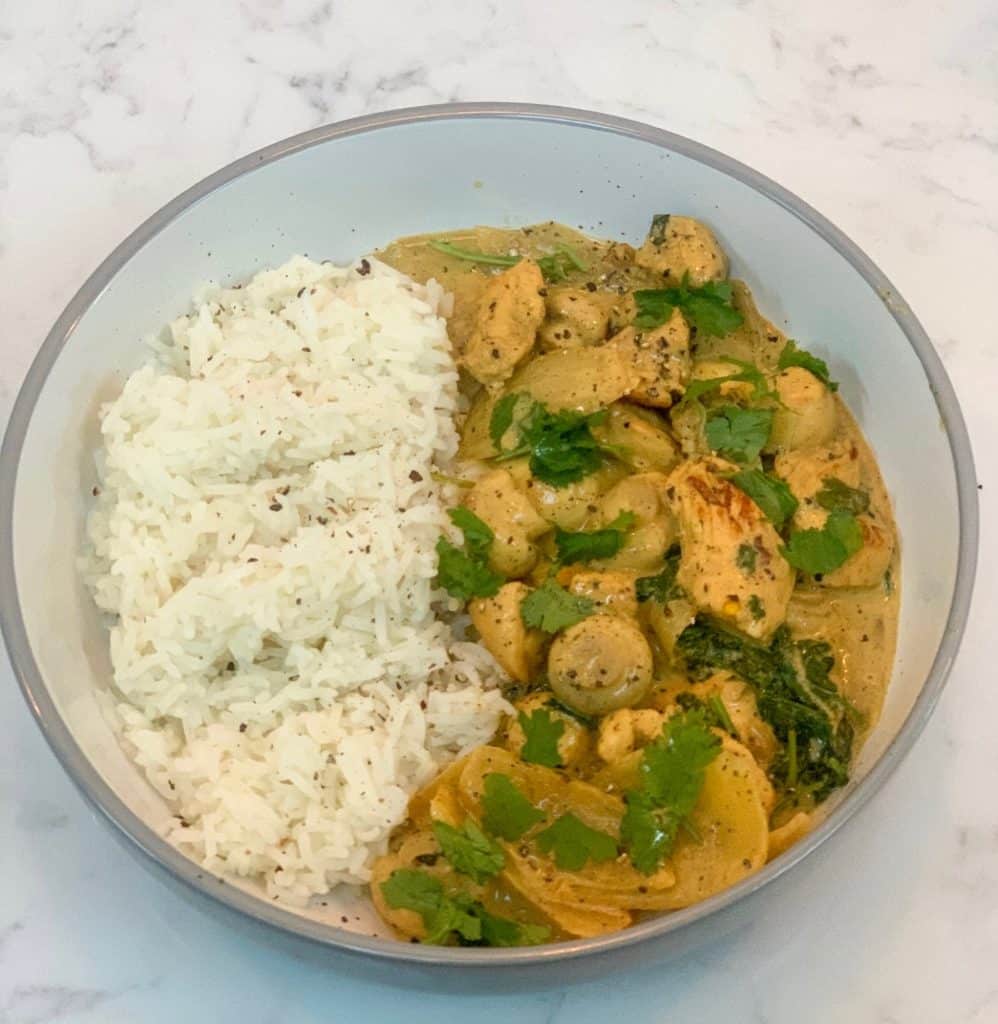 The Slimming Group
I also have a Facebook Closed Group called Easy Peasy Slimming Style Recipes
Come over and join this great honest community Facebook for Slimming Style Recipes if you're interested
Just use the join button if you like real home cooked tasty easy food!!
We support encourage and laugh!!
Loads of tips and tricks – I promise
Big Love Clare x
Ingredients
Serves 4
400g Chicken breast pieces, chopped into large bite size cubes
100g Fat Free Yoghurt (I used 0% Fage)
25g Ground Almonds
1 Clove garlic, peeled and minced
Salt & Black pepper
Fry Light
1 Onion, peeled and very finely chopped
Thumb sized piece of ginger, peeled and very finely chopped
2 Cloves Garlic, peeled & Minced
1 Teaspoon Medium Chilli Powder (or you can use fresh chilli)
1 Teaspoon Paprika
1 Teaspoon Garam Marsala
2 Teaspoons Ground Corrinader
1/2 Teaspoon Turmeric
I medium aubergine (also known as Eggplant) cut into 2cm cubes
 1 Tin Chopped Tomatoes
1 Red Pepper, Deseeded and sliced into strips
Coriander leaves  (Also know as cilantro)
Preparation Method
Firstly take a medium sized bowl and add your raw chicken pieces
Next add the Fat Free Yoghurt, Ground Almonds, minced garlic and salt & pepper and give it a good stir, making sure all the chicken pieces are coated
Cover the bowl and pop in the fridge for 30-60 minutes
Meanwhile spray a large frying pan with Fry Light
Add the finely chopped onion, finely chopped ginger, minced Garlic and your spices – Chilli Powder, Paprika, Garam Marsala, ground Coriander and Turmeric and fry over a medium heat for two minutes. Stirring
Next add the Aubergine and try for a  further 2 minutes. Transfer this mix to a plate
Re Fry Light your pan. Remove the chicken pieces from the fridge and fry over a medium heat for 8  minutes, turning a couple of times
Next add the onion, spices and aubergine mix and fry for a further 2 minutes
Finally add your tinned chopped tomatoes. Fill the tomato tin with water and add this too together with the red pepper
Simmer for 10-15 minutes until everything is cooked and piping hot
Serve with Basmati Rice and sprinkle with fresh coriander leaves