Hi and welcome to
Easy Peasy Lemon Squeezy
A place to inspire, share and talk everything kitchen with a side order of lifestyle and social ;)
1
2
3
Butternut Squash & Tomato Soup
Roasted Butternut Squash & Tomato Soup
Possibly one of my favourite and easiest soup recipes my Butternut Squash & Tomato Soup, all roasted in the oven!
What is it about soup?
I love this soup so much, I could eat it everyday, I hope you'll feel the same 🙂 .
Whenever I'm travelling all I crave is a bowl of homemade soup when I get home. There is something so homely about it!
And what I also love is with soup you get to use up all those sad looking vegetables in the bottom or your fridge that have probably seen better days?
This delicious soup is easily made as ALL the vegetables are roasted in a large tray in the oven.
This somehow has a lovely way of concentrating the flavours and it keeps your hob clean :-).
Double Win!
Quite a sweet and garlicy soup but oh so very delicious.
I really do love this soup and tend to make a very big batch. This means I can freeze portions ready for lunches in the week.
Adapt your Butternut Squash soup?
A very warming and wintery dish…. perfect for cold weather!
You could make it with just Roasted Butternut Squash and have a Butternut Squash Soup or you could do what I do and add Tomatoes, lovely!
You can also adapt any way you like?
Throw in any root veggies of your choice maybe? What I do need to tell you is it's the roasting of the veggies that gives it its immense flavour, really it does!
Have a go and let me know how you get on, leave me a comment below the recipe.
I do so love to receive your comments so looking forward to hearing what you think to this delicious and easy Roasted Butternut Squash & Tomato Soup
Incidentally if you drop the Olive Oil and use firelight it's also a great Slimming recipe! 🙂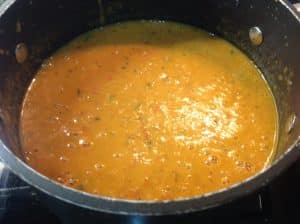 Don't you think it's such a lovely colour?
Also really so healthy!
Other lovely Soups
I have loads of other soup recipes on here, just use the search box! However another one that has all the veggies is my Easy Minestrone – have a gander
And a new one just developed is my Healthy Creamy Vegetable Soup – it's so so good!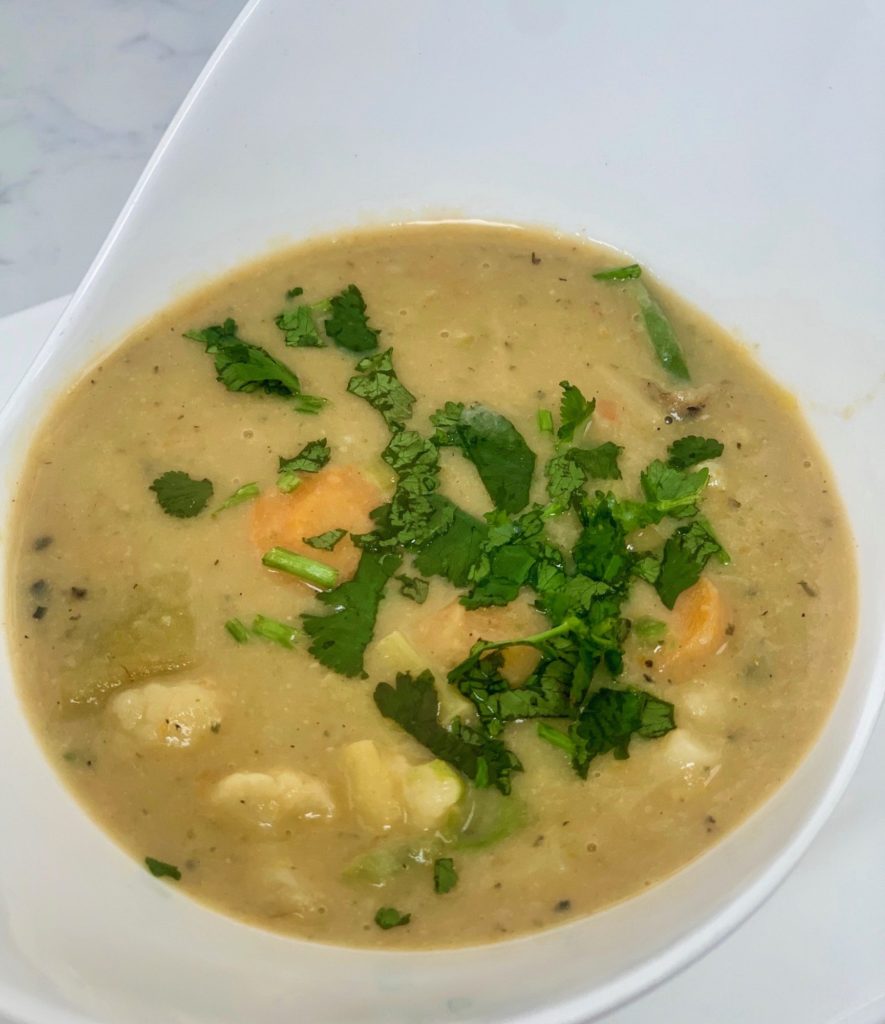 The Slimming Group
I have a closed group on Facebook for Slimming Style Recipes if you're interested called Easy Peasy Slimming Recipes
Just use the join button if you like real home cooked tasty easy food!!
Thanks Clare x
Ingredients
1 Medium Butternut Squash, deseeded, peeled & chopped into 4cm square pieces (ish)
3 Red Onions, peeled & chopped into about 8 pieces
2 Cloves Garlic, peeled & finely chopped
Approx. 750g Tomatoes, halved (any will do)
Handful torn Basil leaves
Salt & Black Pepper
Good drizzle Olive Oil / Or Fry Light if you're SW
1 Pint Vegetable stock  – water and stock cube is fine
Preparation Method
Preheat oven 220C /450F /Gas 8
Get yourself a good heavy bottomed roasting tin and throw in all the prepared veg & basil leaves
Season with salt & freshly ground Black pepper
Finally drizzle with a good glug of Olive oil
Roast in the oven for approx. 45 minutes or until veg is soft and roasted
Add stock to the roasting tin and pop back in the oven for 10-15 minutes (turn oven off)
Remove from oven – either mash or blend with a hand blender – pour in a sauce pan – reheat and dig in (or whack it in tubs and pop in the freezer)
Enjoy with a hunk of yummy bread (maybe the No need to Knead Bread?? 🙂 )