Hi and welcome to
Easy Peasy Lemon Squeezy
A place to inspire, share and talk everything kitchen with a side order of lifestyle and social ;)
Healthy Creamy Vegetable Soup SW
When I'm on a quest to be super healthy (see what I did there??) There is nothing I  crave more than a filling warm bowl of chunky creamy Vegetable Soup. So here's my Healthy Creamy Vegetable Soup SW style
I've seen many Slimming world Recipes for Vegetable Soup – all desperate to be Syn Free.
BUT and here it is;  why be Syn free when using 1 Syn (yes just 1) makes the most creamy filling and satisfying soup ever!! I just don't get it? Surely it's better to eat amazing tasty filling soup and use one Syn than it is to not enjoy it as much and make it zero syns. Anyway maybe that's just me?
I tend to only blend half the soup and leave some of the veg whole. I'm sure it fills me up more? This is such a satisfying soup I don't even need bread with it  if I'm having it for lunch! Here's my work lunch and some for the freezer too!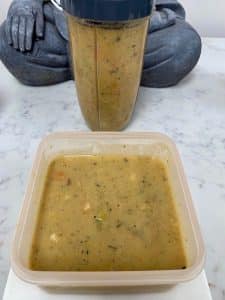 Soups are a great way to get those veggies in! Don't feel limited to the veggies I've used, you could add celery, swede – whatever you like really! So please have a go at my Healthy Creamy Vegetable Soup SW style and let me know what you think! And please feel free to add a little more water at the end, I like my soup fairy thick but there are no issues at all with diluting a little!
If you love this soup I think you might also like my Roasted Butternut Squash and Tomato Syn Free Soup have a look!
It's a recipe that's perfect for the whole family, SW or not!! Now that's a result!
I have a closed group on Facebook for Slimming World Style Recipes if you're interested called Easy Peasy Slimming World Recipes – just use the join button if you like real home cooked tasty easy food!!
Enjoy! Cx
Ingredients
Serves 6
Fry Light
1 Onion, peeled and chopped (chunky)
1 Clove Garlic, finely chopped
1 large Leek, chopped into 1cm rounds
100g Mushrooms, sliced
2 large Carrots, peeled and chopped
200g Potatoes, peeled and in chunks
1/2 head Cauliflower, broken into florets
1 Pt Cold Water
1/2 Pt Skimmed Milk
2 Vegetable Stock Cubes
Handful Green Beans
Salt & Black Pepper
(additional water to dilute to preferred consistency)
Preparation Method
Get yourself a large saucepan – I use the bottom of my steamer
Spray with fry light and place on a high heat
Add your Onions, garlic and Leeks and fry for 5 minutes, stirring often
Next add your mushrooms, carrots, potatoes and cauliflower florets
Then add your water and skimmed milk, crumble your stock cubes in and stir
Bring to the boil and then simmer for 15 minutes
Finally add your green beans and Salt & pepper
Simmer for 5-10 minutes until all your vegetables are soft
Then carefully remove half your veggies and using a stick blender (or blender)  blend your soup
Add your vegetables back and stir
Taste and adjust the seasoning
Enjoy