Heck sausages!
Oh my joy of discovering these babies – Heck sausages! What the HECK! They are fabulous and a great base for many recipes
I am trying so hard to be good food wise!
Now I don't praise myself often but for once I'm really chuffed with myself.
Whilst I realise it's August I'm trying really hard and I'm happy with my progress. And do you know what I do feel better already.
I'm cutting back on carbs both sugar and starches and I've increased my consumption of lean protein.
Nothing mega drastic as I'm not a believer of cutting out whole food groups, but I do think you can alter them really easily.
I'm following my slimming program (please know I'm not affiliated with SW)
But please know these are 2 sausages for 0.5 syns – yes 4 for 1 Syn!!!
CORRECTION now saying 1/2 Syn each – so 2 Syns for four sausages – still good!
Fill up with speed veg too and just point your gravy!!!
Totally delicious and no missing out on anything.
I'd call this a proper dinner!
I'm not that hungry anymore and I feel energised.
Walking a minimum of 10,000 steps per day helps (I have been doing this for over 7M).
I'm back focussed again. I walked almost 40,000 steps last sat & sun 🙂
(I'm not a runner at all, sadly) but I do Love walking!
Heck Chicken Italia Sausages
My joy at finding the HECK sausage brand is immeasurable – that's quite a strong statement isn't it!
Up to now I haven't had much chance to do much with them yet, but oh there are so very tasty .
Heck's also have a load of other products I want to try too.
Other Heck Sausage Meal Ideas
The ideas with Heck Sausages are endless!
Cannot wait to develop some dishes with them – but so far I have just tried to replicate a wholesome dinner, it was lovely to have a nice dinner.
Having a full tummy feels nice, yes?
So for the ladies that want to know, Ju Ju and a few more – here it is……
Heck's Meatball Recipe
I do have other Heck Sausage Recipes – try this lovely Meatball one….. look…..
Hecks Burger Recipe
I also have a recipe for making the Chicken Italia sausages into a tasty burger – have a gander at the recipe
Delicious
If you make the recipe, please let me know what you think in the comments section below the recipe.
I hope you also say – Oh my joy at discovering Heck Sausages
So Heck sausages Chicken Italia – What the HECK! 'joyous!
The Slimming Group
I also have a Facebook Closed Group called Easy Peasy Slimming Style Recipes
Come over and join this great honest community Facebook for Easy Peasy Slimming Style Recipes if you're interested.
Just use the join button if you like real home cooked tasty easy food!!
We support encourage and laugh!!
Loads of tips and tricks – I promise
Thanks Cx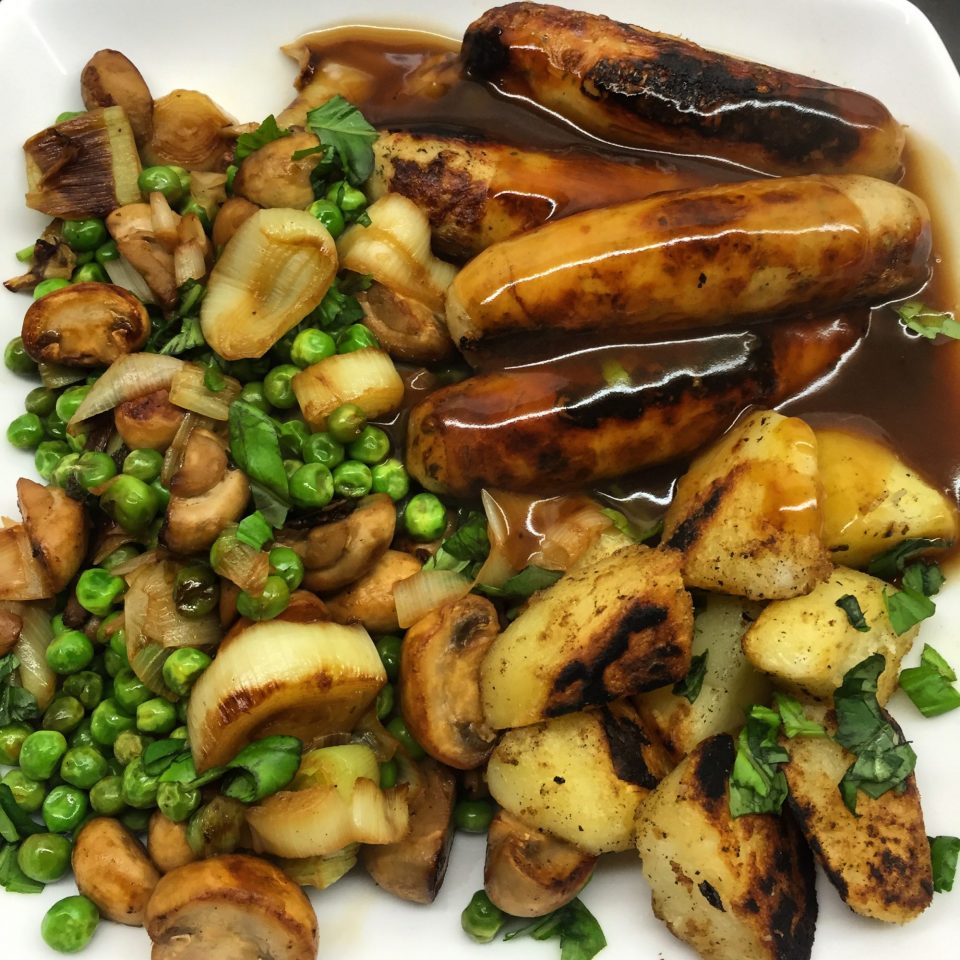 Print
Pin
Rate
How to make a lovely dinner with Heck Sausages
Ingredients
4

Heck's Chicken Italia Sausages

Pack of Button mushrooms - cut in half

1

leek

trimmed and cut into rounds

1

clove

Garlic

crushed (optional)

150

g

Potato

cut into large cubes

Fry Lite Spray

75

g

Garden Peas

2

Teaspoons

Bisto Gravy Granules - made up to gravy with boiling water
Instructions
Peel and cube potatoes (largish chunks) Pop on to par boil - until soft (but not too soft) about 10  mins max

Get out 2 frying pans and in one spray with fry light and add the mushrooms, leek and garlic - dry fry for 10-12 minutes until soft

In the other pan, spray with fry light and add the sausages and potatoes - fry for 10-12 minutes until lovely and brown

After approx. 10 minutes add the garden peas to the mushroom and leek mix - cook for further couple of minutes

Make the gravy

Tuck in!