Heck's Chicken Italia Burgers, Mushrooms & Cheese
You know the sun is shining and I feel so much like having Burger and Chips – but alas not possible. So I put my thinking cap on and came up with these lovely Heck's Chicken Italia Burgers with Mushrooms & Cheese.
I also served them with Sweet Potato Fries. Or Skinny fries also good, just use fry light!
But actually you really don't need the fries as it's way enough with the burgers!
A proper good feed and it tastes amazing!
I strongly believe that even whilst we are watching what we eat, we still need to eat enjoyable, delicious food and this is just that.
And what fantastic is its not like 'diet' food, seriously tasty and the kids will love them too!
Winner winner Chicken Burger dinner!!!
The whole thing is 8SP and yes you can cut that down, just one burger – whatever you like, you could even drop the Warburtons thin, but why?
We have to love our grub to stay on track – this makes 2 Patties and I polished them both off in one sitting 🙂
Just couldn't help myself as they taste so good!
4 Hecks Sausages = 2Sp
1 Warburon's Sandwich Thin = 3SP
Mushrooms = 0SP
2 Weightwatchers Cheese Slice = 2SP
1 Tablespoon extra light Mayo = 1SP
So that's 4SP per serving!!! woo hoo! I'm sure you'd enjoy these Chicken Italia Burgers, Mushrooms & Cheese and if you want chips:
100g Sweet Potato Fries – 5SP
Have a go and let me know what you think to these Heck's Chicken Italia Burgers, please leave me a comment below recipe, I do so love your comments
Other tasty Heck Sausage meals
If you like this recipes I'm betting you'll love my other Heck's sausage recipes – try this one maybe and just use the search box and type Heck's
The Slimming Group
I also have a Facebook Closed Group called Easy Peasy Slimming Style Recipes .
Come over and join this great honest community Facebook for Easy Peasy Slimming Style Recipes if you're interested
Just use the join button if you like real home cooked tasty easy food!!
We support encourage and laugh!!
Loads of tips and tricks – I promise
Thanks
Big Love Clare x
Thanks Cx
(NOT SPONSORED)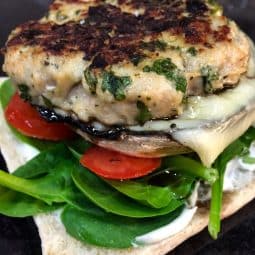 Heck's Chicken Italia Burgers, Mushrooms & Cheese
Print
Pin
Rate
Lovely soft Italian Chic]ken Burgers served with mushrooms & Cheese - delicious
Ingredients
4

Heck's Chicken Italia Sausages

skin removed

1

Teaspoon

dried herbs

parsley, oregano - whatever you like

2

large Portobello Mushrooms

2

Slices

Weight Watchers Cheddar Cheese - or any half fat cheese

Spray light

Salt and Black pepper

1

Warburtons Thin

Handful Spinach

2

small tomatoes

sliced

1

Tablespoon

Light Mayonnaise
Instructions
Pre-Heat the oven to 200C/400F/Gas6

On a tray place the skinned mushrooms with stalks removed, season, pop in the oven for approx. 15 minutes

Take 2 of the skinned sausages and make into a round pat tie approx. 6cm across and 1cm deep - if you dampen your hands they will not stick as much - sprinkle both sides with the dried herbs and season

Spray a frying pan with fry light and fry your patties for approx. 3-4 minutes on each side, so they are lovely and golden and cooked all the way through!

After the mushrooms have been in the oven for approx. 10 minutes - pop a Cheese Slice on top of each mushroom and put back in the oven for 5 minutes to melt

In the meantime separate your Thin, add 2 teaspoons mayo to each piece, top with spinach and tomatoes

Remove the mushroom from the oven and place on top of the thins and then pop the cooked patties on top of that