Hi and welcome to
Easy Peasy Lemon Squeezy
A place to inspire, share and talk everything kitchen with a side order of lifestyle and social ;)
Easy Sticky Chicken, slimming style
Easy Sticky Chicken
So I'm going to treat you to my version of Easy Sticky Chicken, slimming style 🙂
I know I know another chicken dish!! I can't help it – I love it and chicken is so lean and versatile.
Honey, soy sauce, balsamic vinegar, garlic and ginger – so so good!
The ginger and garlic really make it for me
Sticky and sweet with a hint of warmth from the ginger. This is is a balanced blend of all those lovely flavours with a really sticky texture
Sweet & Sticky – just look at it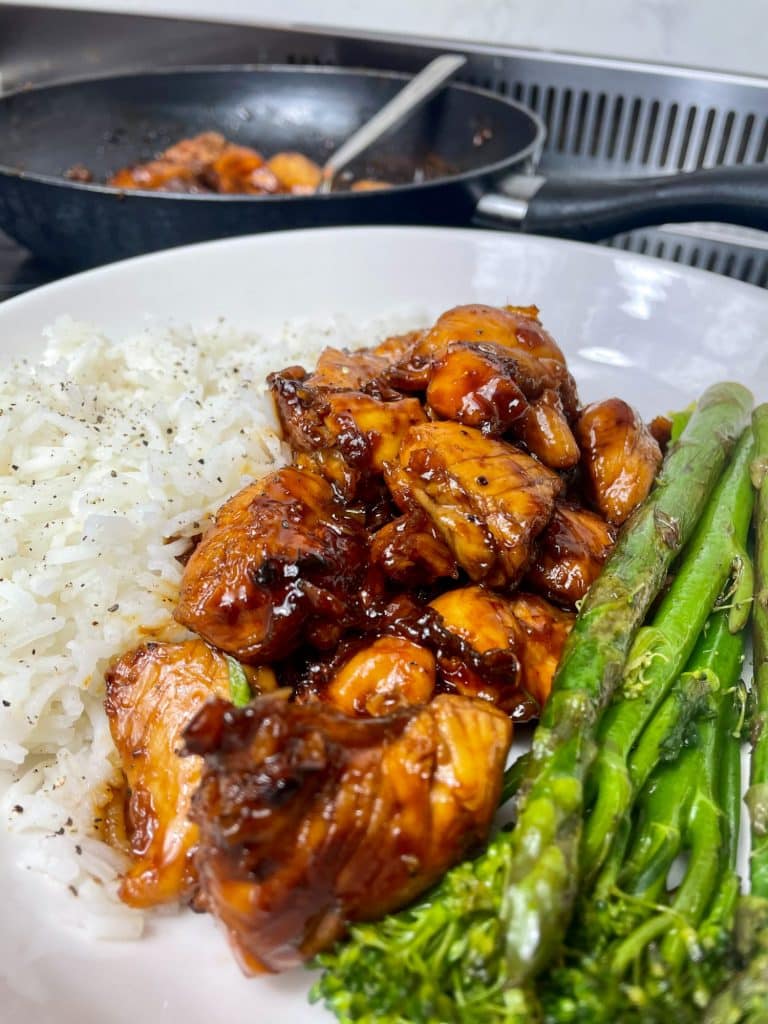 The Ingredients for Sticky Chicken
It's a really simple recipe and it's really wonderful
No fancy pants stuff here, just Easy Peasy lemon squeezy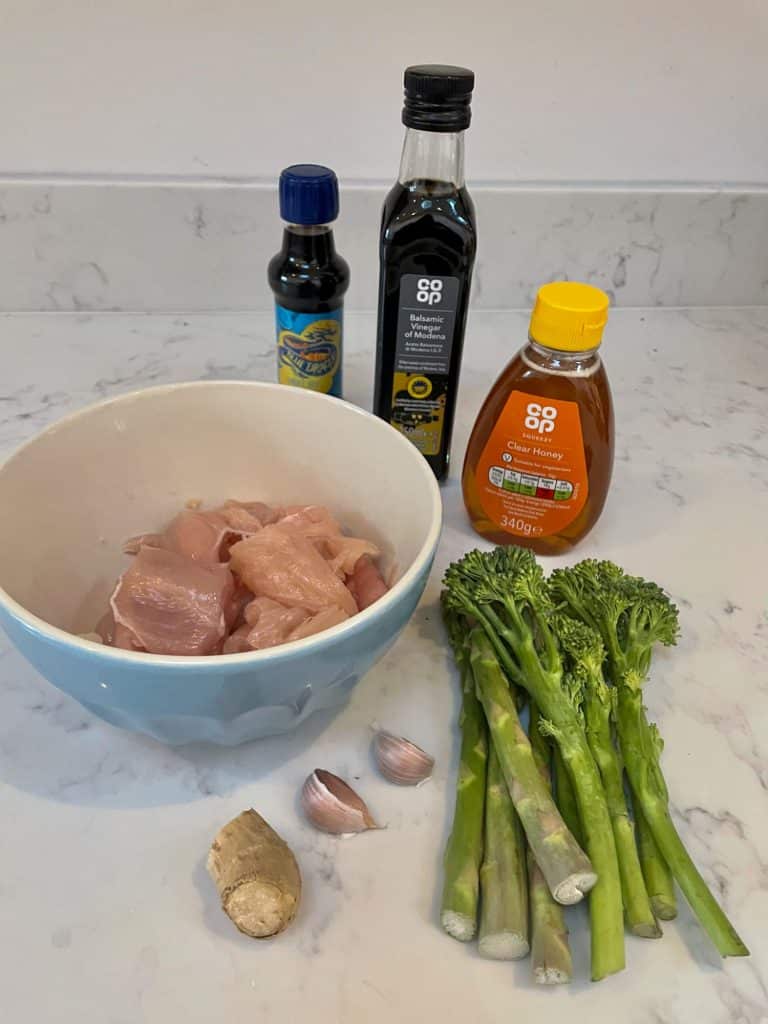 Marinading your Sticky Chicken Dish
This is such an easy recipes, simply toss all your marinade ingredients together
Add your chicken, stir really well cover and pop in the fridge to marinade for minimum 30 minutes
If you have longer then marinade for longer – the flavour only improves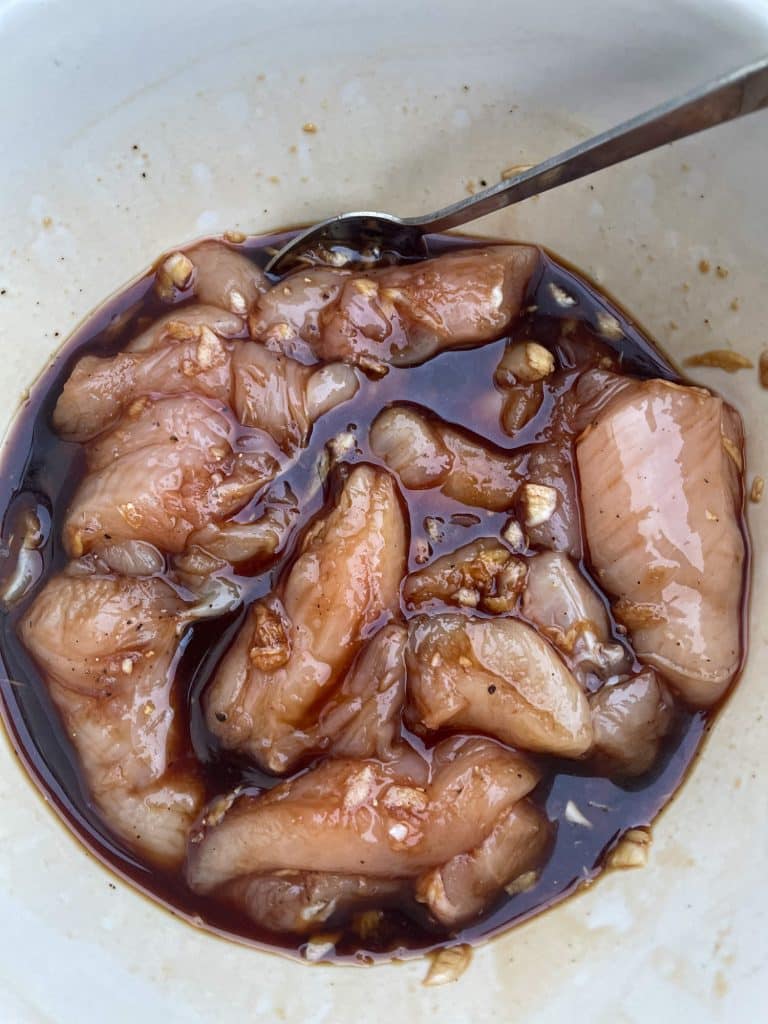 Into the pan – yum yum
It will look a little watery at this stage, but as it cooks it will reduce and at the end be golden and sticky
Be CAREFUL here as you will see it go very brown and super sticky – remove it from the heat at that point else it will burn.
(It's the honey that does this)
Winner Winner Chicken Dinner
And the finished article after 20 minutes in the pan
Beautiful & golden – sticky, sweet and delicious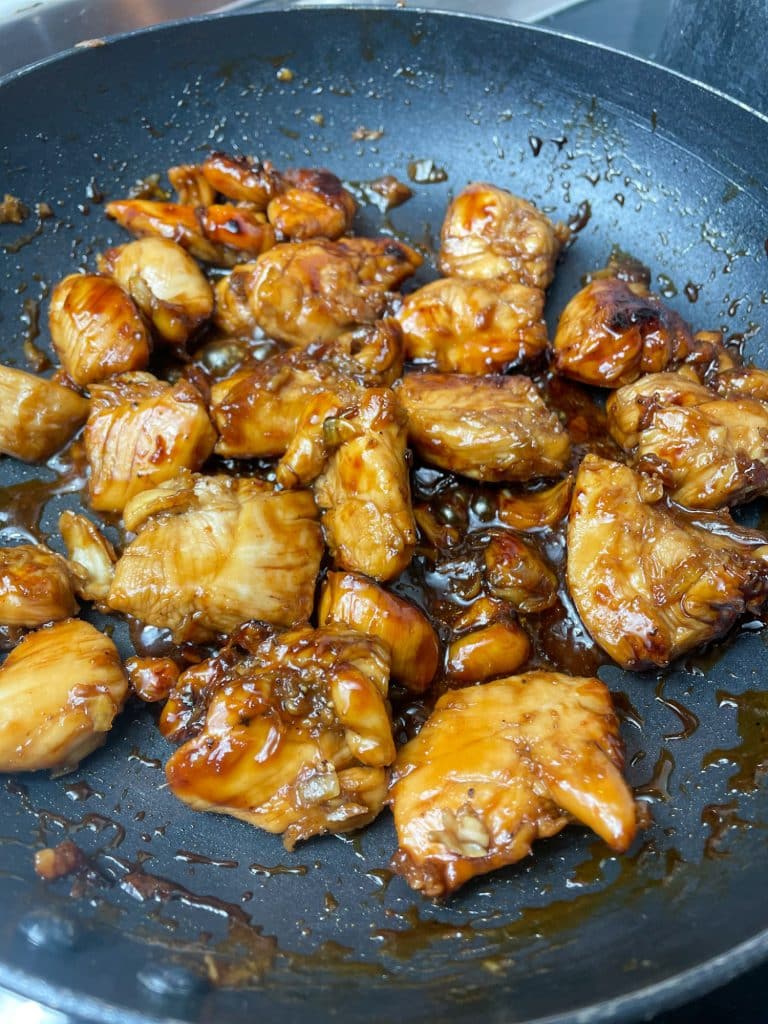 What to serve with your Sticky Chicken
Simply serve with boiled rice maybe?
I also love it with tender stem broccoli and asparagus, which I pop in a pan with Fry Light and a tablespoon of water (lid on)
I also guess it would be great with noodles too? And maybe spring onions and mushrooms in the noodles? Yum!
I also eat the sticky chicken cold and chopped in salads, it really is so good. Sticky and so full of flavour, borimngh salads are banished 🙂
The Deets
Everything is free except the honey
If you want to count the Syns for SW – honey is 2.5 per Tablespoon – so that's 5 for the whole dish
= 2.5 per portion as this serves 2
So let me know how you get on and I'd love it if you dropped a comment below this post
The Slimming Group
I also have a Facebook Closed Group called Easy Peasy Slimming Style Recipes .
Come over and join this great honest community Facebook for Easy Peasy Slimming Recipes if you're interested
Just use the join button if you like real home cooked tasty easy food!!
We support encourage and laugh!!
Loads of tips and tricks – I promise
Big Love Clare x
Other tasty Morsels
If you love this dish then I really think you'd like my Peri Peri Chicken – also really easy and packed with flavour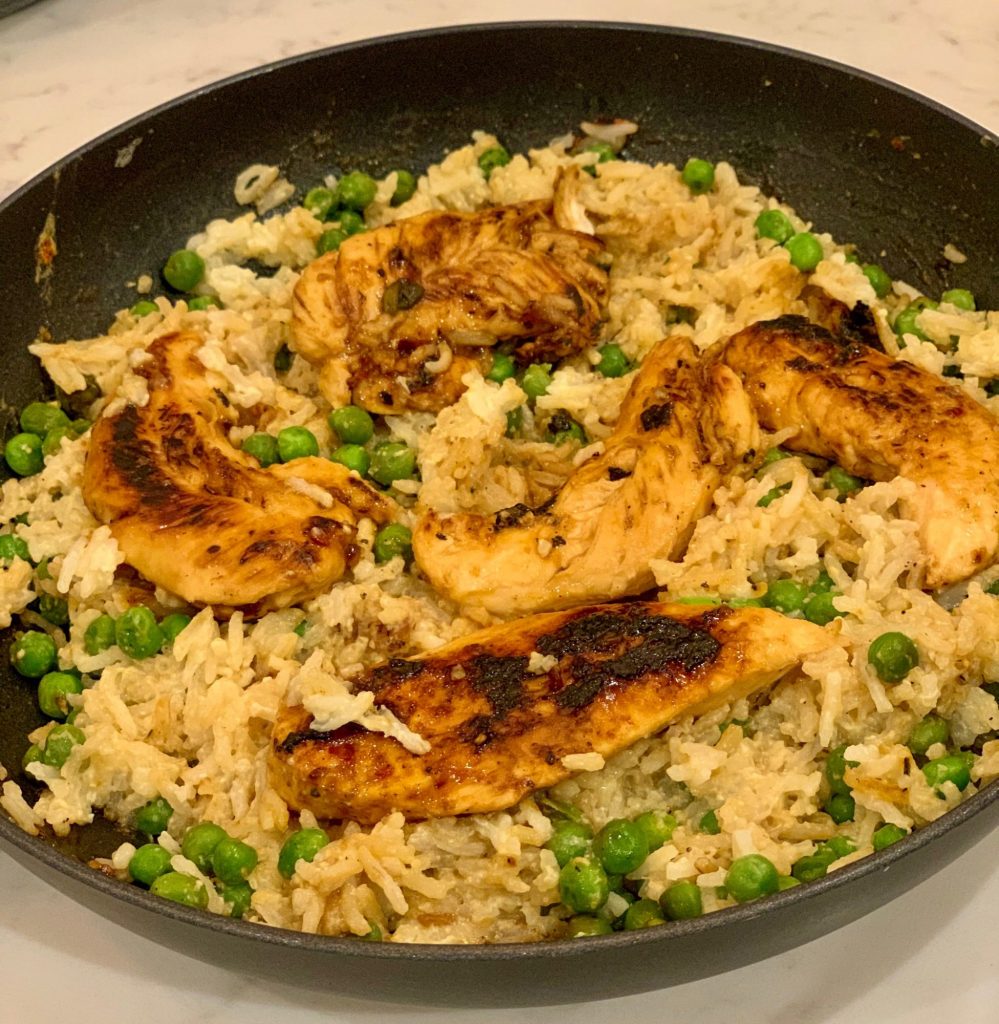 Ingredients
STICKY CHICKEN INGREDIENTS
Serves 2
Thumb ginger, peeled & grated
2 cloves Garlic, peeled and grated
2 level tablespoons  honey
2 tablespoons Balsamic vinegar
2 tablespoons Light Soy Sauce
Salt
Black Pepper
400g  chicken breasts or mini fillets, cut into 1 inch cubes
Fry Light
Rice
Asparagus & tenderstem Broccoli
Preparation Method
Grab yourself a medium sized bowl and add your grated fresh ginger, grated garlic, honey, balsamic vinegar, light soy sauce and your salt and pepper, mix well with a spoon
Next tip in your chicken cubes into the mix and stir really well so all of your chicken is coated in the lovely marinade. Cover and pop in the fridge for 30 minutes minimum. Longer if you have the time
When you are ready for your meal, pop your rice on and accompanying veg
Remove your chicken from the fridge and spray a large frying pan with Fry light and tip  the entire bowl full of chicken loveliness into the frying pan
Fry over a medium heat for minimum 20 minutes, you will see the liquid start to get thicker as it reduces.
You will then see it goes a beautiful dark golden colour and very sticky – remove from the heat (do not burn it – watch it all the time at this point) Make sure your chicken is full cooked
Then you are ready to serve on warm plates or bowls with your rice and vegetables – enjoy