Hi and welcome to
Easy Peasy Lemon Squeezy
A place to inspire, share and talk everything kitchen with a side order of lifestyle and social ;)
1
2
Easy Sunday Dinner – Slimming Style
Easy Sunday Dinner – Slimming Style
Oh I love a savoury tray bake and I also love a Sunday Roast too! An Easy Sunday Dinner
(add in there a massive LAZY, QUICK and SIMPLE too) and not just on a Sunday.
I also like time to do other things. (Especially now I'm on my own and not feeding the masses as I used to).
When I was a kid, I remember my mum would spend hours (hours) on a Sunday cooking the roast.
I just don't have the time.
However I do love and actually need that Sunday style lunch or supper. It's the law in my house
So a Roast Sunday dinner tray bake – winning!!
Slimming & Healthy
Oh and don't forget it's also super healthy too!
I'm trying so hard to be super good and this, let me tell you is delicious as well as nutritious and perfect for the whole family
If you use fry light you're winning if you're on a slimming regime! If I'm being super good I miss out the sausages all together
Easy Sunday Dinner – here's my compromise: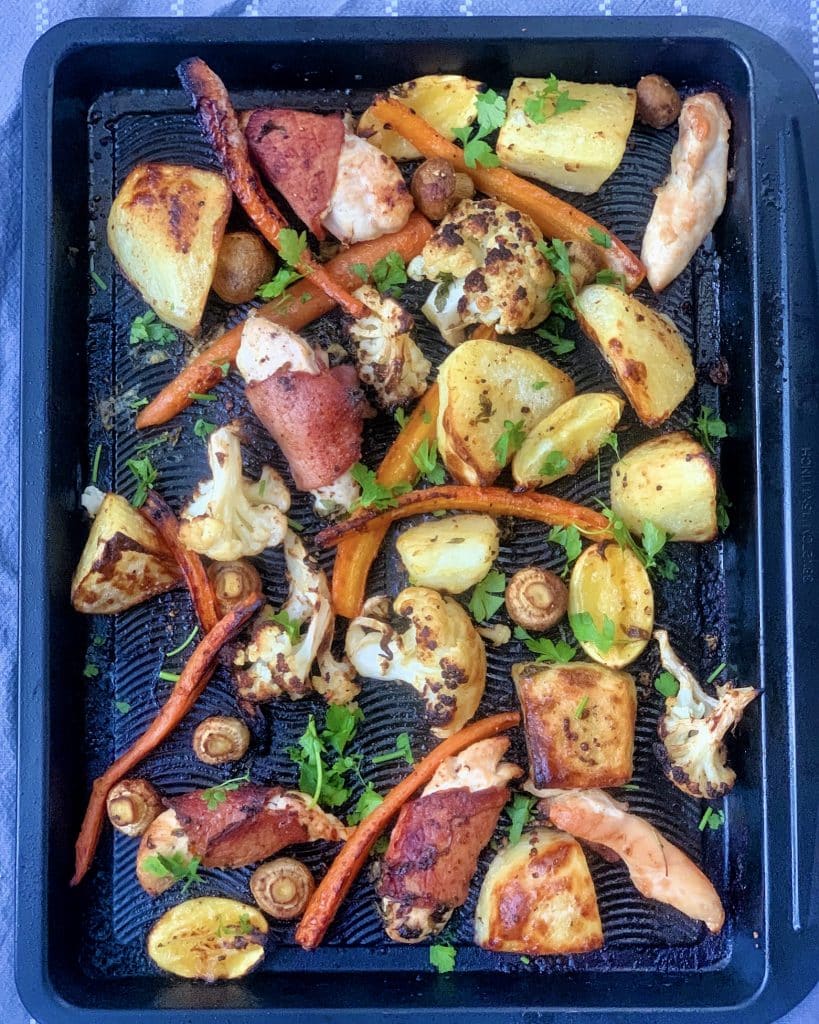 Tips For your sheet-pan dinner
No 1 : All the same size – the most important tip
The key to baking all the ingredients together is making sure everything is sized accordingly, this is why the chicken breasts are halved , as are the new potatoes etc.
Wrapping the chicken with a sausage and then in bacon ensures the chicken remains moist and delicious!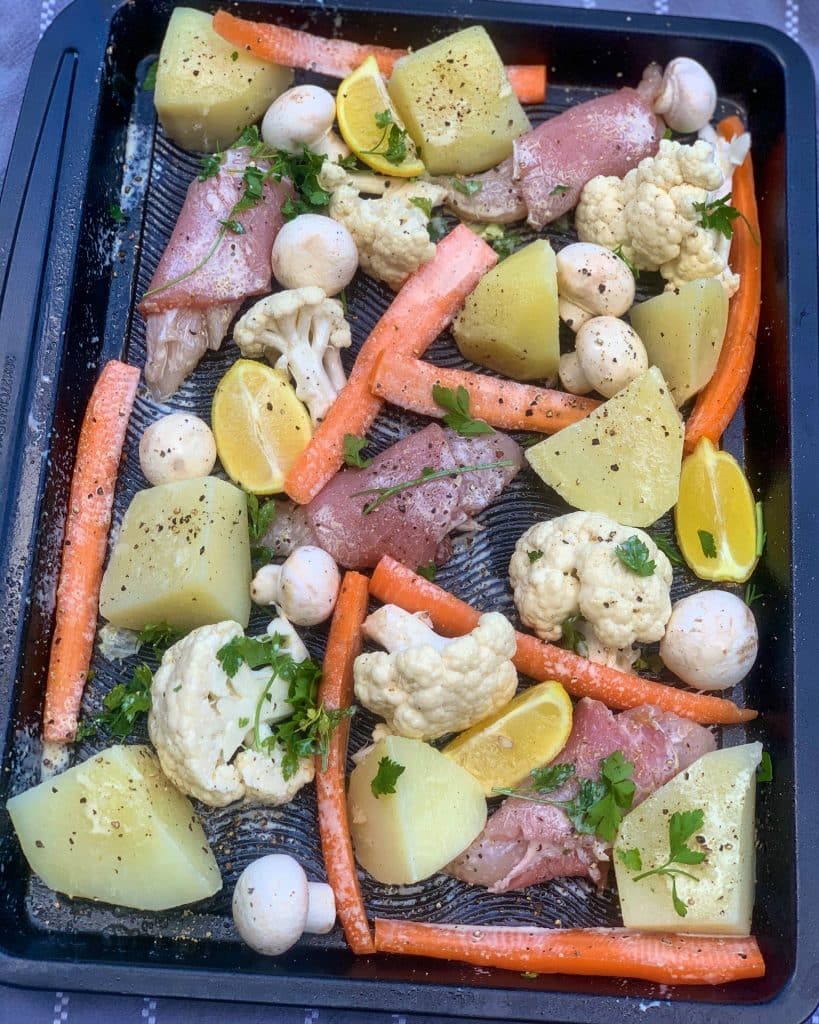 Lovely Easy Sunday Dinner
So today I had a bit of a play and managed to produce a lovely supper, I was really very happy.
Fifty minutes in the oven and hardly any washing up.
While it baked I watered the garden and blogged a bit.
What more could you ask for, I love a relaxed easy Sunday, do you?
Before I served it I stir-fried some spring greens and made some gravy and that was that – perfect!
Or maybe steam some Brussel Sprouts?
Other Tray bakes Dinners
I have loads of other traybake on Easy Peasy Lemon Squeezy too, just use the search box and type 'tray bakes.'
One of my faves is Sausage & Honey Tray Bake have a look.
I also have a lovely one with baked Beets & Sausages!!
Have a go at this Easy Sunday Dinner?
So have a go peeps at this ultra Easy Sunday Dinner and let me know what you think, please drop me a comment below this post?
I'm sure you will love it, it's also quick enough for a mid week supper?
And so healthy too! Loads of veggies! Use Fry Light and you're away…
.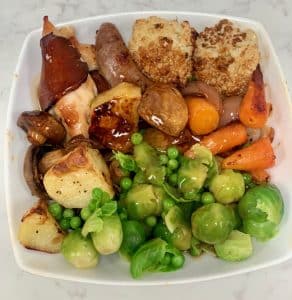 The Slimming Group
I also have a Facebook Closed Group called Easy Peasy Slimming Style Recipes
Come over and join this great honest community Facebook for Slimming Style Recipes if you're interested
Just use the join button if you like real home cooked tasty easy food!!
We support encourage and laugh!!
Loads of tips and tricks – I promise
Big Love Clare x
Ingredients
Serves 2 (double up for 4 – but find a massive tray or bake in 2)
2 Chicken breast fillets, halved
4 Pork Chipolatas (low fat Sausages) and Optional
4 Slices Smoked streaky bacon (medallions if SW)
Small bag Jersey Royal New Potatoes, halved
1 Large Parsnip – sliced length ways into 4
6 small ish carrots – if not small slice lengthways
1 leeks, cut into 2cm rounds
1/2 medium Cauliflower, broken into large florets
1 lemon, cut into 4
Large Drizzle Olive Oil (or Fry Light)
Maldon Sea Salt
Cracked Black pepper
Preparation Method
Preheat oven 200C/400F/Gas6
Find yourself a large baking tin
Take each of the 4 chicken pieces and pop a sausage on top – if you are having sausages
Use 1 rasher of streaky bacon for each piece (or medallion) and wrap around to secure sausage to chicken and pop these in the baking tray
Now add all the vegetables to the baking tray followed by the lemon pieces and drizzle in Olive Oil/ Spray with Fry Light
Finally season with salt and pepper
Bake in the centre of the pre-heated oven for 30 minutes
Remove from the oven stir around – pop back into the oven again
Turn the oven up to 240C/475F/Gas9 and bake for a further 20 minutes
Remove from the oven when golden brown and everything is tender
Discard the lemon pieces and serve!
I served mine with spring greens and gravy – so good
Enjoy Cx