Best Roast Chicken Recipe – Perfection
Roast Chicken – YUM!!
I wanted to show how a humble chicken could be transformed into a perfect Easy Roast chicken, moist, juicy, tender and bursting with flavour using the best roast chicken recipe
Well look no further here it is my amazingly moist and flavour packed Easy Roast Chicken 🙂
Just look at it!!
No dry ,old, tough meat here.
My hack of armouring it really does work, give it a try

The best easy Roast Chicken
I have elevated the chicken by pushing seasoned good quality sausage meat under the chicken breast skin, then covering it heavily in delicious smoked streaky bacon, it's so flipping good.
The bacon and sausage almost act like a suit of armour around the juicy breast – containing all those lovely flavours and juices
And actually no need for pigs in blankets as they are already part of the roast chicken!
I add a lemon, some fresh rosemary, salt & black pepper and a good glug of olive oil over the whole bird
It really is magnificent
Moist perfect roast Chicken
What I would say is go for a good bird, if you can.
Splurge a little and maybe go Free-Range or Organic – yum yum
So why do I love chicken so much?
A chicken is really moist and super easy to cook
It normally take much less time to cook that other joints etc and certainly less than a turkey
More oven space as it's a shorter roasting time
I simply prefer the taste of chicken to most other meats
Step by step to your best Chicken
****My chicken was a fresh 1.75Kg (3.5-4 pounds) – you must change the cooking instructions if you chicken is a different size)***
Step 1 – How to prepare your chicken for roasting
Using your hand separate the skin from the breast and stuffed a flattened skinned sausage underneath the skin in a very thin layer
Step 2 – adding the flavours to your chicken
Half a lemon and pop inside the cavity – you can also add some bay leaves and an onion in if you fancy it – it all adds to the flavour.
Next criss cross the entire top of the chicken with plenty of smoked streaky bacon.
Add some fresh herbs – I used rosemary and a drizzle of olive oil, fresh black pepper and salt
Step 3 – How to cook a Perfect Roast Chicken
Cover with foil and cook in a preheated oven for 1 hour – remove the foil and cook for a further 40 minutes (or longer depending on the size of your chicken)
Rest covered for 20 minutes and serve with all the usual trimmings – delicious!
How long should I roast my chicken for?
Obviously the weight of the chicken determines the length of cooking time
The guide is 45 minutes per Kg, PLUS 20 minutes – so you simply need to work it out from the weight of you're bird.
Chicken MUST be cooked completely before carving and serving. Raw chicken will harbour harmful bacteria and often causes food poisoning – so be careful
Ensure you roast at the right temperature for the correct amount of time.
Temperature 200C / 180C fan/ Gas 6
****My chicken was a fresh 1.75Kg (3.5-4 pounds) – you must change the cooking instructions if you chicken is a different size)***
Should I rest my Roast chicken?
Yes, yes yes. Just as you would your lamb or beef.
Resting allows the juices to settle back into the meat
Make sure you cover your chicken in foil when you remove from the oven (I also chuck a tea-towel or towel on top to retain the heat)
I like to rest my chicken for 30 minutes
You can prepare the gravy and the other accompaniments whilst it rests
(and don't forget to add some of those lovely chicken juices to your gravy – delicious!)
What should I serve with my roast chicken?
I'm quite traditional and love loads of steamed vegetables and obviously wonderful Easy Roast Potatoes
And sometimes if I'm feeling indulgent I may even make my Easy Yorkshire puddings, my recipe has been perfected over the years
And why not go full out with my delicious Easy Cauliflower Cheese
Enjoy – it really is delicious! And let me know if you think it's the best roast chicken recipe
Let me know how you get on 🙂
Love Clare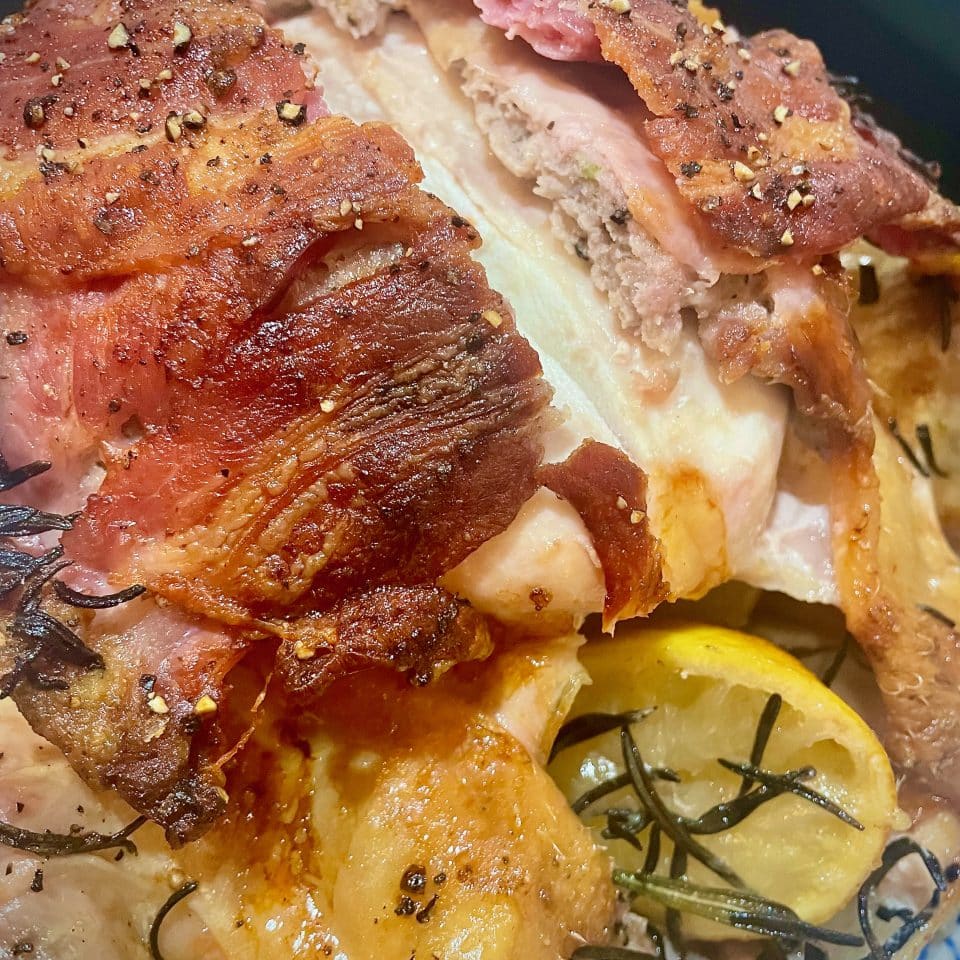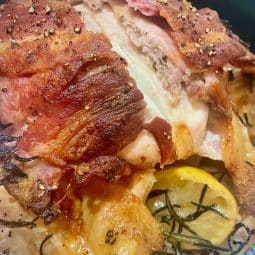 Best Roast Chicken Recipe - perfection!
Print
Pin
Rate
A delicious moist and flavoursome roast chicken, it's so easy
Ingredients
1.75

Kg

Large fresh Chicken

or whatever size you like

1

Lemon

halved

2

Sausages

good quality herbed ones

300

grams

Streaky Bacon - smoked

Fresh rosemary

15

grams

Olive oil

Salt & Black Pepper
Instructions
Preheat your oven to 200C/400F/Gas 6

Remove your chicken from it's packaging and place on a large foil covered baking tray

Using your fingers carefully separate the skin from the breast

Next skin the sausages and flatten them - slide them between the skin and the breast, should be a thin layer

Next criss cross the streaky bacon over the entire breast - use plenty

Place the halved lemon inside the chicken with some rosemary

Add some further rosemary between the breast and legs

Drizzle with olive oil and finally add some salt and black pepper

Cook for 1 hour (follow on pack instructions if your chicken is a different size)

Remove the foil and cook for a further 40 minutes

Once cooked (juices should run clear) remove from the oven, cover and rest for minimum 20 minutes, 30 if possible
Notes
*** All. nutritional information is approximate and intended as a guide 
Nutrition
Nutrition Facts
Best Roast Chicken Recipe - perfection!
Amount per Serving
% Daily Value*
* Percent Daily Values are based on a 2000 calorie diet.