Hi and welcome to
Easy Peasy Lemon Squeezy
A place to inspire, share and talk everything kitchen with a side order of lifestyle and social ;)
1
2
Easy Roast Potatoes – The Best!
Easy Roasties!
Oh My – now I make a good roast potatoes but there is one QUEEN of the Roasties and I have to hand that title to my beautiful Sis-in-Law Kathy!!
They are uh-mazing….. PERFECT Easy Roast Potatoes!
My love of potatoes especially roast ones
Her roasties are quite simply the best, sooooo good! Crispy and crunchy on the outside, soft and delicious inside. They are NEVER greasy. Oh my, heaven!
I am a carb queen, always have been always will be! Potatoes are my weakness.
Potatoes in any form – I'm there. I can eat 8 of these beauties but try and stop at 4! But it's really difficult……
Roasties for Sunday Roast/ Christmas & Thanks Giving
No Sunday roast is complete without a liberal helping of roast potatoes however achieving the perfect spuds can prove quite the challenge for many.
No Sunday lunch is complete without perfect roasties. And for me it's the highlight of my Christmas lunch and also perfect for Thanksgiving which our American friends celebrate too!
So let's solve that, yes?
Tips
Follow the method below – totally!!
And in particular, make sure you bash them about a bit in the pan!!
They need to be fluffy on the outside before they go in to roast!
Make sure your oven is AT temperature before you pop them in!
So crunchy on the outside and fluffy on the inside – perfect!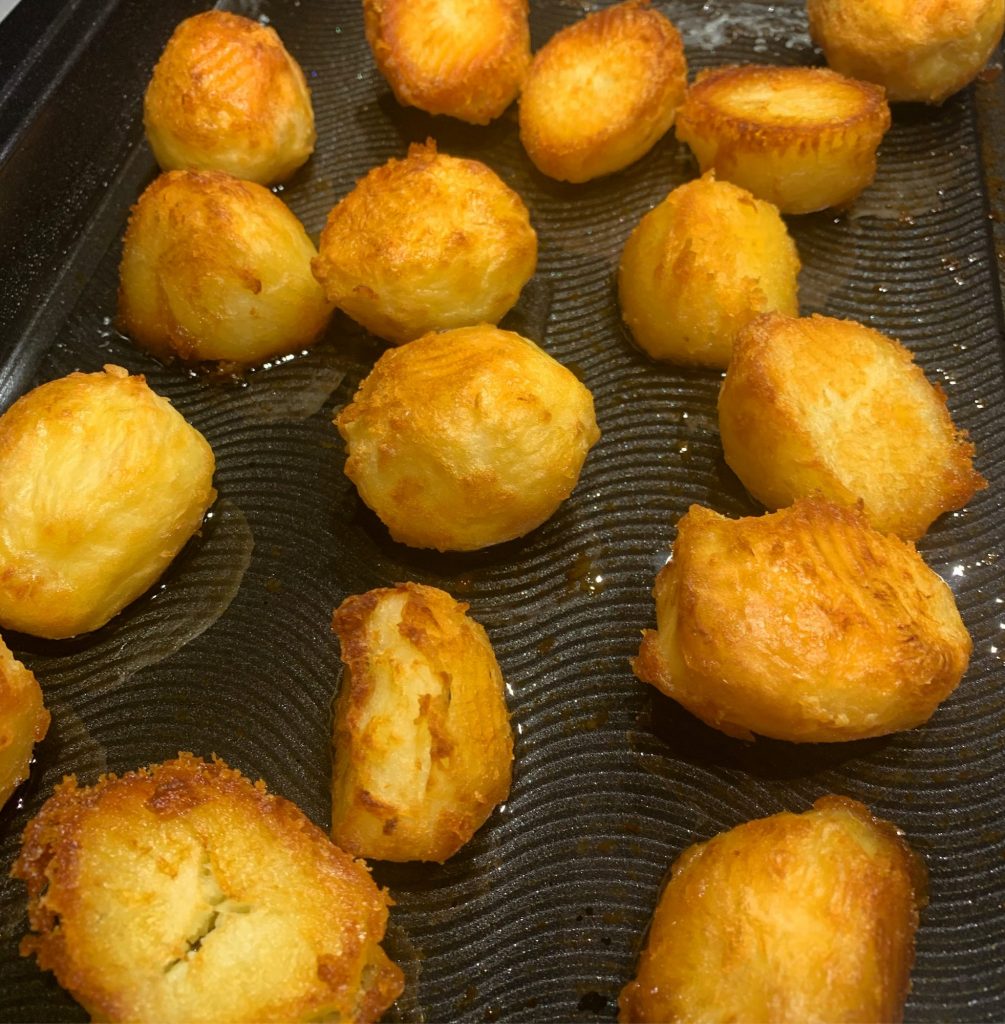 So I finally persuaded Kathy to share with us her amazing recipe.
So have a go and let me know what you think? Kathy and I would love to hear your comments and see your pics?
Serving your roasties
A nice idea is to pop some fresh rosemary in toward the end of the roasting and sprinkle with seasalt.
You could also add a clove of garlic or two is you want to be super fancy!
Easy Roast potatoes – they are THE BEST! Promise
Oh and if you love potatoes in any form then maybe have a look at my delicious easy Potato Salad, it's perfect when the weather' hot and you're BBQ'ing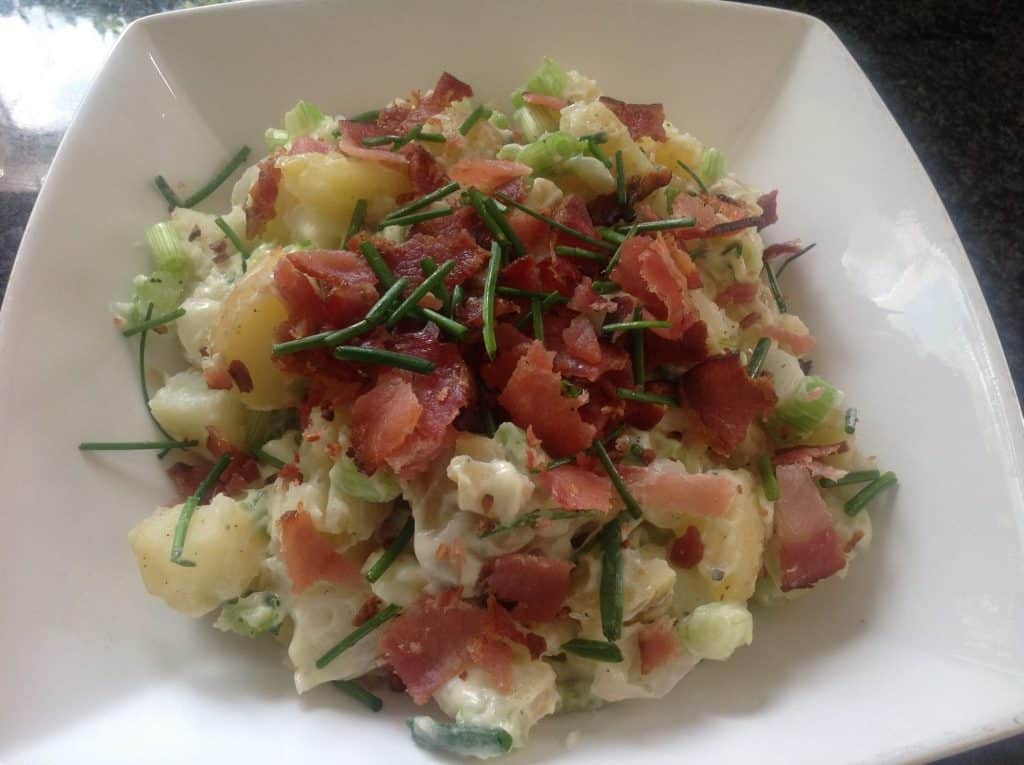 Go on!
Thanks & Enjoy
Clare & Kathy
Ingredients
Maris Piper potatoes ( you can also use Desiree or King Edwards)
Sunflower oil ( I use Flora oil)
Salt
Preparation Method
Preheat the oven to 180C fan / 200C /400F / Gas 6
Peel & cut the potatoes into quarters (around 6/7cm x 5/6 cm – no smaller), I usually allow 3-4 per person
Put into a pan of cold water & bring to the boil, parboil for a couple of minutes, insert a sharp knife into the potato (if the tip just goes in slightly then they are ready)
Turn the heat off & leave them in the water for 4-5 minutes, check them then as you need the outside of the potato to start to break down but not mushy, drain, then give them a rattle in the pan to get some good fluffy bits on the outside of the potato, sprinkle with salt.
Leave the lid off the pan & allow to cool.
About an hour before you eat pour the oil into a shallow roasting tray, put in a good slug,  I usually make sure that the base of the tin is well covered.
Put the tray in the oven to heat up for a few minutes, take out of the oven & add the potatoes, you want them to sizzle, turn them over in the oil until coated then put back in for around an hour ( turn them after 30mins) until they are golden & crispy.Enjoy!