Hi and welcome to
Easy Peasy Lemon Squeezy
A place to inspire, share and talk everything kitchen with a side order of lifestyle and social ;)
1
2
Courgette & Sweetcorn Fritters
Courgette & Sweetcorn Fritters (Zucchini)
These Courgette & Sweetcorn Fritters really are very good, worth a try I promise and so easy!
They are simple to make and so good for using up all those left over courgettes.
I think a lot of people look for courgette recipes, when there's a glut, as those growing them will know you end up with a lot!!
Well let me tell you these courgette fritters are delicious!
And a sneaky way to get those veggies into the kids!
We all loved them and I ended up making more and more!
They take moments to make and everyone can be involved.
I literally had my family lined up with plates and they kept coming back for more 🙂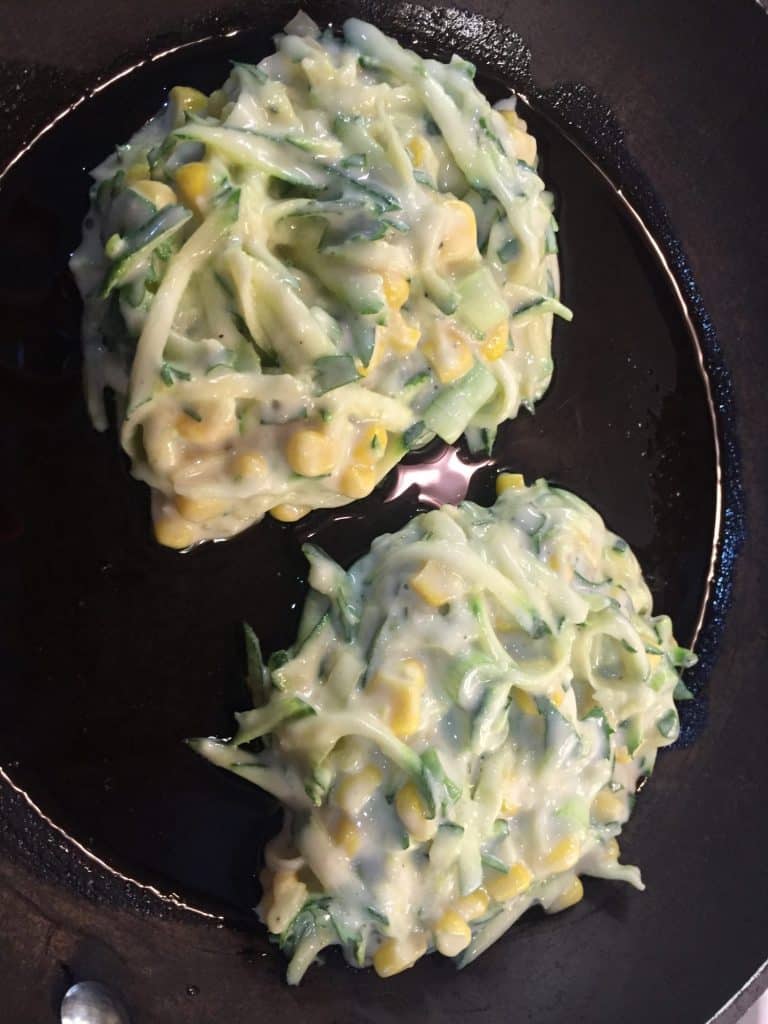 Vegetarian fritters
And they are vegetarian so perfect for Meat Free Evenings or lunches, I think we all need more of those.
No matter if you're vegetarian or not!
Also called Zucchini (usually in the U.S)!
So what do these courgettes/ zucchini's contain from a nutritional point of view?
Well they contain significant amounts of vitamins B6, riboflavin, folate, C, and K, and minerals, like potassium and manganese.
Also know as a summer squash they also contain antioxidant and anti-inflammatory phytonutrients.
This makes zucchini, also known as courgette, a nutrient-dense food that you should include in your diet.
To serve your Courgette & Sweetcorn fritters
I love to serve these courgette fritters with Sweet Chilli Sauce, it seems to go so well with them! Or why not try a poached egg on top, mmmmm ah-mazing!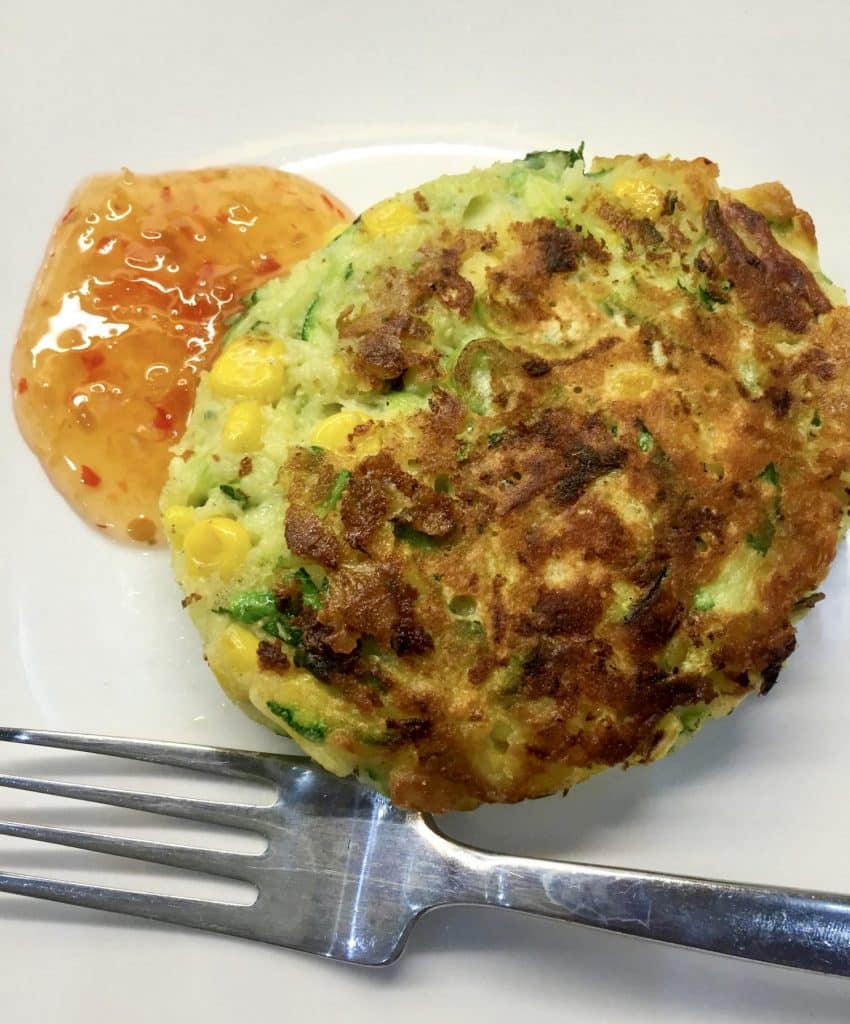 Go on have a go at these lovely Fritters and be sure to leave me a comment below if you do. I so love to recieve your comments!
Other Courgette Recipes
If you love courgettes (or Zucchini) you might like my spicy fish recipe, have a look….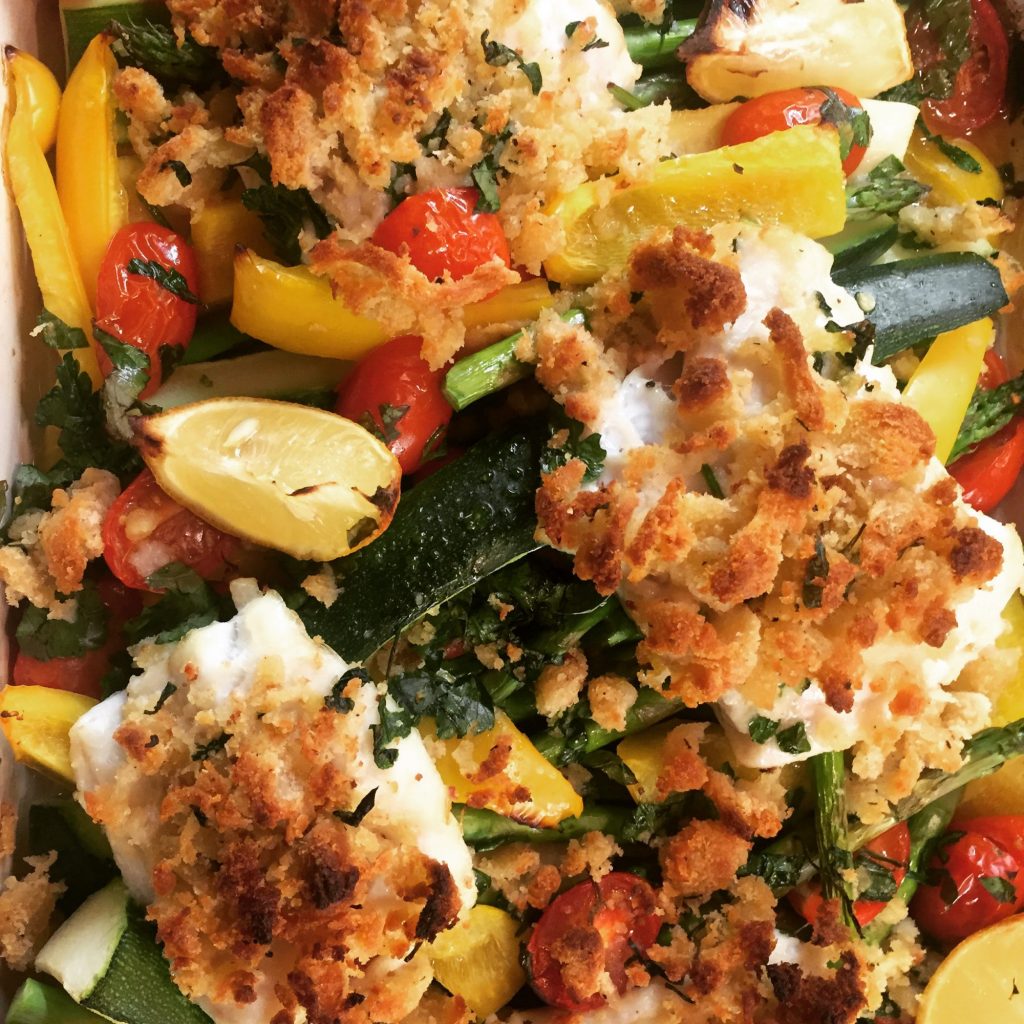 Or why not add Courgettes to a sweet dish? Try these Chocolate Courgette Brownies?
Yassssss 🙂
Flipping tasty!
Thanks Clare x
Ingredients
150g Plain Flour
1 teaspoon Baking Powder
Salt and black pepper
2 Medium Eggs, free range
150ml Milk
2 medium Courgettes, grated
1 can Sweetcorn – drained (198g)
4 Spring Onion, finely sliced
1 tablespoon freshly chopped Parsley
Preparation Method
In a large mixing bowl add the flour, baking powder, salt & pepper and mix well
In another bowl beat the eggs with the milk
Then slowly add to the flour mixture using a whist to achieve a smooth batter
Then add drained sweetcorn, grated courgettes, spring onions and chopped parsley and stir to combine
Heat 1 tablespoon of olive oil in a large frying pan – when hot,  spoon in 1 tablespoon batter mix one side of the pan and then another
Fry for about 3-4 minutes until golden brown, then using a fish slice flip over and cook for a further 3-4 minutes. if necessary flip again
Serve immediately – with a little sweet chilli sauce or mane a large er in a soft roll with lettuce tomato and a dollop of light mayo – now thats a vegetable burger
Carry on frying 2 at a time, or make smaller ones using a teaspoon of mix, over to you really