Spicy Cod Bake with Courgettes
A super Spicy Cod Bake with courgettes (zucchini) recipe that's an all in one super dish!
Look at the colours, so vibrant. I love to have a plate full of colour
Easy one dish fish dinner
So easy peasy to prepare ahead and then simply bang in the oven, go away and ta-dah dinner's ready.
Do you eat enough fish? I'm not sure I do! This is a great recipe promise
It's super low carb too (only the breadcrumbs).
One of the reasons I think it works so well is the wonderful combination of the sweetness of the tomatoes, the sharpness of the lemon juice and a kick of spice from the chilli.
I make it very often – so tasty and so flipping easy!
Another Idea for this Spicy Cod Bake !
My friend does this recipe with chicken strips and says it's lovely too! I haven't tried it yet but I really must!
You need to give it a go, really you do – my go to simple, easypeasylemonsqueezy supper.
IF you are SW you can leave the breadcrumbs out!
But if you can spare the syns I suggest you make fresh ones as it give it a lovely crunch! And on SW I miss the crunch!
Courgettes or Zucchini
Courgettes areAlso called Zucchini (usually in the U.S)!
So what do these courgettes/ zucchini's contain from a nutritional point of view?
Well they contain significant amounts of vitamins B6, riboflavin, folate, C, and K, and minerals, like potassium and manganese. Also know as a summer squash they also contain antioxidant and anti-inflammatory phytonutrients.
This makes zucchini, also known as courgette, a nutrient-dense food that you should include in your diet.
Serving your Spicy Cod Bake with Courgettes
You can eat it on it's own, or with new potatoes and extra vegetables. It works very well with pasta too
It's also perfect for using up that massive glut of courgettes in courgette season!
I do have a few Courgette recipes. Or should we say Zucchini recipes…
Other recipes your might like
Another favourite is my Sweetcorn & Courgette Fritters. They really are very good and the kids seem to love them too.
Let me know what you think of this Spicy Fish with Courgettes by dropping me a comment below the post!
I heard someone call it my Cod and courgette bake? Well whatever you like to call it, it;s delicious!
Other Low Carb Dishes
If you are looking for low carb dishes I think you may also love my turkey one it's called Turkey Pepper Melts
The Slimming Group
I also have a Facebook Closed Group called Easy Peasy Slimming Style Recipes .
Come over and join this great honest community Facebook for Easy Peasy Slimming Style Recipes if you're interested
Just use the join button if you like real home cooked tasty easy food!!
We support encourage and laugh!!
Loads of tips and tricks – I promise
Thanks
Big Love Clare x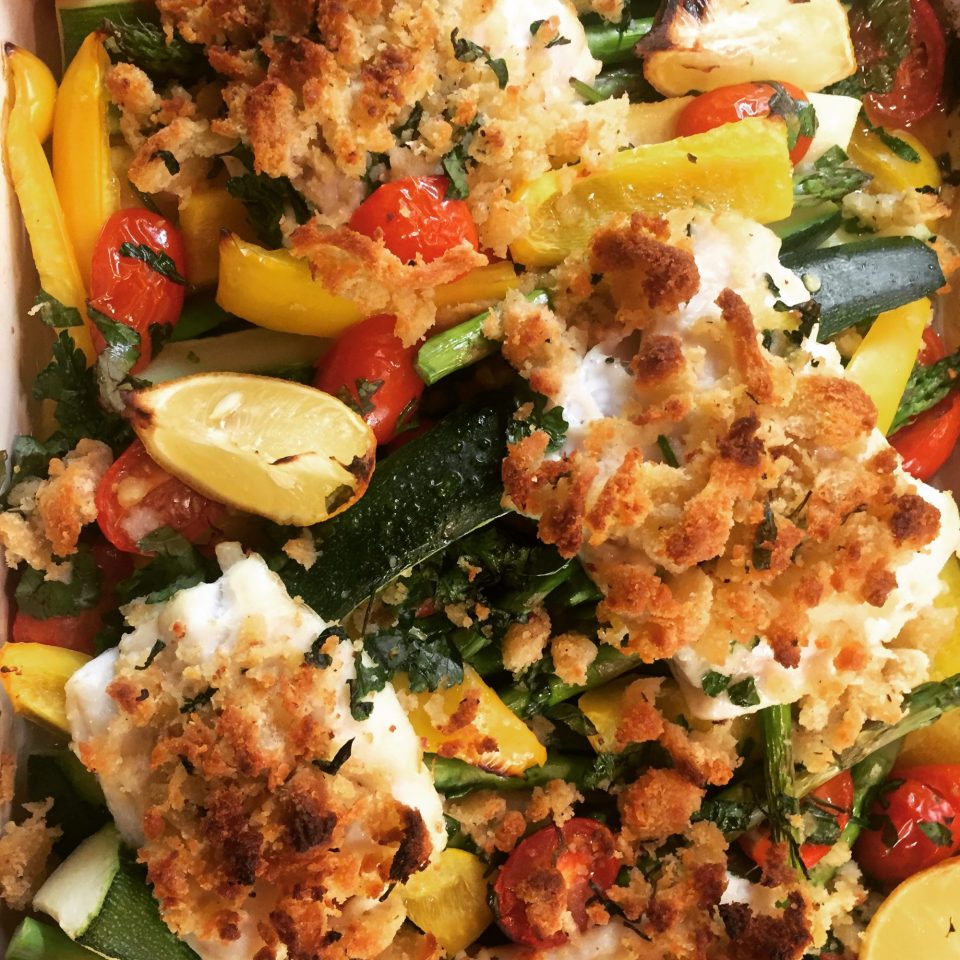 Spicy fish with courgettes
Print
Pin
Rate
Delicuous low carb Spicy fish with courgettes, one pot wonder
Ingredients
2

large Courgettes or 3 small

15

Cherry tomatoes halved

1

Bunch or Asparagus

trimmed

Yellow Pepper

de-seeded and cut into strips

1

Clove

Garlic - crushed

1

Tablespoon

Olive Oil

less if you're being good to Fry Light for SW

Handful of chopped parsley

2

Lemons quartered

4

fillets White Fish

Any

1

tablespoon

Olive Oil

less if you're being good or Fry Lite for SW.

Clove

garlic crushed

1

teaspoon

chopped parsley

Salt & Freshly ground Black Pepper

1/2

teaspoon

Dried Chilli flakes crushed or 1/2 small red chilli - seeds removed and chopped

4

tablespoons

Breadcrumbs

I just crumble up some oldish bread (1 Slice white bread 4-5 Syns)

Zest of a Lemon
Instructions
Preheat oven 200C/400F/Gas6

Cut courgettes in strips place in bottom of an ovenproof dish, throw in cherry toms, asparagus and yellow pepper

Mix the olive oil, garlic, parsley and salt & pepper, pour or spoon over veg.

Place fish fillets on top In a small pan add olive oil, garlic, chilli flakes and a little more parsley, then add breadcrumbs.

Fry for 1-2 minutes, then finally add lemon zest

Sprinkle breadcrumb mix over fish fillets.

Place lemon quarters around fish Bake in oven for approx. 25-30 minutes

Serve, squeezing baked lemon quarters over fish
Notes
**** All nutritional information is approximate and intended only as a guide 
Nutrition
Nutrition Facts
Spicy fish with courgettes
Amount per Serving
% Daily Value*
* Percent Daily Values are based on a 2000 calorie diet.