Hi and welcome to
Easy Peasy Lemon Squeezy
A place to inspire, share and talk everything kitchen with a side order of lifestyle and social ;)
'PomiTeeny' for the Kids, Drivers & Non-Drinkers
'PomiTeeny' for the Kids, Drivers & Non-Drinkers
We concentrate on making delicious cocktails here but mainly they are laced with alcohol, so what about the abstainers? With this is mind we have developed this 'PomiTeeny' for the Kids, Drivers & Non-Drinkers I think you call it a Mocktail – this one is so lovely!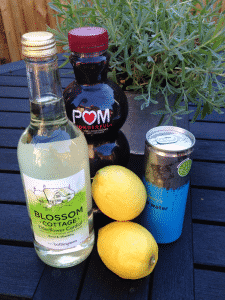 A bit like a martini but with pomegranate and no booze, so flipping refreshing! Let's put the effort in for alcohol free stuff! It's so warm at the moment and I bet we are loving our drinkies in the garden. We really should make the effort at summer parties for our little ones. So much nicer than squash – go on give them a treat! I also think it would be lovely at birthday parties for the kids when they think they are grown ups, serve out of lovely glasses
Give them a mocktail and it's also so good – 'PomiTeeny' for the Kids, Drivers & Non-Drinkers
Big Love Clare x
Ingredients
Makes 1
2tbsp Pomegranate Juice (30ml)
1 tbsp Elderflower Cordial (15ml)
Juice 1/2 Lemon
Dash of Sugar Syrup
Soda or mineral Water
Ice
Preparation Method
Mix ice, juices, sugar syrup and cordial in a jug
Pour into a glass (Martini Glass is great)
Top up with soda or mineral water
That's it!