Lime Chicken! Tasty Healthy Dinner
This Lime Chicken with Sweetcorn & Avocado Salsa is a really delicious and really easy dish.
I think sometimes we complicate recipes when there really is no need to at all!
I also believe that fundamentally that's what good simple food is all about.
This dish is one of my personal favourites!
If you come for dinner at my house, this is likely what you'll get served :-).
So far no complaints!
Lime Chicken, easy chicken supper
For a long time I'd been racking my brain for a new #HEALTHYEPLS dinner.
One that's super tasty and super easy.
The salsa is good enough on it's own!!! Look at those colours!
And don't forget that coriander – I blarrrrrdy love it!
If you see recipes in other places they may say cilantro – it's just the American word for the same thing 🙂
This dish is also protein packed with the chicken, low carb and low fat or at least VERY good fat.
Lime Chicken Marinade
Basically you marinade your chicken thighs or breasts with lime juice, lime zest, garlic, olive oil salt & pepper. (add a little chilli if you like)
Cover and leave in the fridge for however long you like (minimum an hour I'd say)
So much flavour, light garlicky yumminess, with citrus and a little warmth form the chilli
What more could you want from your Chicken dinner?
It's also very pretty – it has ALL the colours and that is a sign of a good dinner! (no brown food here 🙂 )
And a big change and very different frorm Lemon Chicken….
I've also been desperate for something filling, but not heavy, with a touch of spice!
So here goes… I hope you enjoy it as much as we did
He-Who-Doesn't-Cook gave it the big thumbs up and that's saying something!
Lime Chicken Serving Suggestion
If it's not enough for you as a dinner, maybe serve it with sweet potato wedges or new potatoes, they go really really well with this dish!
Lime Chicken Leftovers
And if you do have any leftovers (ha ha)
Simply wait for your lime chicken to cool and chop into smaller pieces
Grab a lunch box and pop your leftover salsa in the bottom and your chicken on top
Boom – perfect lunch for work!
I only keep left overs for 1-2 days and they always have to be refridgerated
Perfect Lime Chicken for summer suppers or entertaining
What's especially nice about this dish is you can add a little or a lot of chilli depending on your taste.
You can also leave the chicken breasts/ thighs marinating in the fridge for an hour or for five hours plus
It really is totally up to you. (I also think the salsa would be really good with a little fresh mango in it?)
The decision between thighs or breasts is a personal one. I've made it with both many times.
Today I'd say thighs are my favourite, maybe a little more flavour? And also slightly cheaper
Anyhow – I'll leave that one for you to decide.
Other citrus Chicken Dinners
I have a lot (and I mean a lot) of Chicken dinner recipes on my blog, it seems to be my go to, yours too?
If you like this Lime Chicken dish then I'm sure you'll also love my Lemon Chicken recipe to, go check it out!
And just use the search bar and hit 'chicken' you'll see a lot of recipes
Have a go at this little beauty.
Let me know what you think, just leave me a comment below, I LOVE your comments
Clare x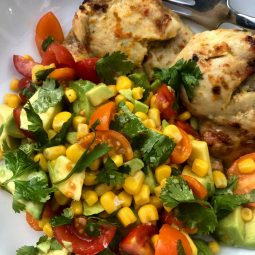 Lime Chicken with Avocado & Corn Salsa
Print
Pin
Rate
A delicious light supper, tasty zingy and super easy
Ingredients
CHICKEN

2

Chicken breast fillets

skinless

2

Limes - juice and zest

1

Tablespoon

Olive Oil

Sprinkling seasalt

Ground black pepper

1

Clove

Garlic crushed and chopped very finely

1/2

teaspoon

Chilli, fresh and finely chopped

OPTIONAL

SALSA

1

small tin Sweetcorn

16-20

Cherry Tomatoes

chopped into quarters

1

small red Onion

chopped finely

1/2

cucumber

chopped

Big handful chopped Coriander

1

Tablespoon

olive oil

1/2 - 1

teaspoon

Fresh Red Chilli - chopped very finely

or more if you like it spicy

1

Avocado - peeled - stone removed and chopped

Squeeze lime juice

Salt and black pepper to taste
Instructions
You will need a sealable plastic bag - sandwich bag will do, or a bowl with a lid

Hammer out you chicken breasts until they are no more than 2cm thick - I use a rolling pin - then slice each breast into 3 strips

In a small bowl mix the lime juice & zest , olive oil, sea salt & black pepper and the garlic (and chilli if you are using it)

Pop the chicken breasts in the plastic bag or bowl followed by the lime juice mix

Seal the bag and rub the marinade into the chicken breasts. (Or use a metal spoon if using a bowl)

Pop in the fridge for min 1 hour max 5 hours

In the meantime make the Salsa by mixing all the ingredients in a bowl, stir well

When the chicken has marinated, remove the breasts from the plastic bag or bowl and pop under a hot grill. (or on the BBQ)

Grill for 15 minutes - turn over and grill for a further 15 minutes, you need colour (do not burn them - simply turn the grill down).

Once the chicken is ready remove from the grill (check they are cooked through NO PINK bits!!!! - VERY important)

Then serve with the salsa and a wedge of lime  (squeeze over the chicken) and enjoy! (if you want it a little 'wetter - drizzle a tad of olive oil over the chicken as well)
Notes
**** All nutritional information is approximate and intended  as a guide only 
Nutrition
Nutrition Facts
Lime Chicken with Avocado & Corn Salsa
Amount per Serving
% Daily Value*
* Percent Daily Values are based on a 2000 calorie diet.