Halloween Pizza…… Boooooo
Halloween pizza, all the deliciousness of pizza but presented in Halloween spooky style!
Do you make special food for Halloween? Halloween Party Food?
Well just incase you do I've developed a belter here with this pizza. So easy
It's perfect for kids and adults alike and thinking about it, why not ask them to make it themselves?
I'm not sure that we'll be out trick or treating this year? So why not make it special indoors? And hide sweets in the house maybe?
With a spooky supper? With beans and chips, or a nice big salad – why not!!
Spooky Halloween Pizza
So you know by now, I'm all for home-made food, but I also love a cheat
For this pizza baby I used chilled ready rolled pizza dough – why not? I bought mine in Tesco but I also know they sell it in other supermarkets
If you want to make your own dough – that's ok too 🙂
But this stuff is good and takes the complete headache of the pizza base prep away and let's you concentrate on the fun bit!!
Halloween Mummy Pizza
I made my spooky pizza into a Pizza 'Mummy', not sure it's that spooky but it's such good fun anyway
You can see I used pepperoni, mozzarella.
I then used mushrooms and olives for eyes and obviously yellow pepper pieces for the perfect brows 🙂 No we all know hoe important brows are don't we
Just have a go, let the kids have a go…
Other Halloween Pizza Ideas
Maybe you can't even be bothered to use the ready-rolled dough?
Well never fear, my lovely blogger mate Jenny also has some lovely Spooky Pizza ideas and these are all made on a bought pizza.
Ready made pizzas that you cut it into shapes, my particular fave is the the 'Pizza Hand' complete with red pepper talons.
Jen buys the cheapest ready made pizzas she can find because there is a bit of waste.
She also buys the medium size ones to make sure they are big enough. Then she simply draws around her wrist and hand and carefully removes the excess pizza. (clever)
Talons are made by cutting triangle shapes from a red pepper and placed them on the top of the fingers.
Bake per the pizza instructions when you are ready for it.
Jen also has a spider one etc – love them all! Go see…
And a Halloween Pudding
How about Halloween Jelly desserts? So fun and so tasty!
Halloween Cocktail for the adults?
I called it – Fiendish fizz 🙂

So what's the meaning of Halloween?
So what actually is Halloween?
Well according to Wiki Halloween is the evening before the Christian holy days of All Hallows' Day (also known as All Saints' or Hallowmas) on 1 November and All Souls' Day on 2 November.
Thus giving the holiday on 31 October the full name of All Hallows' Eve (meaning the evening before All Hallows' Day).
Oh and just for interest Halloween activities include:
trick-or-treating (or the related guising and souling)
attending Halloween costume parties
carving pumpkins into jack-o'-lanterns
lighting bonfires
apple bobbing
divination games
playing pranks
visiting haunted attractions
telling scary stories
as well as watching horror films.
Have a fun, safe time – Happy Halloween!!
Love as always Cx
Oh and let me see pics of what you create, I'd love that 🙂
"This post has been included in the Twinkl Halloween Guide.
Why not have a look at the pumpkin patches available near you for next Halloween?"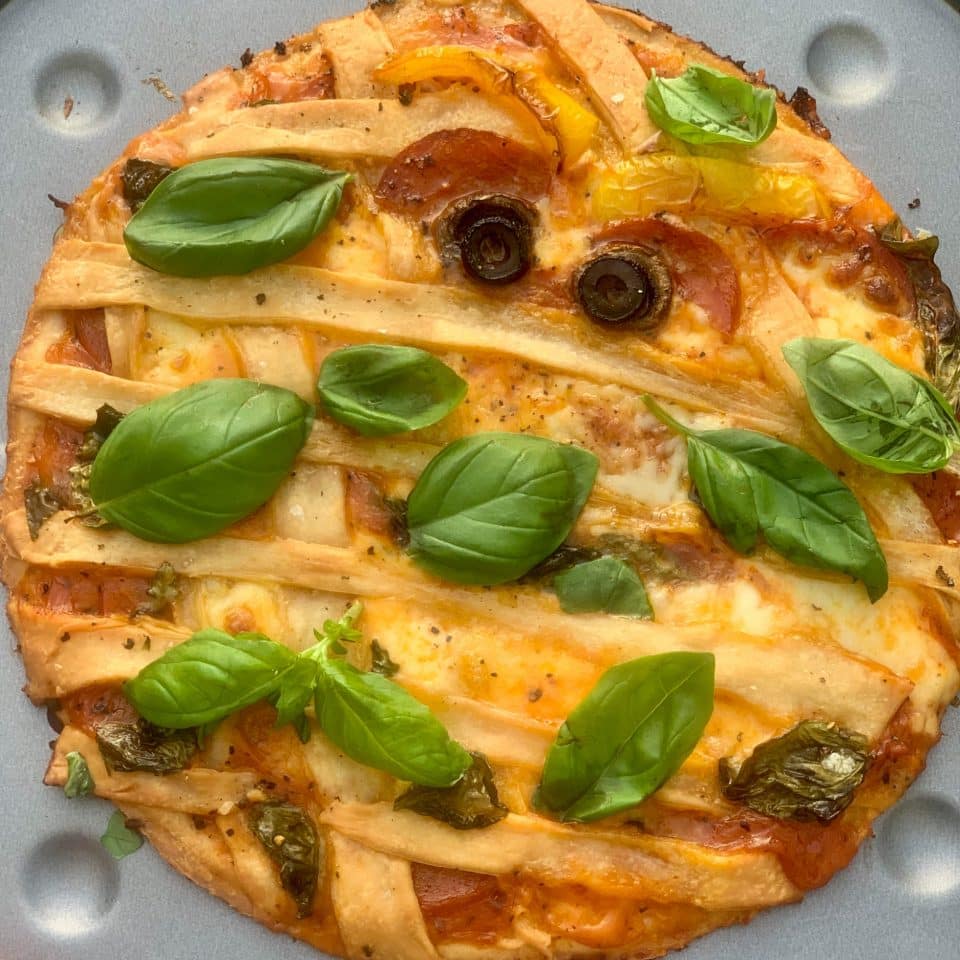 Halloween Pizza - Halloween Party Food
Print
Pin
Rate
A spooky Halloween mummy pizza that's easy to make and super spooky
Ingredients
1

pack chilled ready rolled Pizza dough

4

tablespoon

tomato Pizza sauce

or tomato paste

10

circles of pepperoni

1

Mozzarella ball

sliced / or the cheap stuff that doesn't spread

Salt & black pepper

2

button mushrooms

2

black olives pitted

1/4

yellow pepper

Handful basil leaves
Instructions
Preheat oven to 200C/Fan 180C/Gas 6/400F

Place the unrolled pizza base dough on baking paper and pop onto a baking tray and prick with a fork

Using a template (I used the bottom of a sponge tin ) cut around it using a knife and make a circle - keep the left overs

Next spread the tomato pizza sauce or paste one the entire circle, stopping 1cm from the edges

Then place your pepperoni and mozzarella across the surface of the base (reserve one pepperoni piece)

Season with salt and pepper if desired

Next using the leftover pizza dough cut into strips

Place across the pizza like a 'mummy' pressing down at the edges to secure

Then make the eyes using a halved pepperoni circle, a sliced through button mushroom and a slice of black olive

Finally cut 2 strips of yellow pepper for the eyebrows

Bake in the pre-heated oven for 20 - 25 minutes until golden brownn

Remove from the oven and scatter a few basil leaves across the top

Serve on its own or with beans & chips - Happy halloween