Hi and welcome to
Easy Peasy Lemon Squeezy
A place to inspire, share and talk everything kitchen with a side order of lifestyle and social ;)
Choc Chip Cookies – Retro!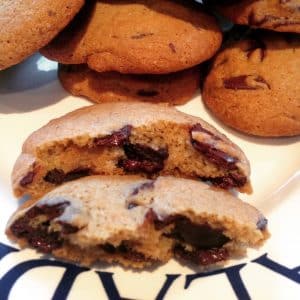 Retro Choc Chip Cookies
These Choc Chip Cookies are soooooo good. Not those dry crumbly old things, but all soft and gooey, just like a cookie should be. Super easy and simple to make but yet exquisitly flipping delicious! Go on have a go, or get the kids to have a go, I get pictures all the time of kids with their own baked cookies. I love that – so if you do make them please please send a photo! …. Or make them together, so quick and easy the kids love baking and it's wonderful to watch them cook. They get to eat them and I promise they won't last long 🙂
You'll be everyones best friend!
Let me know what you think? I so love to get your comments!
Thanks Clare
Ingredients
Makes 18 cookies
150g Butter (softened) 

120g Light Brown Muscovado Sugar
40g Granulated Sugar
1 Large Egg
225g Plain Flour
1/2 Teaspoon Bicarbonate of Soda
1/4 Teaspoon Salt
2 Teaspoons Milk
200g Real Choc Chips (I use Willies Chef Drops) or chop a Very Good bar of chocolate into chunks
Preparation Method
Pre-heat oven 190C(170 fan)/375F/Gas 5
Line 2 large baking trays with greaseproof paper
Cream Butter and sugars together until light and fluffy
Add the egg – beating into the mix
Sift Flour, Salt and Bicarbonate of Soda on top and mix with a wooden spoon until combined
Finally stir in the milk and chocolate chunks
Place teaspoons of mix on the baking trays and bake for 8-10 mins until lightly golden, crispy on the outside and still soft in the middle
Remove from the oven and leave to cool for a few minutes before transferring to cooling rack!
EAT 🙂