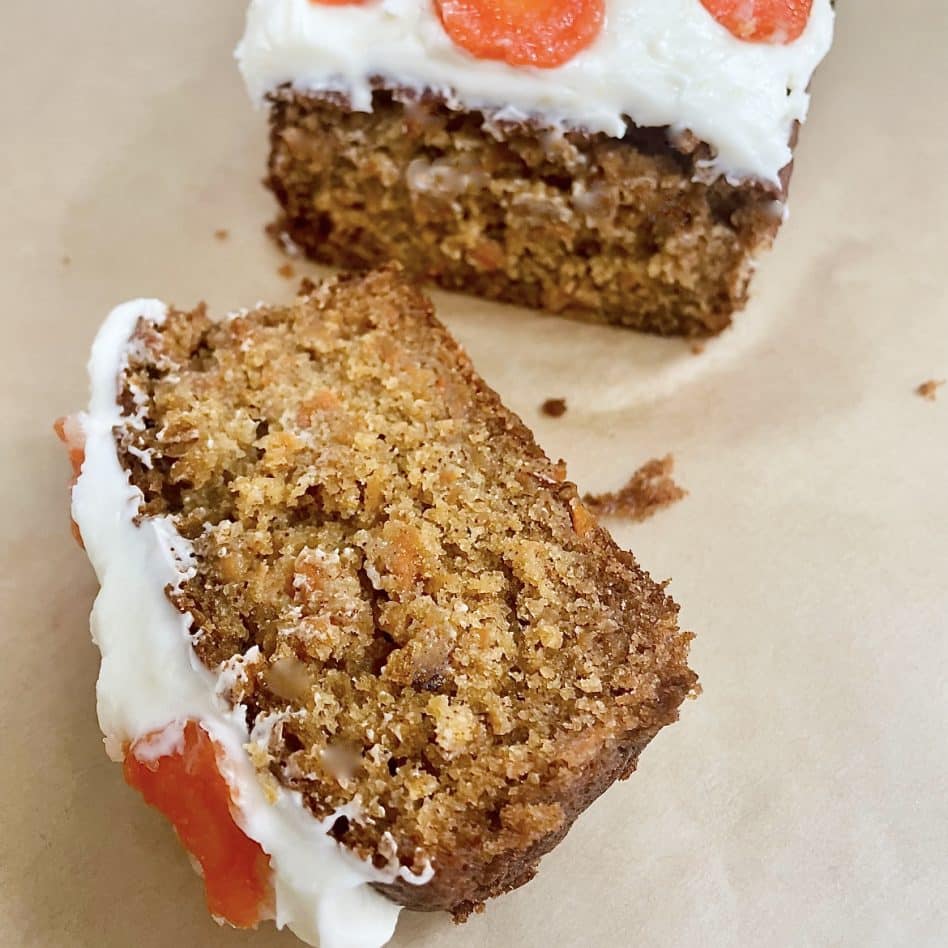 Easy carrot cake!
Why the hell not? It's carrot, it's healthy then isn't it? 😉 and everyone loves a carrot cake I'm sure.
And this is the Best carrot cake! – I promise!
This is possibly the easiest one you will ever make. It's so easy, simple and I promise it's so worth it!
If you want you can easily leave leave the icing off if you like, but it is VERY nice with it, yum!
The Ingredients for your Carrot Cake
It's a really simple cake but oh so delicious
These are the ingredients (full details on the recipe card at the bottom)
Moist Carrot Cake?
Please please forget those old dry carrot cakes, you know the ones that fall apart as they have NO moisture?
This is so moist and soft textured – delicious!
And it'll keep moist for a few days in the tin or in the fridge if you've got icing on it without any problem. No drying out here!
The secret to this moist carrot cake is it's made with vegetable oil, sunflower in fact!
This also means there's no creaming of the butter & sugar – winning!!
The main reason is the use of oil rather than another fat, somehow it retains the moistness.
Look at how glossy it is

Carrot Cake Icing
If you're trying to be good ditch the icing.
The cake is so good, it's made from cream cheese and icing sugar – yum.
But you can do without it? – but it's GOOD with the icing too!
I'll leave that decision to you.
The topping is a lovely mix of Cream Cheese, butter and icing sugar, it's not too sweet at all
Enjoy and let me know how you go, please drop me a comment and let me know if you think it's the Best carrot cake?! ever?!
I'll tell you something for nothing, Pinterest loves it! Like really loves it!
So many lovely lovely comments

Other Vegetable Cakes
I'm really interested in vegetables in cakes. Actually next I fancy trying to make a parsnip cake?
Have you ever tried? If so let me know your recipe….
I already have Brownies made with courgettes have a look!
You can also use black beans in a cake (yes really!), it really is amazing , check out the Vegan Chocolate Cake
Have fun baking! I love to bake, do you, only issue I face is that I can't resist eating it?
These days I tend to bake for friends and family and give it away!
It's the safest way for my waist band
Thanks Clare x
Easy Loaf Cakes
And I love a loaf cake – check out these beauties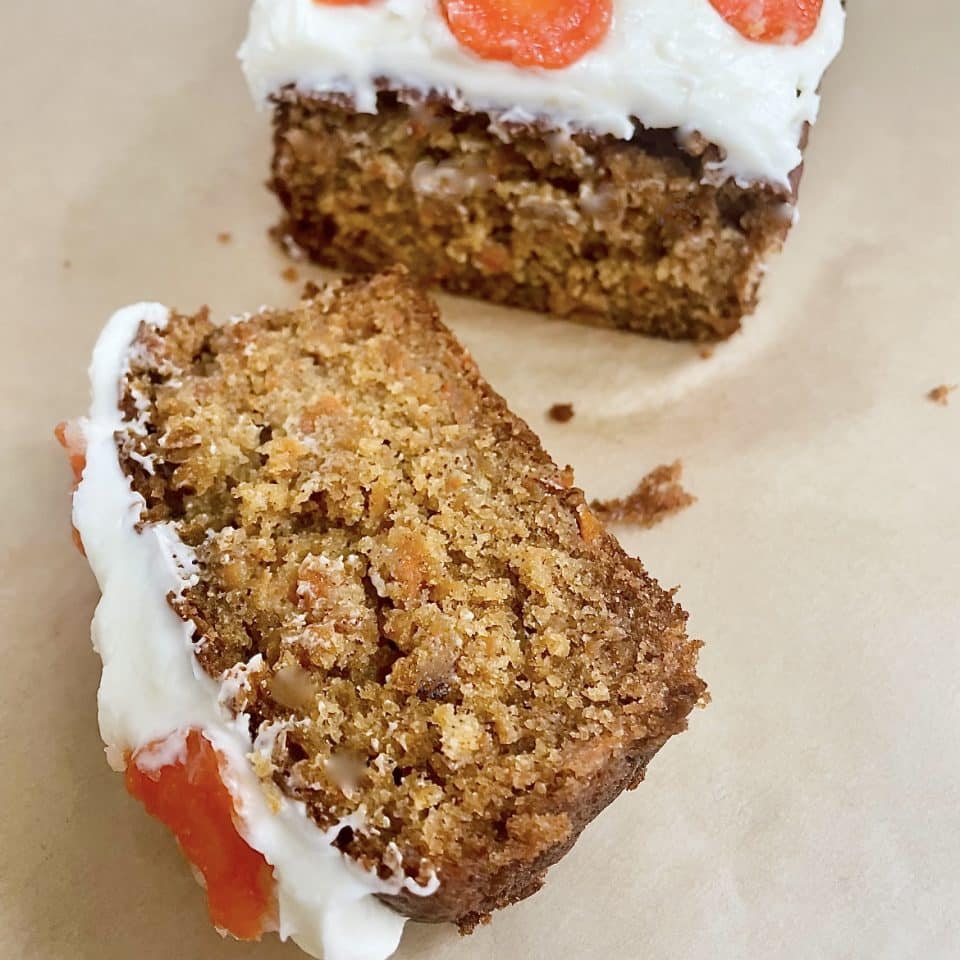 Print
Pin
Rate
The easiest and moist Carrot Cake you could every wish to meet!
Ingredients
150

ml

sunflower oil

180

g

self-raising flour

1

tsp

ground cinnamon

never tried with mixed spice but a little 'birdy' tells me it's good

½

tsp

bicarbonate of soda

2

carrots grated - medium/large whatever

110

g

soft brown sugar

2

eggs

90

g

golden syrup

100

g

cream cheese or light philly

50

g

butter

250

g

icing sugar

½

tsp

cinnamon

optional
Instructions
Put all the cake ingredients in a bowl (except sunflower oil) and mix until well combined (not the icing parts)

Then add oil in 2 lots and mix again

Pour into lined 8 inch x 8 inch tray. Or a 2llb (900g) Loaf tin (with a liner or lined)

Bake at 180°C for approx 25 to 30 minsApprox. 3 or 30-40 mins if it's a loaf.

Leave to cool in tin for 30 mins and tip out.

Cream together butter and cream cheese, until smooth

Slowly add icing sugar and cinnamon

Spread on top of cake and cut to desired size.
Notes
*** All nutritional information is approximate and intended as a guide
Nutrition
Nutrition Facts
Easy carrot cake
Amount per Serving
% Daily Value*
* Percent Daily Values are based on a 2000 calorie diet.