Hi and welcome to
Easy Peasy Lemon Squeezy
A place to inspire, share and talk everything kitchen with a side order of lifestyle and social ;)
1
2
3
4
Easy Chocolate Brownies -Bundle's
Bundle's Easy Chocolate Brownies
Bundle's Easy Chocolate Brownies are possibly the worlds best brownies, promise you!
Here she is – making them!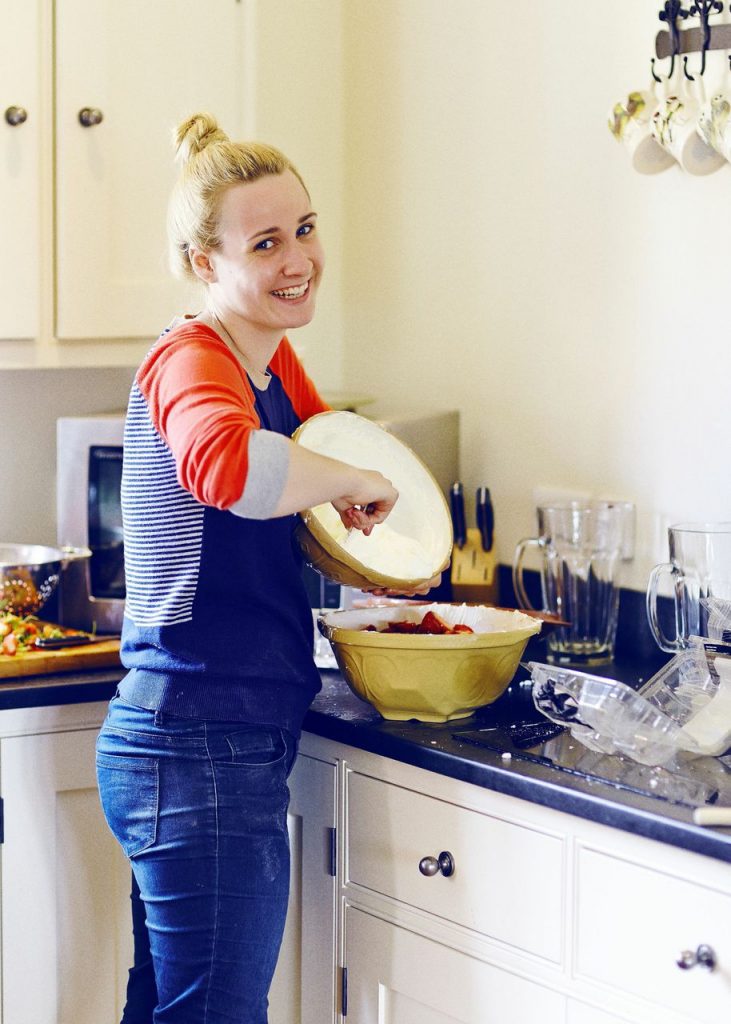 Just look at that chocolate

It always amazes me how the chocolate reforms once baked – Magic!!

Paper Top Easy Chocolate Brownies
They have a classic brownie paper top, soft and squiggly, fudgey, middle and so packed with chocolate, white, milk and dark they are amazing.
Oh and very Easypeasylemonsqueezy!
Let them go cold before you cut them.
They tend to firm up on day 2 – if they last that long!
I have made them time and time again. They are such a favourite with everyone who makes them.
Indulgent and so chocolatey, squidgy and fudgey!! Not the healthiest but it's about moderation isn't it?
It's fine every now and then, isn't it?! I think as long as you're sensible and have them occasionally it's ok?
To serve your Easy Chocolate Brownies
Serve on there own, with cream or ice-cream – great for the whole family.
Easy Chocolate Brownie Ideas
You can even pop them cold into a lunch box as a little treat!
Also I take them on picnics wrapped in brown paper and popped in some Tupperware. On the side I take a Tupperware dish of wither fresh cherries, strawberries or raspberries – so good
They are lovely packed up as a prezzie!
It's so nice to received handmade brownies!
Go on have a go….. pop them in a little clear cake bag and tie them up with a ribbon
Enjoy!
I promised Bundle's Brownies really are quite amazing (world class brownies and if you're in trouble with anyone – you will be instantly forgiven!
So have you heard of Blondies?
Blondies are often considered to be brownies without chocolate??? Both Blondies and brownies are very popular in the USA.
But blondies are a dessert / cake with their own unique deliciousness and personality.
Whereas brownies depend on chocolate for their flavor, for blondies it's all about the brown sugar, giving the blondies their distinctive molasses flavor.
Have you ever made blondies? Maybe I should publish a recipe for blondies
Please have a try and let me know what you think of Bundle's Chocolate Brownies.
Please leave me a comment below the recipe.
I love to get your comments
oh and – (If you fancy something a tad more healthy then) try Tracey's Courgette Brownies
Thanks Clare
Ingredients
190g Dark Chocolate- the best you can afford
190g Unsalted Butter
85g Plain Flour
40g Cocoa Powder
3 Large Eggs
275g Golden Caster sugar
50g White Chocolate (this can be a bar which you cut up)
100g Milk Chocolate (same as above)
Preparation Method
Line & grease a 20cm / 8inch square tin with butter, preheat your oven to 160°C fan/350°F/Gas
Place the dark chocolate and butter into a small bowl over a pan of boiling water, stir until melted and then remove from saucepan and leave to cool
Sieve flour and cocoa powder into a small bowl – put aside
Break the eggs into a bowl and add the golden caster sugar. Whisk until fluffy and doubled in size. (Using an electric hand whisk speeds this up considerably!)
Pour the cooled melted chocolate mix into the egg mixture and fold carefully, followed by the flour and cocoa powder.
Finally stir in the chocolate chunks!
Pour into prepared tin and place in oven for around 25 – 30 minutes, maybe a little more, should wobble slightly . Take out of the oven a few minutes before you think they're done. They will cook a little themselves after you have taken out of the oven
Leave to cool in the tin, then cut into squares when its cold (you should get 16) They are mega rich. Serve warm with ice cream….
Enjoy Bundle's Brownies! Cx