Hi and welcome to
Easy Peasy Lemon Squeezy
A place to inspire, share and talk everything kitchen with a side order of lifestyle and social ;)
1
Easy Toad in the Hole or Sausage Toad?
Easy Toad in the Hole or is it Sausage Toad?
Whatevs it's super!
There's nothing nicer than a perfectly simple & Easy Toad in the Hole or is it Sausage Toad?
Whatever you like to call it is flipping lovely. I simply love it
This Easy Toad in the Hole is so tasty – a true classic!
For me it's all about the quality of the sausages and the rise of the pudding.
I make sure I use the best sausages I can buy and with as high a meat content as possible.
For this recipe I used big juicy pork sausages! Delightful!
The Lincolnshire or Cumberland sausages are great too as those herbs add even more flavour.
The ones that are my fave are the pork and leek type, yum!!
I also like any sausages that are stuffed with herbs too, anyway that's personal preference, just choose your favourites!
Toad or is that Hole is seen as being quite tricky?
However if you follow this recipe I promise you it will be a success.
Both deliciously soft and pudding like with a lovely crunchy top and sides at the same time! (my fave bit)
It'll become a family favourite
I'm sure, you can make it 'so' special using good quality sausages, so good in fact I think it rivals a Sunday Roast.
Yes really I do, controversial I realise !
Preparation of your Toad
I add red onions and rosemary for that aromatic hit!
The batter (hole)
Then make yourself a large pan of onion gravy and get stuck in! I love it with mash and loads of vegetables – so very very good!
Easy Toad in the Hole – the best!
Oh my, just look at it 🙂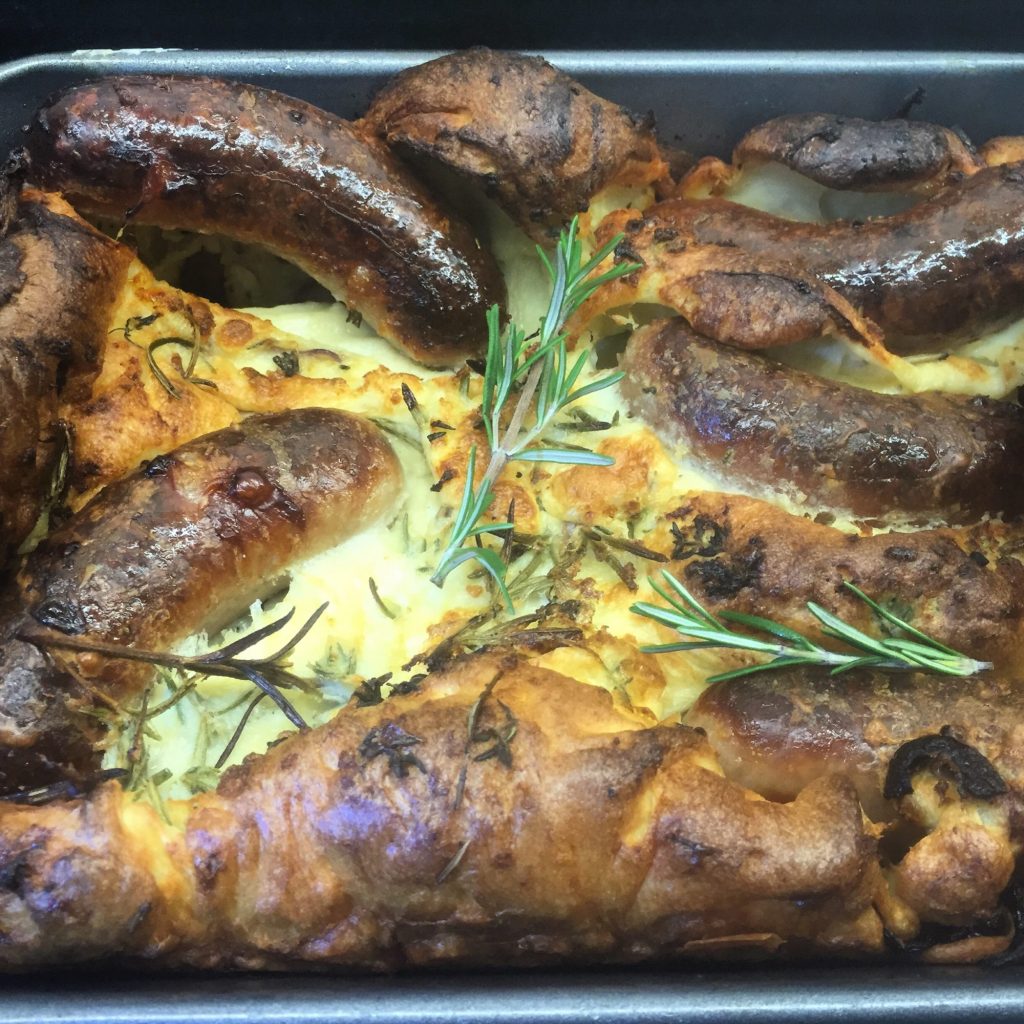 Try this Easy Toad in the Hole and (please) let me know how you go in the comments below…
I love getting your comments
Other sausage Recipes
And if you love sausages I have loads of sausage recipes, maybe you'd like this Honey and Herb Sausage Bake
All baked in one tray – we do love a traybake at Easy Peasy Lemon Squeezey!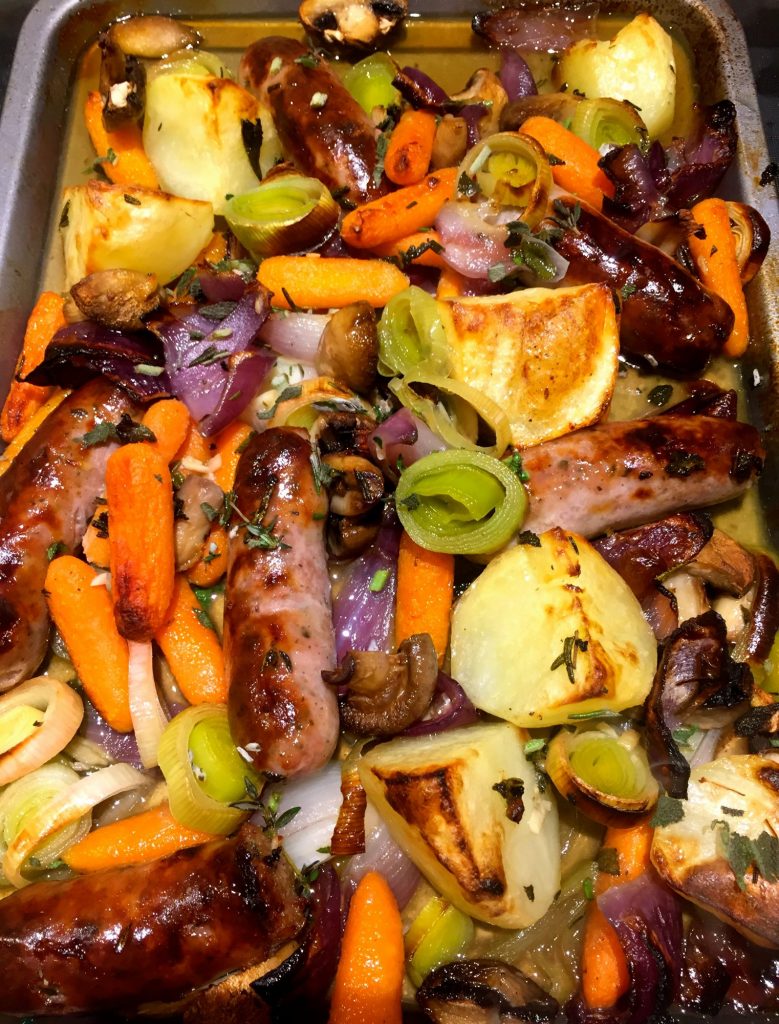 Use the SEARCH box and type in sausages……
and wonderful sausage recipes will appear before your very eyes!
Enjoy
Thank you
Cx
Ingredients
6 Pork sausages – good quality!
Sunflower oil or olive oil (or if you really want to??? Lard)
a few sprigs of rosemary
a few sprigs of fresh thyme
Salt & black pepper
1 Red Onion, thinly sliced into rings
Batter Mix
125g plain flour
3 medium free-range eggs
300ml milk (I use semi-skimmed)
Salt & black pepper
Preparation Method
Preheat the oven to high – 240C / Gas 475F / Gas9
First Make the batter – Put the flour into a bowl and add the salt & pepper, then add the 3 eggs, using a whisk mix to a smooth paste
Then slowly add the milk, mix well and pop this batter in the fridge (you can make this much earlier and leave in the fridge if it helps)
In a tin mine was 10'x 8′ can be a little larger if you want – add some Sunflower oil good glug so the bottom of tin is covered (or add a lump of lard?) , the sliced red onion, some sprigs of rosemary and some thyme leaves (but you will have to take the rosemary sprigs out after cooking as they are very woody – so leave them in large sprigs, this and the Thyme add an amazingly flavour to the Yorkshire Pudding) Salt & Pepper and then the sausages.
Put the tin on a baking tray and pop in the oven – Cook for 10-15 minutes until sausages are light golden brown and the fat is spitting hot!.
At this point the fat should be almost smoking. Carefully whilst the tin is still in the oven pour in the batter mix, BE VERY CAREFUL – it will be VERY hot- it will spit and sizzle.
Shut the oven door and do not open for at least 20 minutes
Check after 20 minutes (watch the steam in the oven – it sticks your mascara together 🙂 ) and then continue to bake for a further 10-15 minutes depending on how crispy/soft you like you're Toad in the Hole
Serve with mash and green veggies or just on its own with onion gravy – oh its my FAVE!