Easy Beef Wellington
I know beef fillet is expensive, but we are in between Christmas and New Year and I'm sure you will have either family or friends over for dinner. So why not push the boat out and just do this Easy Beef Wellington.
You know Beef Wellington is just the business at any time
I would suggest this for either 4 or 6 special guests.
It's a proper treat ……
Special Dinner of Beef Wellington
It doesn't need to be Christmas obviously, but this is a special dinner.
I actually think it's my favourite meal – there I said it!
Yum yum
If I have a special occasion or have friends over for a celebratory dinner, this this is my go to.
And you can get ahead a little too, have a read of the recipe!
If you follow the instructions below it really is a delicious centrepiece of any meal.
It's one of my favourites.
I have not met any meat eater that doesn't adore this beautiful Beef dish, luxury!!
What is fillet of beef?
Fillet of beef is arguably the most prized cut of beef, although few would argue against this accolade, I just love it.
Delicious!
Very little fat runs through the meat and this results in a wonderful texture that truly is "melt in the mouth" food.
Fillet is sometimes referred to as tenderloin. Fillet of beef is an expensive cut that yields such fantastic flavours and succulence that it easily merits the higher price, well I think so anyway.
Due to the expense, fillet of beef is commonly eaten as fillet steaks, but whole fillets are also available and used for this amazing Beef Welly!
Do you dare to try it?
What to serve with beef Wellington
You can serve it with all the usual potatoes and vegetable combinations. My personal preference is very smooth mash and green beans
It's also super with my cauliflower cheese recipe
There's something about the creaminess of it that's just makes it work….
Perfect Pudding
And why not make a delicious pud too, this Chocolate Ice Cream Bombe is a great get ahead pud
Go on and let me know how it goes – flipping delicious and melt in the mouth!
Possibly my favourite meal – yes really
Thanks Clare x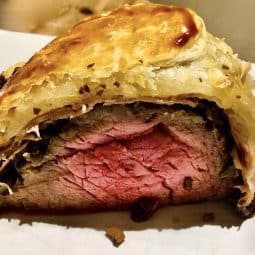 Print
Pin
Rate
The best Beef Wellington in town, delicious prime beef fillet encased in pastry
Ingredients
1

Kg

Beef Fillet

Olive Oil

Salt & Freshly Ground black pepper

250

g

Mushrooms - any sort

25

g

Butter

100

g

Water

I Stock Cube beef or vegetable

10

slices

Parma Ham

320

g

pack of Frozen puff pastry

defrosted (or make your own)

Flour for rolling

1

egg

beaten
Instructions
Put your (precious) beef fillet in a roasting tin brush with olive oil and season with salt & black pepper . Roast in the hot oven for 20 mins - medium or 30mins for a little more cooked. Remove from oven and leave to cool.

Chop your mushrooms until fine - should look like coarse breadcrumbs.

In a frying pan add 1 Tablespoon Olive oil and fry mushrooms on a medium heat for approx. 3 mins, then add the water & stock cube and cook for about 10 minutes, there should be no moisture visible

Lay out a 2 large pieces on cling film on the work surface and then lay the Palma ham on top, overlapping each piece with the next.

Spoon and spread out the mushroom mix and season - then pop your cooled beef on top. using the cling film roll the ham around the beef fillet tightly - into a sausage shape, secure & pop in the fridge

Pre-Heat Oven 200C/400F/Gas6.

When you are ready, roll out your pastry into a rectangle and place on a non stick baking tray

Remove cold beef fillet from cling film and pop your ham covered beef on the pastry.

With the egg seal the pastry around the fillet, keeping the seal on the base. Decorate the top with pastry shapes, I usually do the initials of the guests…. Brush the whole wellington with the beaten egg

Bake 30 mins - medium -rare / 35 minutes Medium. Leave to rest for 10-15 minutes (Your beef is tired - it needs a rest 🙂 ), slice and serve - delicious
Notes
*** Nutritional information is approximate and intended as a guide 
Nutrition
Nutrition Facts
Easy Beef Wellington
Amount per Serving
% Daily Value*
* Percent Daily Values are based on a 2000 calorie diet.