Hi and welcome to
Easy Peasy Lemon Squeezy
A place to inspire, share and talk everything kitchen with a side order of lifestyle and social ;)
Easy Sausage Plait
Easy Sausage Plait
Oh My word I've just rediscovered the most amazing bake – Easy Sausage Plait and here's the recipe
Do you know what? I don't think I've made one of these babies for over 25 years.
It was probably when I was at school in home economics? Or was it Domestic Science?
Well it is so easy and I have to tell you better than I ever remembered.
Why Sausage Plait not Sausage Rolls?
Ok Ok so you can't beat a good sausage roll? Well on reflection I'm not so sure….
The beauty of this is you get more sausage meat to pastry ratio, it really is yum – Winning!!
Try it – please it's so good …….
So how do you make a Sausage Plait
Well it really couldn't be simpler….
It's literally a roll of chilled/ frozen shortcrust pastry or puff pastry. Whichever you prefer really….
I like shortcrust and I've now made this recipe 3 times in 2 weeks. Eeeeek!
So here we go:
Pastry unrolled and sausages skinned and squished out – as so….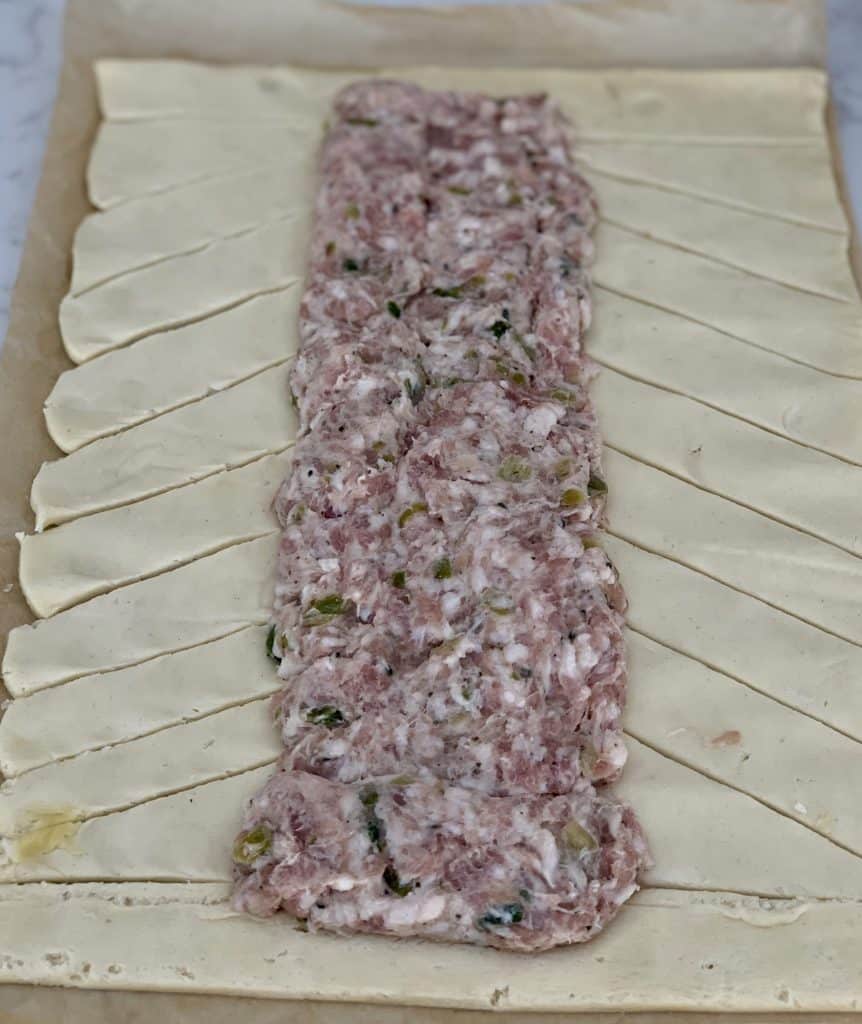 Then simply start plaiting….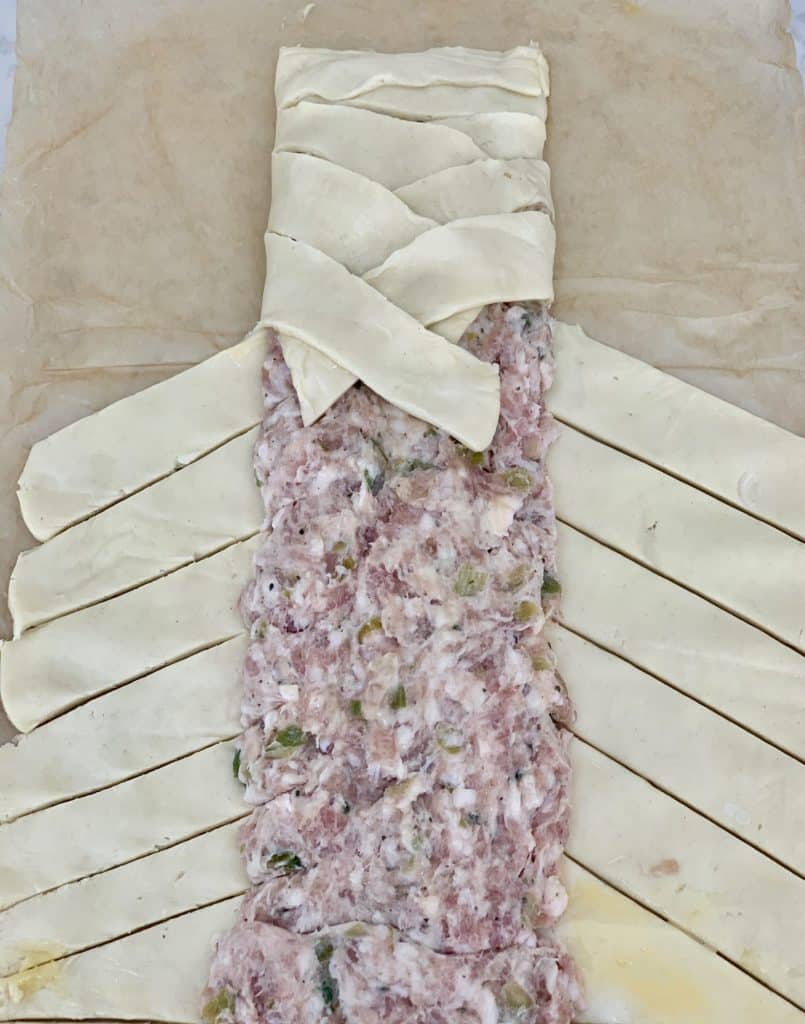 Make sure you seal the ends with water and use a fork to crimp
Then simply egg wash the whole thing and bake!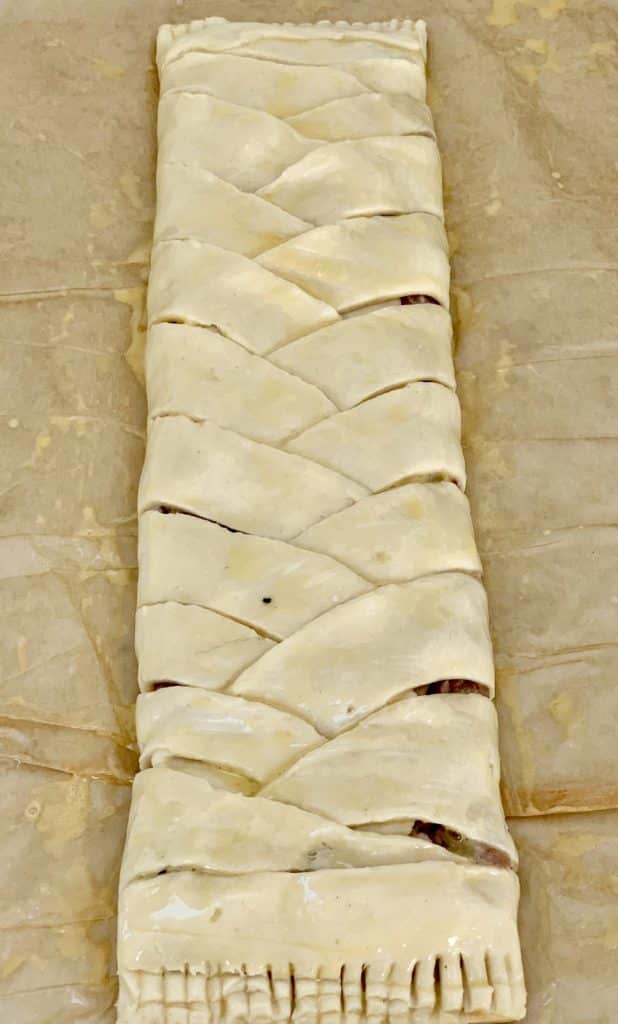 Pastry for your sausage Plait
Well you can make your shortcrust pastry or puff pastry from scratch, but quite frankly I have a life – ha ha
Alternatively just buy the ready made chilled stuff, it really is very good and you use the whole sheet for this
It's personal preference on the type if pastry you choose, I tend to choose shortcrust but puff would be great too – next time Clare
Sausage Meat
I always buy really good quality sausages and skin them (never sausage meat – not sure why?)
My fave at the moment are Pork & Leek, however I've also used the Pork and caramelised onions ones – yum, slightly sweet!
I was also thinking if you wanted to make it a little more special for Christmas say, there is no reason why you couldn't add some caramelised onions on top of the sausage meat.
Or why not some cranberry sauce to indeed fresh cranberries at Christmas time?
Finished Sausage Plait
To serve your Easy Sausage Plait
Well why not warm straight from the oven with a cuppa? Always best…
Or maybe warm with potatoes, veg and gravey as a meal?
I'm not sure it will last that long to be honest – but it's also lovely cold ….
Top Tip
I took one on a picnic for two people
So instead of baking the whole plait, once I'd made it, I cut it in half and froze half unbaked.
Ready for the next picnic!! Genius!
Other nibbles
If you're looking for nibbles and finger food I think you might like my Smoked Salmon Canapés
Tasty and cute!
Anyway I hope you love this retro bake as much as I do. It will certainly be making an apperance again soon. I won't be waiting another 25 years that's for sure
If you have a go, please let me know how you get on!
Big Love as always
Clare x
Ingredients
Feeds 6-8
1 packet chilled ready made Shortcrust or puff pastry
6 good quality sausages
I egg, beaten
Preparation Method
Preheat your oven 160C fan/ 180C / 350F / Gas Mark 4
Prepare your pastry, basically unroll
Leave the pastry on the paper it was wrapped in as this becomes your baking paper
Skin your sausages and make into a long flat sausage shape and place on top of pastry, see pictures above
Then using a sharp knife, cut chevrons in the pastry, again see pictures above
Then simply plait as shown above, you can use water to stick the edges at the top and bottom of your sausage plait
Crimp the top and bottom with a folk, to seal the edges
Place on a large baking sheet, using the paper to lift it
Finally egg was the whole plait and bake in the centre of the oven for approx 40 minutes, checking after 35 minutes
Once your plait is golden brown and baked through remove and serve
Or leave to cool and then slice