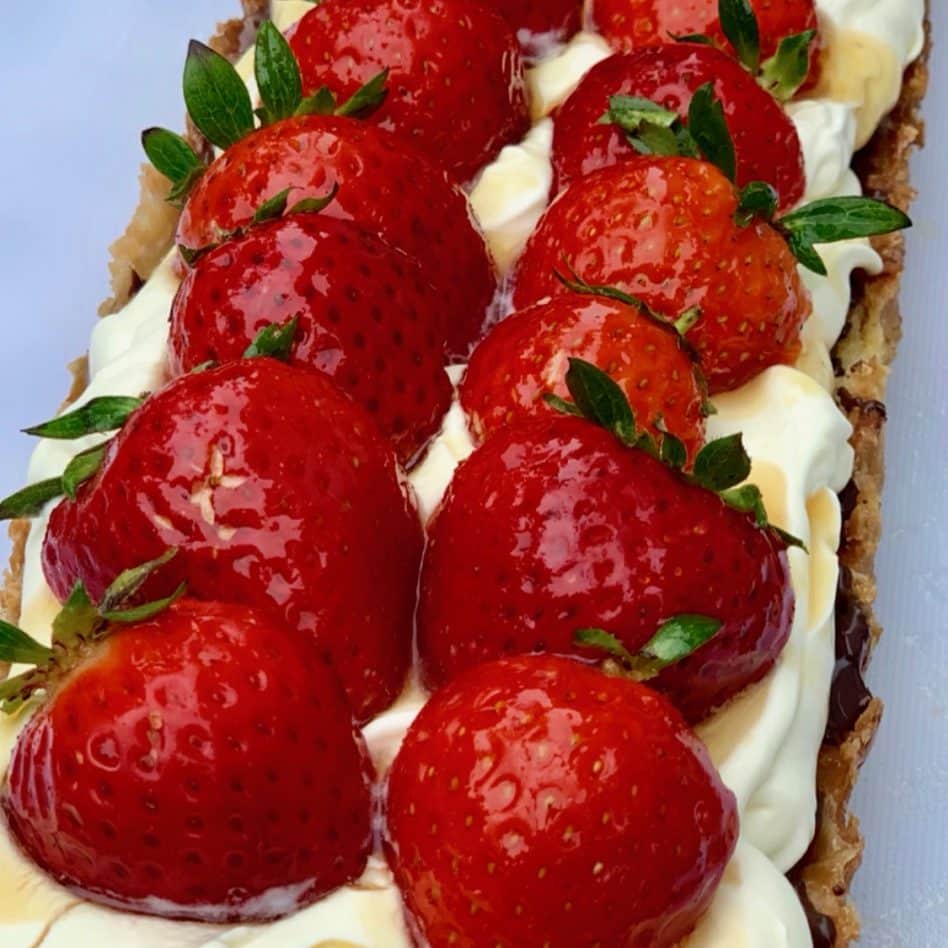 Oh it's Summer and it's Strawberry Season
So how did this Strawberry Tart Recipe come about?
Well you know me, always a story!
Danish Lifestyle
Again last week I had the pleasure to live and breathe a Danish lifestyle! Not just a business trip, now a trip to visit colleagues and above all friends.
I get the privilege of staying in a Danish home – not just another hotel room. And I get the whole #hygee experience!
Have you been to Denmark before ?
And while I work I get to taste some amazing home cooked Danish recipes!
Not just the 'restaurant style' where you could be anywhere in the world, but the real authentic stuff!
Jette's Strawberry Tart
I am also able to eat lunch with my colleagues in our company dining room.
I simply can't call it a canteen as it's so so much more. Jette, a beautiful lady inside and out, also happens to be the most amazing cook.
Spoiling us all with delightful healthy home cooked Danish fare. And this time I had customers with me in the boardroom which means Jette makes an afternoon dessert for us all!
I think I die and go to heaven every time 😀
However this time (I've been visiting Denmark for 26 years – visiting frequently every year – sh&t do the maths).
I have to say the dessert was truly wonderful.
Danish strawberries on the most delightful and interesting base, including marzipan.
I've never tasted anything like it.
So very very kindly Jette gave me her recipe.
So here it is ' 'Jette's Strawberry Tart' and not just any ordinary Strawberry dessert……
Strawberry Tart
Please please try it 🙏🙏🙏 I promise it's amazing.
It's easy but it does take a little while as there are quite a few different layers. I found that I dd lots of other jobs between constructing it!
If (when) you do make it then please let's see your pics and have your comments!
Both Jette and I would be so happy!
So make hay while the sun shines and while we have wonderful summer strawberries!!
Another Strawberry Dessert
If you like this then I think you'll also like our Strawberry & white chocolate shortcake
And my amazing Strawberry Cheesecake – everyones fave!
Do you have and favourite strawberry dessert recipes?
Let me know what you think to this Strawberry Tart and if you like it?
(Oh and I used this -)
Flutter Tart Tin (loose bottomed).
I used this one as I think it gives the perfect combination of base to filling!
Rectangular Fluted Tart Mould with Loose Base,36 x 10 x 2,7cm
However you can also use a round tart tine! I guess that's more traditional – approx 9″ or 23cm diameter should do it
Thanks Cx 🇩🇰🇩🇰🇩🇰🍓🍓🍓
#AFFILIATELINK
Strawberry Tart - Danish Style
Print
Pin
Rate
A Strawberry Tart combining, shortcake, marzipan, custard cream, chocolate & strawberries
Ingredients
Shortcake Base - 150g Plain Flour 100g Butter

soft 50g Caster Sugar 1/2 Egg

Filling 100g Butter

soft 100g Caster Sugar 100g Marzipan, grated

1/2

Egg

Chocolate Layer 100g Plain Chocolate

Cream Layer 200ml Duble Cream 100ml Custard

500

g

Strawberries Drizzle Maple syrup

Optional
Instructions
Shortcake Base  - Mix all the ingredients together and pull into a dough Refrigerate for 1 hour

Filling -Cream the butter and the sugars until pale and fluffy, add the grated marzipan and 1/2 the egg, mix

Preheat the oven to 200c/400F/Gas6

Remove the dough from the fridge and roll to fit the base, you can use your fingers too if you prefer

On top of the base spread the marzipan, sugar and butter mix

Place in the oven and  bake for 20-25 minutes

Once baked remove and leave to cool in the tin - remove from tin

Melt the chocolate in a small bowl over a pan of hot water and spread on the cold base

Cream Whisk the double cream until thick and firm, stir through the custard

Place the custard cream onto of the chocolate

Finally decorate with the strawberries and drizzle with maple syrup if you like

Chill until required, remove from the tin and serve