Hi and welcome to
Easy Peasy Lemon Squeezy
A place to inspire, share and talk everything kitchen with a side order of lifestyle and social ;)
1
2
3
Strawberry & White Chocolate Shortcake
Our Kathy's Strawberry & White Chocolate Shortcake
A true family favourite.  It's really easy and so tasty! Our Kathy's Strawberry & White Chocolate Shortcake, a perfect dessert! So when it's strawberry season use them!! I love to try and live by the seasons and there's nothing better than the sweet delicious red sift fruit!
Lots of you have tried it and some of you have even made it with other fruits apart from strawberries. You could try  raspberries or blueberries maybe? Anyway it's the perfect summer dessert – with lovely juicy fruit! It's also perfect as a BBQ dessert or for any special occasion – it always goes down a storm!  White Chocolate, Strawberries Cream, Shortcake – oh yum what's not to like?! Perfect when you've been strawberry picking and have loads – English Strawberries – you just can't beat them!
The great thing is you can make it the day before and keep it in the tine. Tip out the lined loaf tine the following day when you're ready and ta-dah a no hassle pudding! (And if you're taking it to a summer party or a BBQ – there's no need to worry about damage etc as you can transport it in the tin and tip it out when you get there!)  I like it in a loaf shape but I have seen it made as a traditional round shape – looks pretty too!
And here is the lady herself in action, making it! Go Kathy …. So why not have a go at her White Chocolate & Strawberry Shortcake!!
Please drop me a comment below, I would love to know what you think to Our Kathy's  Strawberry Shortcake, it's as delicious and she is xxx
And if you love a good Strawberry Pud maybe check out my Strawberry Tart – Danish Style – also flipping lovely!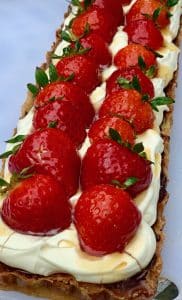 Enjoy those strawberries!
Thanks Clare x
Ingredients
7oz (200g pkt) Shortbread fingers, or any others
1oz (25g) Butter
6oz (180g) White Chocolate
8oz (225g) fresh Strawberries
+ 2 for decoration
1/2 pt (284ml) Double cream
Icing sugar for dusting
Preparation Method
Line 1lb (450g) Loaf tin with cling film to come over the sides
Place Shortcake fingers in a poly bag and crush with a rolling pin
Melt the butter in a small pan and stir in the biscuit crumbs
Press 3/4 into the base of the loaf tin and chill
Grate the chocolate coarsely. Place in a bowl, place over a pan on hot water (make sure the water is not touching the bowl.
Leave until melted, do not stir!(don't be tempted to melt choc in the microwave – it needs to melt VERY slowly)
Rinse, hull , dry and roughly chop strawberries.
Place cream in a large bowl, whip until it just holds its shape. Add melted choc and quickly fold in
Transfer half to a separate bowl add strawberries and fold in. Layer half strawberry mixture in tin, top with plain mixture then remaining strawberry mix.
Sprinkle with remaining crumbs. Chill for minimum 4 hrs or overnight.
Lift out of tin, remove film, decorate with sliced strawberries and icing sugar.
Enjoy Cx