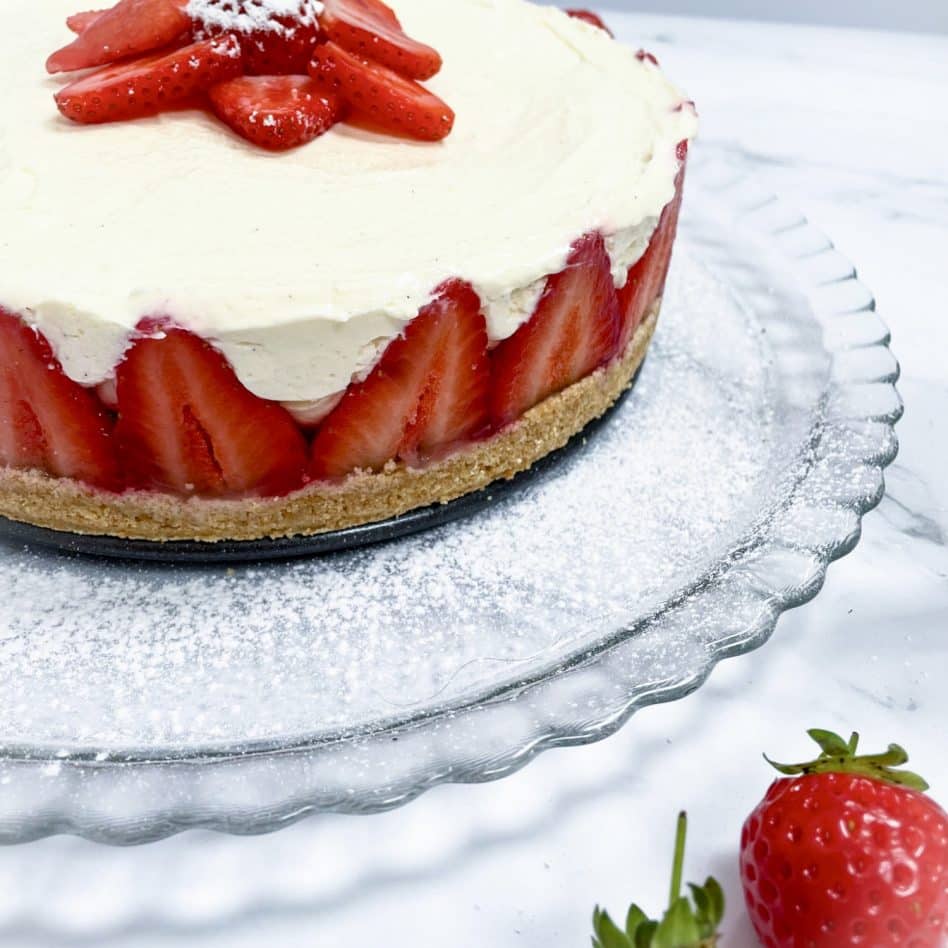 No Bake Strawberry Cheesecake, so easy!
So here's my recipe for No Bake Strawberry Cheesecake and it's a belter!
I realised recently that I didn't have a cheesecake recipe on my website anywhere!! Shock horror! So as it's strawberry season I decided to put that right with this one 🙂 You're welcome 🙂
And let me tell you something it's flipping delicious. It's also quite a looker!
It's very impressive and will look amazing on the dinner table, lunch table or at any BBQ or garden party!
Seasonal Strawberries perfect for cheesecakes
I'm a massive believer in eating seasonal food, you know at the precise time we are supposed to eat that thing, whether it be fruit or veg! Interestingly it's also when, more often, those products are at the lowest price
I believe English strawberries encapsulate the British summer time. It also reminds me very much of Wimbledon and strawberry everything
So here's the perfect strawberry summer dessert!
First things first:
So what's the difference between a baked and a no-bake cheesecake?
Well both are delicious, but they are totally different. The texture is the main point of differance
What makes the different is that there are no eggs in a no-bake cheesecake and a no-bake cheesecake "sets" by chilling in the fridge.
A baked Cheesecake on the other hand contains eggs in the recipe. The Cheesecake is then baked in a water bath, then it chills in the fridge.
No gelatine required for this No Bake Easy Cheesecake
I believe that one of the best things with this recipe is there is no need at all to use gelatine (which also helps the vegetarians too)
You can of course include gelatine but the set would be much former and really who can be bothered with all that dissolving stuff and wondering if you cheesecake will be like rubber
Just make sure you whip the cream cheese mix until it's very thick and leave it in the fridge over night and then you will have the perfect set cheesecake
No Bake Strawberry Cheesecake Recipe
Firstly you don't even need to turn the oven on!
I make this cheesecake look super special by placing halved strawberries around the edge of the tin – look how pretty the final result is 🙂 IMPRESSIVE (whispers – but oh so easy)
The most perfect thing about this is not only is it stunning to look at, delicious to eat, BUT you can make it the day before and actually 48 hours before if you like.
Make sure your filling is very thick, remember there is NO GELATINE in this recipe
As this recipe is 'get ahead' all the fuss is out the way the day before and you can enjoy the pudding with your family and friends, rather that chasing around the kitchen
I also add a layer of strawberries in the middle too – yum – so yum!
English Strawberries for your Cheesecake
I love to make this at the height of English Strawberry season – June. I find English strawberries sweet and perfect and it's even better when I've picked them myself.
Or why not take the kids strawberry picking, they love it
Other Flavour Cheesecakes – will this recipe work with raspberries?
Yes yes yes – simply swap out the strawberries for raspberries – that's it!
Or make it strawberry and add other summer fruits to the top or inside – you really can do anything you like
And why not try try grating lemon zest in the filling and popping a layer of lemon curd in the middle to make a zingy lemon cheesecake too!
(whispers – I have a great new idea for an Oreo Cheesecake – so watch out for that)
Other Strawberry Desserts
I have a few other strawberry Desserts too
My Danish Strawberry Tart is delicious – it contains marzipan and custard – go have a gander
We also have a Strawberry & White Chocolate Shortcake which is also delicious – especially if you love white chocolate
And why not have a strawberry tipple too, my Strawberry Daiquiri is life!!
The Kit
The most important part for me is the cake tin you use to make this Strawberry Cheesecake in. Invest in a spring-form cake tin.
You will use it for a lot of things too – the one I have is 20cm / 8 inch and is perfect for about 8 small portions
This tin is great for this dessert as the strawberries cut around the outside make this dessert look super impressive!
So have a lovely Strawberry summer!
Much Love Clare x
Contains Affiliate link
Easy Strawberry Cheesecake - No Bake
Print
Pin
Rate
A delicious shows-stopping Strawberry Cheesecake recipe! Easy
Ingredients
300

g

Digestive Biscuits

100

g

Butter

melted

12

Strawberries

Halved

1

Teaspoon

vanilla bean paste

or extract

600

g

Full Fat soft cheese

100

g

Icing Sugar

300

ml

Double Cream

100g

Strawberries

hulled & diced

4

Strawberries

sliced, for decoration
Instructions
In a food processor, crush your digestive biscuits and then stir in your melted butter, or pulse  (you can easily use a strong plastic bag and a rolling pin to smash those digestives too)

Next press the biscuit and butter mix into the bottom of your loose bottomed tin, using the back of a teaspoon to smooth over, pop in the fridge

Next take your halved strawberries and carefully place a full circle of these around the tin, cut side facing outwards - pop back in the fridge

Next put the soft cheese into a mixing bowl and use an electric whisk to whisk until fluffy, or a stand mixer

Then add the  icing sugar and gently whisk until smooth then add the vanilla bean paste

Pour the cream in and whisk until the mix is very thick. Remove your biscuit base from the fridge,  using a spoon carefully fill the tin with HALF the cream cheese mix making sure your strawberries stay in place

Add a layer of chopped strawberries, then add the remaining half of the cheesecake mix on top, make sure you push the mix into the strawberry at the side - you do not want any holes or gaps

Smooth over the top with a spoon and pop in the fridge for a minimum of 4 hours to set (overnight is best)

When you are ready to serve, remove the cheese cake from the fridge, release the spring and remove the tin

Decorate with strawberries and serve!
Notes
** All nutritional information is approximate and intended only as a guide 
Nutrition
Nutrition Facts
Easy Strawberry Cheesecake - No Bake
Amount per Serving
% Daily Value*
* Percent Daily Values are based on a 2000 calorie diet.