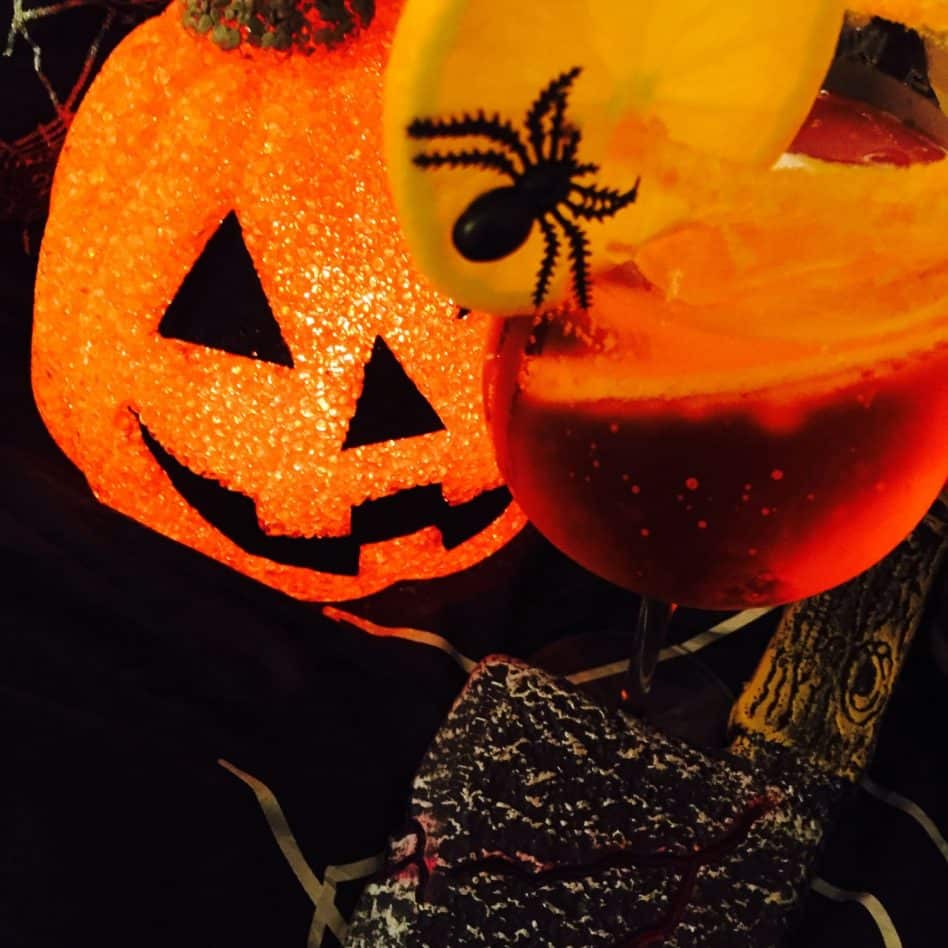 Perfect Halloween Cocktail Fiendish Fizz…..
If you are looking for a Halloween Cocktail recipe then you've really come to the right place
We have made a perfect Cocktail to celebrate with this Halloween and we called it Fiendish Fizz….. Obviously
The most perfect Halloween Cocktail ever and it's made with Aperol and Prosecco – can't be bad can it?
Are you a fan of Aperol?
I think it's a very acquired taste…
Spooky Halloween Cocktail
I think dressing your cocktails with orange slices and plastic spiders is a great idea!
Go on…
Children's Halloween Cocktail
If you have children around then for the kids version I suggest you simply swap out the alcohol for either fizzy orange Lucocade or Tizer!
( Remember Tizer?! Oh it's been years since I had Tizer)
Do you do much at Halloween?
We never used to but have recently started to embrace the celebrations by dressing up the house for 'trick or treaters.'
However I do have a strict rule, once the clock hits eight that's it! My doors closes and no more answering it.
I believe that the real trick or treaters, those that have made the effort to dress up etc are done by 8!
Home and in the bath lol
Then it's time for cocktails 🙂 My house my rules lol!!
Halloween Supper?
And a perfect Halloween supper is my lovely Halloween Pizza – simple!
And the little & big kids love it equally!
Get them to make it maybe, or at least help!
Halloween Supper Idea
I also do a sort of a Halloween / Bonfire style supper.
Usually something like my Stuffed Jacket Potatoes that can be prepared the day before, and then banged in the oven.
Served with beans and there you go the perfect tea
If you're trying to be a little healthier you might life to try my Healthy Stuffed Jacket Potatoes
Have a great night!
So what's the meaning of Halloween?
So what actually is Halloween?
Well according to Wiki
Halloween is the evening before the Christian holy days of All Hallows' Day (also known as All Saints' or Hallowmas) on 1 November and All Souls' Day on 2 November, thus giving the holiday on 31 October the full name of All Hallows' Eve (meaning the evening before All Hallows' Day).
Oh and just for interest Halloween activities include trick-or-treating (or the related guising and souling), attending Halloween costume parties, carving pumpkins into jack-o'-lanterns, lighting bonfires, apple bobbing, divination games, playing pranks, visiting haunted attractions, telling scary stories, as well as watching horror films.
What will you do?
One thing you must do is enjoy this Halloween Cocktail
Enjoy – Booooooo
Jx
Drink responsibly
Halloween Cocktail - Fiendish Fizz.....
Print
Pin
Rate
An Aperol and Prosecco Cocktail, delicious and spooky!
Ingredients
100

ml

Prosecco/ fizzy

60

ml

Aperol

Soda water

Ice

To decorate

Slices

of Orange Orange food colouring

Sugar and salt

Spooky spiders
Instructions
Put a couple of spoons of caster sugar and salt on plate.

Mix a few drops of orange food colouring in so all the sugar/salt mix goes orange.

Wet the rim of the glass with some orange juice and then dip and roll in the sugar mix

Place 3 big ice cubes into glass

Pour in Prosecco

Add Aperol

Top up with soda water

Decorate with a slice of orange on the rim and a few more in the glass

Sprinkle with spiders !