Hi and welcome to
Easy Peasy Lemon Squeezy
A place to inspire, share and talk everything kitchen with a side order of lifestyle and social ;)
1
Easy Leek & Potato Soup – smokey!
Easy Leek & Potato Soup- Smokey!
This Smokey Leek & Potato Soup is the easiest tasty soup I make, it really is a winter warmer and perfect for lunches too.
Leek and potato soup is a classic and if made well is totally delicious.
By adding a small amount of smoked bacon it just adds and enhances, giving it a wonderful smokey note – have a try?!
You can jazz it up with bacon and spring onions and a dash of cream so it looks and tastes so good you can easily serve to guests, so pretty.
Alternatively you can keep it all for yourself and just devour it as it is, plain and simple. Enjoy!
Look at those lovely Leeks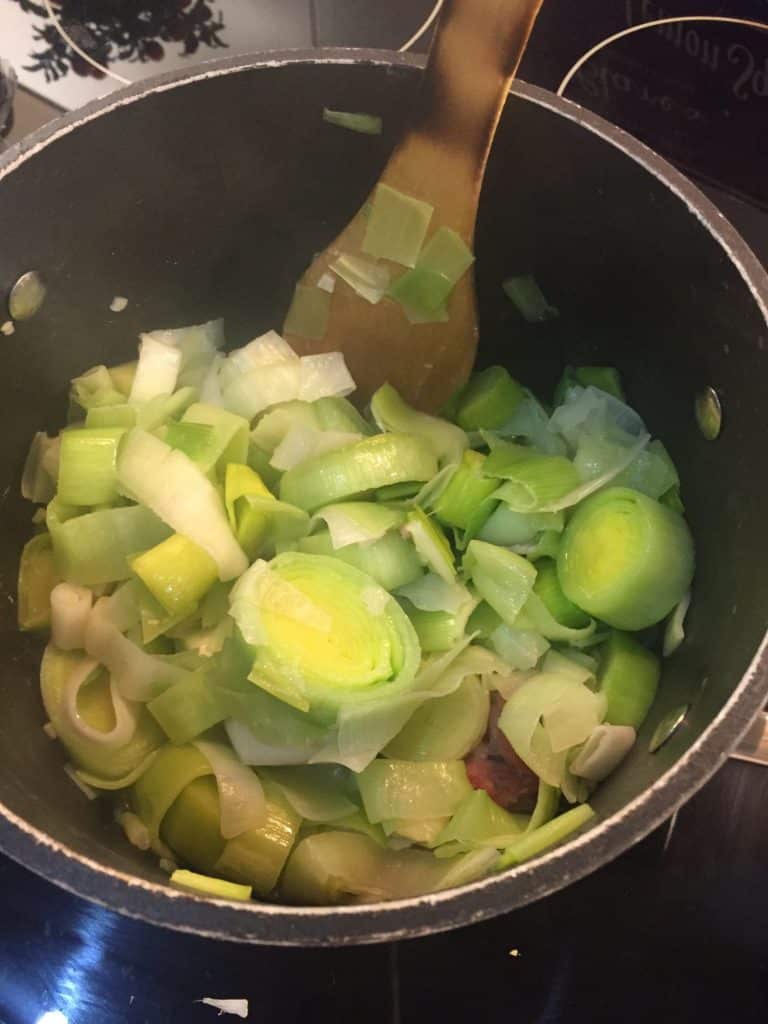 Why not serve it for supper with lovely slice of crusty bread, it really is a meal in its own right!
Have a go at this Smokey little Soup I'm sure you'll love it?
And if you do please let me know by leaving a comment below the recipe
Other soups
I have loads of soup recipes on my blog! I so love soup. Why not try my lovely roasted Butternut Squash its really very easy and you simply roast everything in the oven? It's super easy and super filling!
Or maybe my Easy Minestrone? So good and packed with veggies!
Thanks
Cx
Ingredients
1 Clove Garlic, finely chopped
1 Tablespoon Olive Oil
1 Slice Smoked Bacon – left whole (and a slice for garnish if you like)
3 Leeks, cleaned and then sliced into 1cm rounds
Bunch of Spring Onion, trimmed and sliced in 1cm rounds (reserve some of the tops for garnish)
500g Potatoes, peeled and chopped into 3cm x 3cm isn pieces
1 Vegetable Stock Cube
1 pt Skimmed Milk
1/2 pt water
3 sprigs fresh Thyme
Salt & Black Pepper
Preparation Method
In a large saucepan add the olive oil and the garlic, then  pop the slice of bacon in the bottom
Next add the sliced leeks and spring onions, fry (sweat) for 10 minutes over a medium heat
Then add the potatoes and give it a stir – return to the heat
Crumble  the stock cube into the milk and then pour into the pan together with the water
Finally add the sprigs of thyme,  season with salt & black pepper
Bring to the boil and immediately reduce the heat and simmer for 20 minutes
Remove from the heat. Now this is where you decide on the consistency. Using a hand blender whizz your soup to the desired thickness (I don't like mine totally smooth so I stop before I get to this stage)
Next,  taste and then season accordingly- if it's too think for you add a drop of milk or water to the desired consistency
Fry off some bacon until really crispy and chop small
Serve the soup in nice bowls and use some of the reserved spring onion tops  and the crispy bacon to garnish the soup
You can add a swirl of cream for that special occasion. It's really good 🙂