Hi and welcome to
Easy Peasy Lemon Squeezy
A place to inspire, share and talk everything kitchen with a side order of lifestyle and social ;)
Easy Stuffed Jacket Potatoes
Easy Stuffed Jacket Potatoes
Stuffed Jacket Potatoes (or JACK POT as Mrs Hinch would say) are the most perfect, quick, easy and get ahead supper you could ever wish to meet :-).
Is this the best stuffed Jacket potato recipe? Well I think so. Almost loaded Potato skins I think you could say..
They are what I would call the perfect football tea. You know the one you can make ahead, go out, come home and bang in the oven for 30 minutes.
I have never come across anyone, kids or adults who don't love these.
They are creamy, tasty and deliciously filling! AND SO FLIPPING EASY PEASY LEMON SQUEEZY!
And you can stuff them with anything – the most versatile Potato get ahead dinner ever!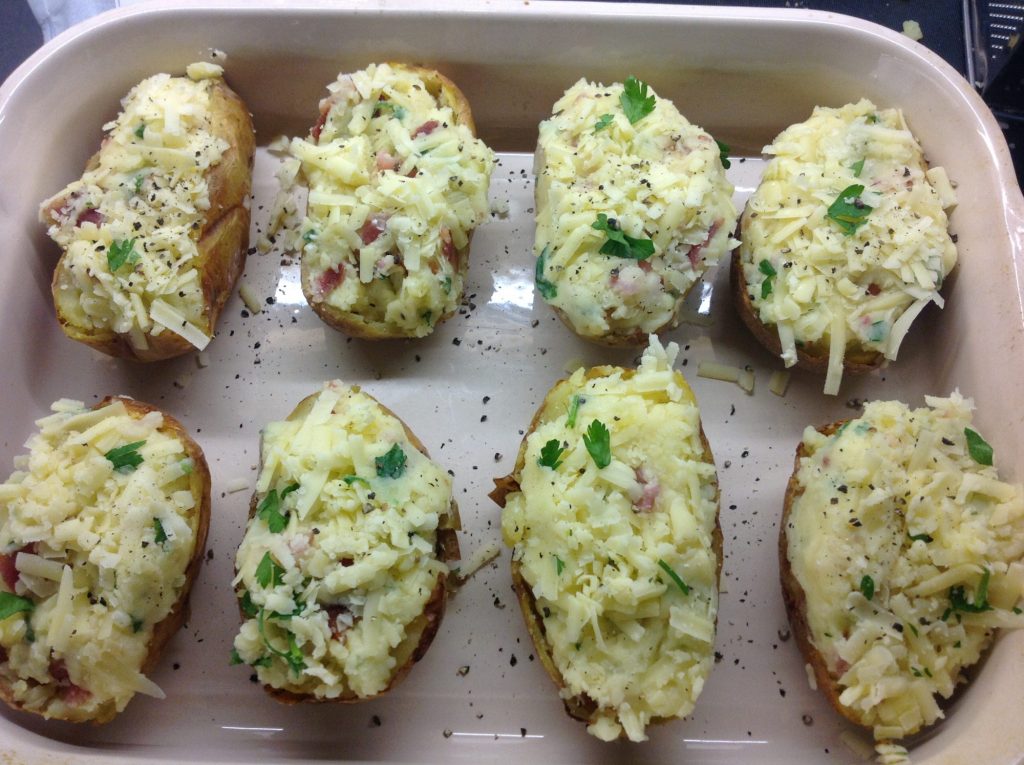 Love Potatoes?
I just love potatoes, I guess I'm a carb queen and I have to say this is one of my favourite ways to eat potatoes. Having said that my Roast Potato recipe is another fave, perfect crunchy potatoes yum!
Look let me just put it out there. I LOVE potatoes, in any form whatsoever, I just cannot help it!
These beauties are especially wonderful and useful recipe for Bonfire Night and Halloween! (I also tend to make them post Christmas with the left over cheese).
So easy and you can feed a whole bunch of peeps!
Simply get a massive tray and bang them in! I love to serve them with baked beans. But also lovely with coleslaw and salad.
Please give them a try. I love to try and develop easy filling tasty suppers for you and your family, I hope and I think this one certainly hits the spot! I'd love to know what you think!
They are also a really great midweek supper, make them at the weekend when the ovens on and either pop them in the fridge or freezer unbaked and you get a wonderful relatively low cost supper!
I also make a whole batch and freeze in 2's. Then on the day you want them, in the morning remove from the freezer – leave to defrost
When you come home from work, top with grated cheese and bang in a hot oven for 30 minutes – Tadah! Amazing
Love Potatoes
And potatoes are a great source of fibre with their skins on as well as being naturally fat-free and Gluten free, if you want more info of the nutritions then check out the information on Love Potatoes
If you like the look of these but want to be a little healthier, why not check out my Healthy Stuffed jacket Potatoes
So good and a little less fat 🙂
Enjoy
Cx
Ingredients
Serves 4
4 Jacket potatoes
8 Rashers Smoked or Unsmoked Bacon
4 good Quality Sausages (optional)
Black pepper
Dash of milk
250g good Cheddar Cheese, grated
Good Handful Chopped Flat Leaf Parsley
(serve with Baked Beans)
Preparation Method
Preheat oven 190C / 375F / Gas 5
Get your Potatoes in the oven and bake until soft inside and crispy outside – approx. 60-90 minutes
Using the heat for the oven (why not) place your bacon and if using sausages on a baking tray and bake until crispy (approx. 20 – 30 minutes)
Remove bacon (and sausages if using) and leave to cool. I cut my bacon up with kitchen scissors into 1cm square pieces, put on one side
When your potatoes are done – remove from oven and slice longways in half (careful very hot) scoop out the potato inside using a teaspoon and place in a bowl ( keeping the skins on one side)
Mash the potato with a fork, add the bacon pieces (sausage pieces if using) black pepper , dash of milk and 1/2 the grated cheese, finally add 1/2 the flat leaf parsley
Fill the skins with the potato mixture using a teaspoon, then sprinkle with the remaining cheese & parsley
Place in an ovenproof dish and bake at 200c/400F/ Gas 6 until golden (approx. 25 -30 minutes)
Remove from oven, serve with beans – dig in and watch those fireworks!
Enjoy Cx